The dream polish is the one that keeps its shine for days without flaking! Making that dream come true is possible if you avoid these mistakes (ones we've all made).
PICKING YOUR NAIL POLISH OFF.
You know how this goes… during the day, you notice that your polish is flaking and you want to finish off the job instead of living with half-done nails for the rest of the day. So, you scrape at it. But it's important to know that, like skin, your nails have a thin layer of water and sebum that protects them from external aggressors. By tearing off your polish, you're also tearing off this protective film, making your fingertips more vulnerable to bacteria. It's better to use a mild solvent to remove polish. Resist the urge to pick!
SHAKING THE NAIL POLISH BOTTLE BEFORE APPLICATION.
Shaking nail polish before applying it is an automatic move. We all do it without even thinking about it. But vigorous shaking creates small air bubbles, which can affect the application of the colour and the polish's hold. To prevent bubbles from forming, roll the bottle between your hands to mix the colour, and avoid abrupt movements of the applicator during your manicure.
Rolling the bottle in your palms has another purpose: it increases the temperature of the formula. To keep its fluidity, the polish must be stored in a cool, dark place, like a well closed box or a makeup kit… or the refrigerator! Warming it up a bit before using it makes application easier.
NOT APPLYING A BASE COAT.
Transparent, rosy or apricot, the base is essential because it reinforces the nail and makes it smooth. This step will allow you to apply your polish on an even, non-porous surface for perfectly opaque, uniform results. It can also be used alone, as an invigorating treatment: the assets it contains (amino acids, vitamins, vegetable oils, etc.) strengthen the nails, stimulate their growth and protect them from the yellowing caused by nail polish pigments.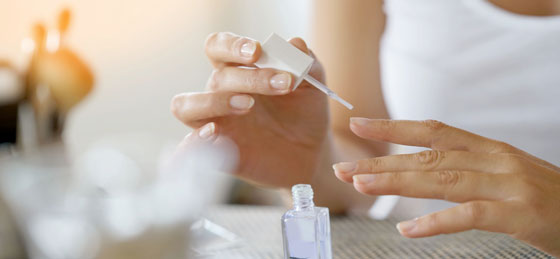 Before applying the base, first wash your hands to remove all residue (dirt, pollution, grease, etc.). This ensures better hold for all the layers!
CUTTING YOUR CUTICLES.
This is another common mistake. Cuticles act like a protective barrier to prevent bacteria from spreading into your nail. You should always avoid cutting your cuticles. Soften them instead, either with an oil specifically designed for cuticles or by soaking your fingers in warm water for a few minutes. You can then gently push your cuticles back with a wooden stick. To make this step easier, keep your hands and nails supple by applying cream regularly.
USING COTTON SWABS TO FIX MISTAKES.
We've all done this but it's not a good idea. One wrong move and the cotton can stick to the polish and ruin your manicure. To fix small mistakes, use a polish-correction pencil with a tip you've soaked in a solvent (makeup remover).
APPLYING TOO MUCH POLISH PER LAYER.
Your clothes, your hair, the corner of a piece of furniture, a page to turn… anything can spoil a manicure that hasn't dried properly. To limit the damage (and the drying time!), apply thin layers. Dip the brush in the polish so that a small drop remains at the end, then apply the color in three strokes–left, right and center. Allow the polish to dry, and then add more layers until you get the coverage you want.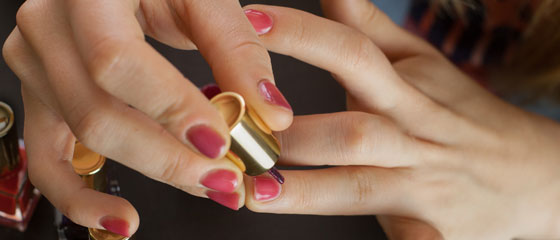 NOT BEING PATIENT ENOUGH.
It's a golden rule: whatever hurry you are on, you must wait for a layer to be completely dry before applying the next one. Otherwise, the polish will take even more time to dry and the slightest contact will spoil it. Applying a top coat is also mandatory: not only does it enhance the color, but it increases the resistance and the durability of the polish. Skipping this step is out of the question, even to gain time!
A tip to make your manicure drying quicker? Leave your nails under a hair dryer adjusted to the coldest temperature for a few minutes.