While already popular for nails, eyelids and cheeks, we're now seeing metallic makeup on lips. Learn more about this bold trend that's taking over the beauty world.
WHAT IS IT?
Shimmering, metallic lips were ultra-trendy in the 1990s, and they're making a big comeback thanks to social media diva Kylie Jenner, who wore this look and quickly convinced everybody of its beauty potential.
WHAT'S THE EFFECT?
Metallic makeup offers a look that's at once modern, sophisticated and glamorous. It allows you to play with light for subtle illuminating effects on your face and lips. Perfect for a radiant complexion in winter! And best of all, metallic makeup boosts your lips' volume for a plumping effect that beauty lovers with thin lips will especially adore.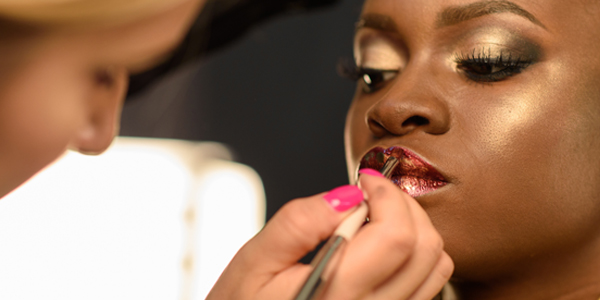 WHO CAN WEAR IT?
People of all ages. The important thing is to wear this trend with confidence! And if you like the metallic effect, but prefer a more discreet touch, you can always lower the intensity (and brightness) by using a pearly lipstick with a less metallic finish.
HOW DO I APPLY IT?
Apply it like all other lipsticks. For best results, make sure your lips are well hydrated before applying; if not, you risk having an avalanche of dry skin standing out on your lips. And to optimize your lipstick's hold and avoid runs, start your lip makeup by applying a primer or a touch of foundation to your lips and lightly around the contour of your mouth.
HOW DO I APPLY IT?
Tip: Want to try this trend, but don't have metallic lipstick? No problem! Recreate the pearly effect by applying the lipstick of your choice then patting on a shimmery eye shadow with your fingertips. And there you have it!
HOW DO I MATCH IT WITH MY MAKEUP?
Avoid wearing too much makeup. As your metallic lips will already draw lots of attention, be discreet with the rest of the face: a bit of mascara and some eyeliner should suffice.