While some men like their crow's feet, others want to preserve their youthful appearance for as long as they can. Here's how to prevent and reduce the signs of aging.
Clean your skin EVERY day.
If you want to keep your skin healthy, you need to clean your face morning and night. This will get rid of any impurities (pollution, sebum, sweat, dead cells) that have accumulated on the epidermis. It also prepares the skin for shaving or anti-wrinkle treatments, which will be more effective on clean skin.
Avoid using soaps that dry the skin and choose a product specifically designed for a man's face. Don't use your girlfriend's cream, a man's skin is thicker and needs adapted care.
How should you apply your cleansing product?
Delicately massage a small quantity of your product onto damp skin for a minute or two and focus on the T zone (chin, nose, forehead). This area tends to be oilier than the rest of the face. Use lukewarm water to avoid drying or irritating your skin.
Exfoliate your face once or twice a week.
Filth can obstruct the pores on your face and cause blackheads, even pimples. Cleaning your face every day takes care of the surface of the skin but a scrub can go deeper thanks to its microparticles. That way, you'll get rid of impurities and make the skin care products you'll use later even more effective.
How should you apply your scrub?
On your clean and damp face, apply a small dab of scrub (also called exfoliator) and delicately massage it into the skin in circular motions, going outwards. Rinse with lukewarm water. Make sure to exfoliate before you shave or else you might irritate your skin.
We suggest: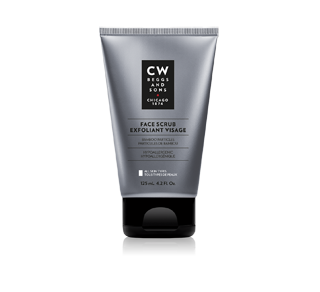 CW Beggs and Sons
Face Scrub, 125 ml
Sweeps away dead skin cells, leaving the face looking more refined, with a smooth, glowing complexion.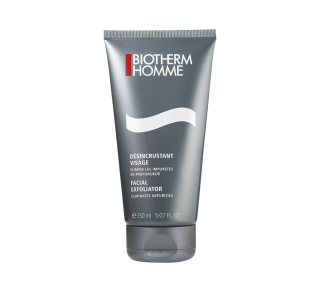 Biotherm Homme
Face Scrub, 150 ml
Facial Exfoliator Eliminates Impurities Tiny gentle particles slough off impurities and dead cells which can lead to a dull complexion.
Use a cream adapted to your skin type every day.
As you age, wrinkles get more pronounced, the pores dilate and the skin on the face loses its firmness. Moreover, the rate of cellular renewal declines and there is a decrease in the production of collagen, which is naturally present in the skin's tissue. That's when wrinkles can appear. When this happens, you need to switch from a moisturizing cream to corrective treatments, which penetrate below the surface of the skin. To fight the signs of aging, mature skins should use products containing vitamin A and C as well as alpha hydroxyl acids (AHA).
How should you apply your cream?
Warm up a small amount of face cream in the palm of your hands and dab it on to your entire face: forehead, nose, cheeks, chin, between the eyebrows, etc.
Because the skin around the eyes is sensitive and does not contain sebaceous glands, avoid using your regular face care products and opt for a product specially designed for that area. Apply your eye care products by gently dabbing it under the eye to stimulate blood flow.
We suggest: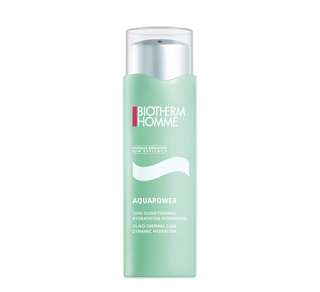 Biotherm Homme
Aquapower Oligo-Thermal Ultra Moisturizing Care, 75 ml, Normal and Combination Skin
Use sunscreen
Even though sunshine can improve your complexion and provide you with vitamin D, the sun's rays are one of the most harmful aging factors. They dry out the skin and increase the appearance of wrinkles. So beware of UVA and UVB rays!
How should you apply your sunscreen?
Apply a product with SPF 30 or SPF 50 at least 20 to 30 minutes before you go out in the sun time. Do this EVERY TIME. Don't forget neglected areas such as your hairline. Reapply as needed.