From traditional green clay to leaves soaked in concentrated formulas, beauty masks are no longer a luxury: they are now part of our daily lives. Here are six masks to try for yourself.
Pure-Clay Mask from L'Oréal Paris
Clay masks are a classic. And there's a reason for that! Clay is an ingredient that's extremely beneficial for the skin. L'Oréal Paris has designed 3 masks formulated with 3 pure clays (kaolin, montmorilloite, ghassoul) to correct imperfections and brighten the complexion for a radiant and detoxified skin. Your skin will be bright and even.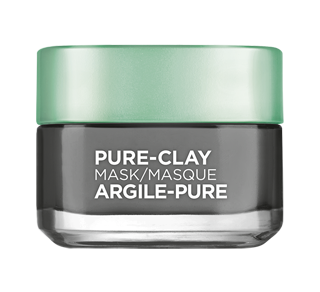 L'Oréal Paris
Face Mask with 3 Mineral Clays + Charcoal, 50 ml
Beautify your skin in minutes with Pure-Clay Face Masks. Formulated with 3 mineral clays* + charcoal, this clay mask draws out built-up impurities, dirt and oil to cleanse dull skin.
Instant Detox Mask from Caudalie
This 99% natural gel-cream eliminates toxins from the skin to alleviate the stress of city living: a sort of detox for the skin. Apply twice a week to gently purify your skin, tighten your pores and deeply cleanse your face.
Extra-Firming Mask from Clarins
If you want to restore your radiance, or simply have tired-looking skin, this beauty mask provides a burst of freshness and firms up your skin to give it fuller appearance. And thanks to its botanical ingredients you'll bask in a moment of pure relaxation.
Youth Glow Mask from Karine Joncas
Repair your wrinkles, firm up your skin, reduce the appearance of dilated pores and enhance your skin in just one step? This collagen formula promises it all, and is suitable for all skin types. Get fantastic results in just five minutes! Perfect to instantly revive dull complexions.
Selft-Heating Mask from Personnelle
Available in single-use packets, this self-heating mask, with its rejuvenating and smoothening properties, acts in 15 minutes to unblock pores and purify the skin. It easily fits in your travel kit, and can be your secret weapon when your skin needs a boost.
Life Plankton Mask from Biotherm
This new product from Biotherm is ideal for weakened skin. Thanks to the life plankton in its formula, this complete renewing care repairs the skin, calms redness and soothes irritations while enhancing the skin and restoring its radiance. This mask packs some serious punch!