After BB, CC and DD creams, here's another trend that's already popular in Asia: cushion foundation. A spotlight on this new hybrid foundation.
What is it?
Cushion foundation is a multifunctional product that can act (depending on the product) as a moisturizer, foundation and even sunscreen. It comes in a compact case with two compartments: one contains a puff sponge applicator and the other a sponge soaked in fluid foundation.
Cushion foundation was originally developed for Korean women who have to deal with a very hot and humid climate. That's why it has a light texture that provides great coverage.
In brief, this is an ideal beauty ally for anyone who wants fresh, natural-looking makeup that's able to conceal imperfections.
How does it work?
Although similar to a BB cream, the difference with cushion foundation is how you apply it. It's quite simple. Gently soak the puff sponge applicator on the fluid foundation. It's designed to release the right amount of product. Then, gently dab the puff sponge over your entire face to spread the product. Repeat if you want more coverage.
Because the cream's texture is quite silky, women with combination skins to oily skins will probably have to use a mattifying powder after applying cushion foundation.
The benefits?
In addition to being a practical all-in-one cosmetic product, cushion foundation is also:
Efficient. It can be used on any skin type.
Practical. It comes in several shades and various levels of coverage. And thanks to its compact size, you can easily store it in your handbag. Perfect for small touch-ups throughout the day.
Inexpensive. The soaked sponge is designed to release the ideal amount of fluid foundation, so there's no product waste! As a bonus, some compacts can even be reused.
Taking makeup kits by storm
By no means limited to foundation, the cushion trend is spreading to other beauty products too. Blushes and eye liners are embracing the practical advantages of this compact sponge that provides just the right amount of makeup each time. Like to try it out for yourself? Here are a few suggestions that are sure to make you a convert.
Our suggestions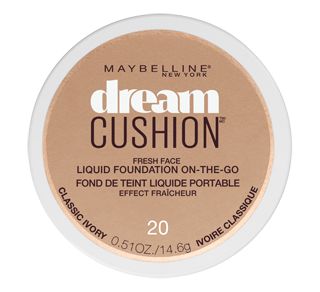 Maybelline New York
Dream Cushion Fresh Face Liquid Foundation , 14.6 g
Complete luminous coverage for fresh-faced perfection on-the-go.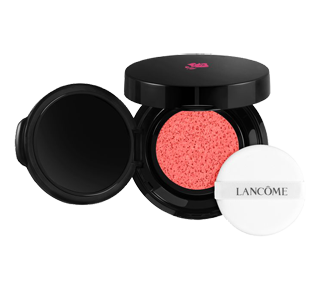 Lancôme
Cushion Blush Subtil Cooling Cushion Blush , 7.5 g
All the vibrancy and freshness of a liquid blush in a portable cushion. Instantly refreshes your skin and brings vibrant colours to your cheeks. Choose the intensity you want and apply with the mini puff applicator. Blush has never been so fun.