Spring is synonymous with renewal, and we all want to make room in our beauty kit to try something new. Perfect timing, because here are our top three makeup trends for spring-summer 2017, and how to recreate them yourself. So grab your makeup and let's get started!
Eyes that pop
As seen on the runways at fashion shows by Victoria Beckham, Jill Stuart and Custo Barcelona, it looks like flashy eyelids with colours that pop is set to be the super trend of spring-summer 2017. So this season, add a touch of colour to your look by dolling up your eyes in red, green, yellow, mauve, and other bright colours. And keep in mind that while all vibrant shades are on-trend, blue is above all the trendiest colour for eyes this season.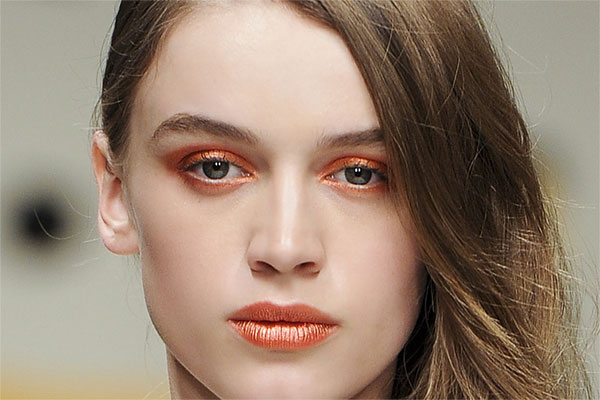 How do I do it?
To successfully create a look that pops, a few basic rules need to be followed. Among them: ensure that you have an even complexion, which means concealing dark circles. A BB cream or very light foundation should do the trick. Your lips should stay natural, so that they don't steal the show from your eyes.
Next, concentrate your efforts on your eyes; that's where the focus is going to be. To go all out, apply a neon eye shadow to your entire upper eyelid, leaving the lashes free of mascara.
Want to try a subtler approach? Draw a thin line over or under your eye with a liquid eyeliner in a vibrant shade for fantastic results, and add a touch of mascara to open up your look.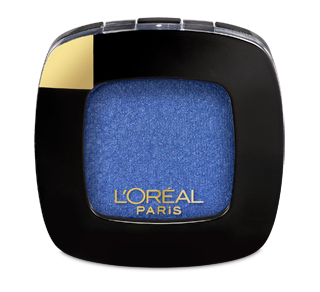 L'Oréal Paris
Colour Riche Mono Eyeshadow, 2.8 g
Our first gel-to-powder eyeshadow. Exquisite colour richness, smooth glide.
Dark lips (dark purple and burgundy)
Who says you have to wear pastel colours in summer? At their spring-summer 2017 fashion shows, designers like Burberry, DKNY and Emporio Armani, to name just a few, reminded us that dark lips are still seductive, even in warm weather!
Which tones are in this season? Dark purple and burgundy.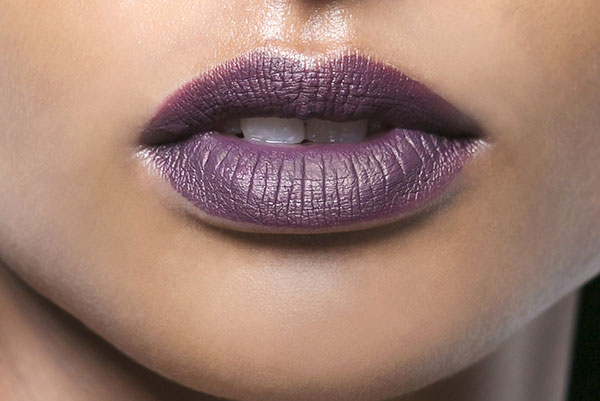 How do I do it?
It's true that dark lipstick isn't the easiest product in your beauty kit to pull off. If poorly applied, it can misshape your mouth, and on dry lips, it makes every crack you want to conceal stand out even more. That's why it's essential to follow a few key instructions for a flawless smile.
First, make sure your lips are well-hydrated before applying your lipstick for even results.
Use a lip liner in the same colour as your lipstick to line the contour of your lips.
Apply the lipstick to your lips right up to the line drawn by the liner.
Place a tissue between your lips and gently bite down to remove any excess.
Pro tip: To complete your makeup without overshadowing your smile, even out your complexion with a foundation or a BB cream and apply a touch of mascara to your lashes. And if you have a very light complexion, be sure to use a bronzing powder to avoid a vampire effect.
Metallic corner of the eye
Inspired by the nineties, the metallic trend continues to win over the hearts of beauty lovers. First it was seen on nails, then eyelids and lips, and now it's showing up on the inner corner of the eye. A look that's at once modern, feminine and delicate, this little golden sparkle brightens the eyes and adds a touch of glamour to your makeup.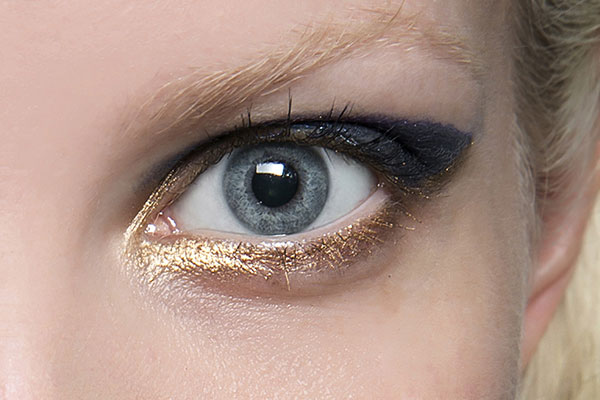 How do I do it?
Seen on the catwalks of Milan, Paris, London and New York, a metallic shimmer at the corner of the eye is the perfect solution if you want to add a sparkle to your look without drawing too much attention.
To recreate this look, you'll need a metallic eye shadow or eyeliner. Start by drawing a line along the lash line, from the inside corner of the eye to the centre of your eyelid. Repeat the same step, lining the bottom of the eye. To get the right lighting effect, make sure the product does not go beyond the middle of the eye.
Tip: For more elaborate eye makeup, you can add a darker matte eye shadow in the outside corner of the upper eyelid. You can also turn the metallic line into a two-tone line by following it outwards with a liquid liner in the colour of your choice (blue, green, etc.).