There's no mistaking it, with that runny nose, those watery eyes and that pasty-looking skin—you've got a cold. Here are some tips and tricks on how to look flawless despite your visible cold symptoms.
GOODBYE REDNESS AND DULL COMPLEXION
When suffering from a cold, you're constantly blowing your nose, all day long. The result: the skin around your nose becomes irritated and red, and shows signs of dryness. Try giving it some tender loving care!
Steps:
Start by cleaning your face with a gentle moisturizing cream cleanser that will remove impurities without irritating the skin.
Next, gently remove any dead skin by exfoliating with a scrub made from thermal spring water. This will soothe and soften the skin, immediately making it feel more comfortable. A certain radiance will return to your face.
Toner is a key element to energize your complexion. It will work to tighten the pores and give your skin a refreshing boost of radiance. Dab it onto your face using a cotton ball or pad.
If the skin around your nose is really red and dry, pamper it with a hydrating mask. This will instantly soothe discomfort caused by dryness and improve the quality (and appearance) of your skin.
Is your cold making it hard to sleep? Get rid of dark, puffy eyes by using smoothing patches formulated with cornflower (with anti-inflammatory properties). Not only will they bring your eyes back to life, but they'll reduce swelling in the eye area and stimulate blood flow.
Complete your SOS dull complexion routine by applying your favourite moisturizer and eye cream.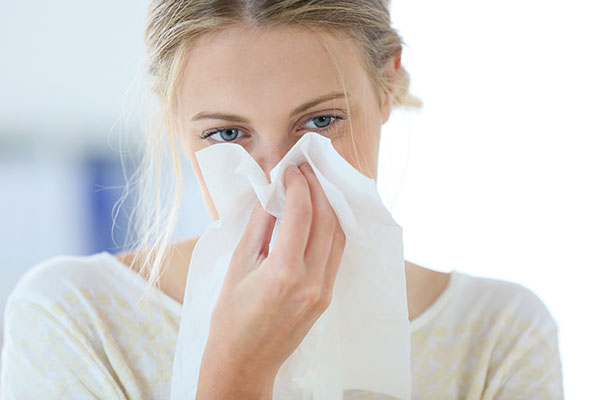 Pro tip: If, despite all your efforts, the skin around your nose still looks red and dry, attack the problem head on by applying a restorative cream to the affected area. Hydration boost guaranteed!
HELLO HEALTHY GLOW
Now that your skin is looking better, you can perfect your complexion, if you feel so inclined, with a bit of makeup.
Steps:
Begin by applying a complexion perfecting primer to your face. While often neglected, this step allows you to minimize the appearance of pores and gives your skin a smooth, matte look.
Using a brush, apply your foundation and some under-eye concealer in order to eliminate all traces of fatigue.
And for a real burst of radiance, finish by dusting an iridescent powder on the bridge of your nose, the apples of your cheeks and the middle of your chin. This will strategically catch the light on certain areas of your face.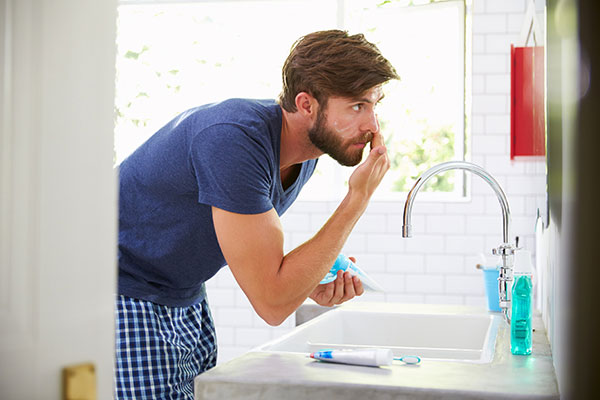 Pro tip: Say goodbye to red eyes by applying a coat of bluish black mascara to your lashes. Why this shade? Because it will make the whites of your eyes look even whiter.