Tired features, dark circles, dull complexion... fatigue never looks good. Quickly remedy the situation by adopting a quick routine, morning and night, tailored to your skin. A good moisturizer, a few brush strokes and presto! That's it! Here's a quick, 5-step anti-fatigue guide.
Before going to bed
It's a fact, proper hydration is the key to healthy-looking skin. After having thoroughly cleansed your face and neck, it is important to prepare your skin for the next day. We especially like concentrated night-time serums that penetrate the epidermis quickly. An instant regenerative effect! A true elixir, the Sublimessence Nuit serum from Lise Watier is aptly named. This sublime products contains a powerful blend of plant extracts, flowers and nourishing oils infused with rose and cornflower petals. Don't forget its highly concentrated Labrador Tea extract, one of Mother Nature's best antioxidants.
Then, finish with a night cream that will nourish and regenerate your skin deeply. Perfect for a sound sleep!
In the morning
After moisturizing your skin with a day cream, it's time to apply your make-up. To give an initial boost of radiance, first cover your face with a thin layer of iridescent powder. Our suggestion? Use a few drops of Lancôme Custom Glow Drops! Thanks to its light and liquid texture, this water-in-oil emulsion is highly concentrated in pearls and perfectly fuses with your skin to give it a natural radiance. A healthy glow guaranteed!
Next step: foundation!
For a second-skin effect, use a light foundation with SPF so that it remains completely incognito in daylight and protects you from the sun. You can also use the illuminator at this time if you like: blend a small amount with your foundation or apply it later on facial features to emphasize them.
Dark circles often expose our lack of sleep. To refresh your look, use a concealer with a soft and ultrafine texture that is tailored to your complexion. It will hide imperfections and signs of fatigue in a single quick application. Easy as pie!
It's time for a touch of sunshine!
For this step, warm your complexion by giving it more radiance and light. Choose a universal powder that bronzes and defines the contours of your face. It will add a soft and warm glow, and replace a day at the beach... or just about!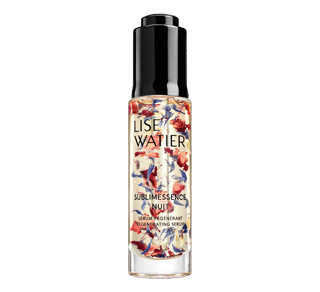 Lise Watier
Sublimessence Nuit Regenerating Serum, 30 ml
With natural oils at its core, this powerful night serum consisting of over 60% of active ingredients combines a blend of natural plant and flower extracts that are infused with rose and cornflower petals.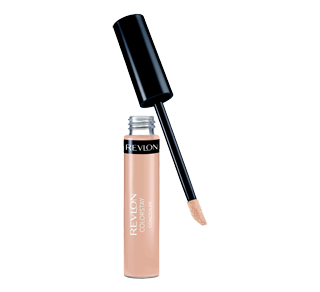 Revlon
ColorStay Concealer, 6.2 ml
The Revlon ColorStay concealer is the specially formulated concealer makeup made with time-release technology to help you balance imperfections for a continuously flawless look that wears up to 24 hours. Covers imperfections, conceals blemishes and dark circles, and provides full coverage.