Uneven, poorly shaped, too intense or too thick... Why are eyeliners so hard to use? Probably because we repeat the same mistakes day after day, without even knowing it. Here are five mistakes (that we all make!) that need correcting ASAP.
NOT APPLYING AN EYESHADOW BASE.
If you don't want your eyeliner to run, collect in wrinkles and creases or fade, it's important to prepare your eyelids before applying your makeup. First, apply a primer that's specially designed for eye makeup. The base will mattify your skin, allowing the eyeliner to hold properly, preventing it from spreading and running.
A base isn't just for your eyes! By applying it to your entire face, you unify your complexion and prolong your makeup's hold. Be careful not to use too much: an amount the size of a dime should be enough to cover everything. An excessive amount on your eyelids might accumulate in the folds or create a film that reduces the liner's hold, the exact opposite of what you want!
AUTOMATICALLY CHOOSING A BLACK LINER
There's nothing more classic than a charcoal line, which is unequalled in its ability to deepen and intensify a look. Iconic as it is, however, this shade isn't ideal for every occasion or look. To avoid unfortunate combinations, consider using other colours. There certainly isn't any lack of choice and every colour has its advantages!
Light colours (white or beige): are ideal for making small eyes look bigger.
Mauve: highlights green and blue irises and makes dark eyes shine.
Brown: is a softer alternative to black and creates a natural, delicate look.
Blue: livens up your look by making the whites of your eyes look whiter.
Grey: adds a bit of light to your look.
Pop colours: super popular for the past few years, are perfect for adding a bit of pep to subtle makeup or to give a festive look for a night out.
DRAWING LINES ON CLOSED EYES WHILE PULLING ON YOUR EYELIDS
A huge mistake! A line drawn on a stretched eyelid will probably change shape once the eyelid is back in its natural position. What's more, closing your eye completely can distort perspective and cause the liner to deviate from its intended trajectory, leaving you with an unintended super-thick line!
Tip: To get the perfect curve, look directly into the mirror as you apply the eyeliner, without lowering your face or eyes.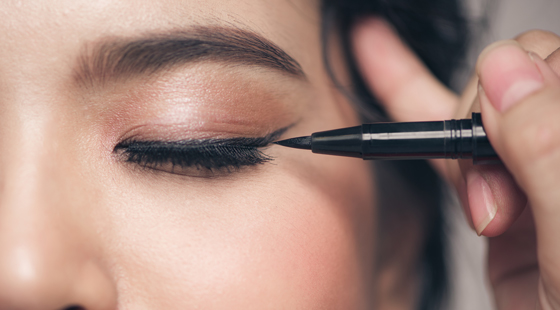 DRAWING THE LINE TOO HIGH
The golden rule for a successful line: stay as close as possible to the roots of the lashes. Fill in any gaps but avoid giving yourself a line that's too thick! Apply your mascara and let it dry before drawing on your liner: you'll get a clear target and something for the liner to grip.
TRYING TO DRAW YOUR LINE IN ONE GO
Who says you have to apply your eyeliner in a single go? If you want to draw your line in two, three, five or even 10 steps, that's totally fine. Just don't rush it! Patience and attention to detail are the keys to flawless makeup.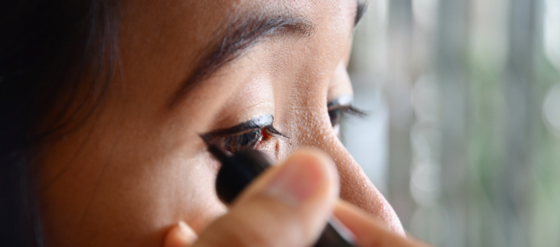 The right application technique: A general rule is to start by drawing a thin line at the roots of your lashes (thicken it as needed, it's a lot easier than doing the opposite!). Next, draw the curved shape and the length you desire. Finish by joining the two to create a beautiful, harmonious curve.
If you prefer, start from the outside of your eye and draw toward the middle of your iris, working the angle and the thickness of the line. You'll avoid having to start again if you make a mistake. You can always go over the line to saturate the color, or to extend it towards the inner corner of your eye.
Some tricks for a great line:
Get as close as possible to your mirror and support your elbow on a firm surface. This way, you'll have a good vantage point and a stable hand.
Sketch a dotted line and then connect the dots—a bit like what you did in your childhood drawing books. It's the secret to a delicate and precise result!
Respect the shape of your eyes. If they're almond-shaped, accentuate them by extending the line outward with a length and thickness of your choice. If your eyes are round, be sure to thin the line as you draw it inward, or even start at the middle of your iris and then thicken it as you draw it outward, like a doe's eye. This technique is also good for lifting drooping eyelids.
In case your hand slips or deviates, keep a correcting tool nearby, like a cotton swab soaked in thermal water, to erase any smudges.
You don't become a pro with liner in just two or three pencil strokes! You have to practice. And the best time to do this is in the evening, before removing your makeup. The worst time is the hour before you head out for the evening!