What could be fresher and more vibrant than a rosy hue to brighten your spring look? This season, pink is everywhere and on everyone. Here are some tips to make it work for you.
A quick glance at the spring-summer 2017 fashion collections confirms that once the weather warms up, pink will be all the rage. Adam Selman, Kenzo, Chanel: several of the world's hottest designers are embracing this trend to style their models, and have inspired us with four ways to wear this vitalizing shade.
On the eyes
"Pink on my eyes? I'll look like I cried all night!" Wrong! Rest assured, with the right products and application technique, this soft colour will enhance your look.
You have two options. The first is to use an eyeliner in fuchsia or bright pink for a striking line and confident look. Handy tip: if you don't have a pink eyeliner at home, a lip liner will also do the trick.
If you prefer a more subtle look, the second option—using an eye shadow—is for you. Once again, you have a choice: go for a full-on look by evenly applying a pink shadow to your entire eyelid, or opt for a gradient look by applying a paler powder in the inner corner of the eye, pink in the centre of the upper eyelid, and a slightly darker shade in the outside corner of the eye.
After applying the powder, enhance your look with the mascara of your choice and you'll be pretty in pink!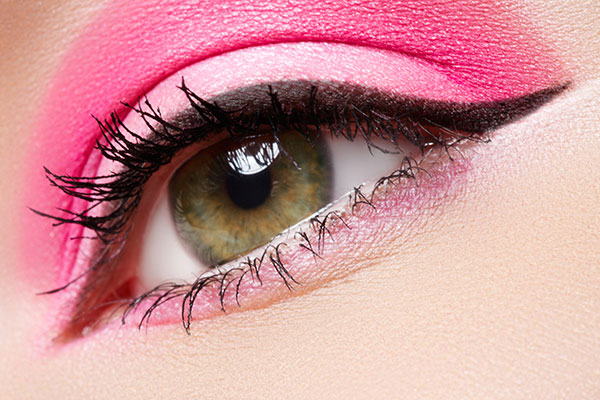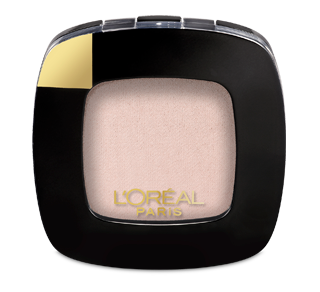 L'Oréal Paris
Colour Riche Mono Eyeshadow, 2.8 g
Our first gel-to-powder eyeshadow. Exquisite colour richness, smooth glide.
On the cheeks
This will come as no surprise to anyone: the key to a bright complexion is a touch of pink on the cheeks! For a flawless, healthy look, here are two things to keep in mind before applying your makeup:
The colour of your blush must resemble the natural shade of your cheeks when they redden. Avoid colours that are too harsh for pale skin, and colours that are too dull for tanned skin.
Whether you apply the blush with a brush or your fingers, make sure you remove any excess product before applying it to your skin.
Now that you're ready to begin, pucker your lips as if you were going to kiss your sweetheart, in order to find the exact position of your cheekbones. Smiling raises your cheekbones, skewing the final result.
When you've located the cheekbones, apply the blush by making a small circle that extends up to the cheekbone, moving outwards. Repeat until the shade suits you perfectly.
Pro tip: For a more daring look, extend the blush from your cheekbones all the way up to your temples, without holding back. Popular on catwalks, this cheek-temple duo is an ultra-trendy look for a night on the town.
Note: To ensure your beautiful rosy cheekbones steal the show, match them with neutral or nude makeup.
On the lips
Good news! In 2017, pink lips have carte blanche. What's that mean? That it's impossible to make a beauty blunder with this look. And that matte is just as fashionable as glossy, and that the shade can vary from dark fuchsia to light pastel, depending on the event you're attending or how you're feeling in the moment.
If you can only have one lipstick this spring, then choose a peach or coral shade, two rosy colours that will be on everyone's lips this season.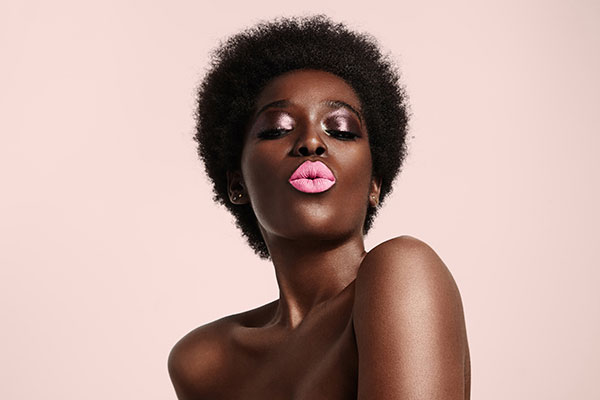 In combination
As pink is everywhere and on everyone, why not take advantage to create combinations? Eyes and lips, lips and cheeks, lips and eyelids, etc. For ultra-fresh makeup, you can easily combine pink eyes with lips in the same colour. Or try playing with contrasts, such as pairing a delicate look with saturated lips. And rosy cheeks go perfectly with eyes or lips in the same tones.
But be careful to avoid a total look with your eyes, cheeks and lips. If you overdo it, you risk looking like a baby doll.