With their innovative approach to skincare, these products have had a profound effect on western makeup trends for the past few years. But what are they all about exactly? Here's a quick primer on the products, philosophy and application techniques you'll need to go beautifully Korean!
THE PHILOSOPHY OF KOREAN BEAUTY IN 5 KEY WORDS
Care. The guiding principle behind K-Beauty is fresh skin that's well cared for and bursting with light. Daily maintenance is vital so only choose products that keep your skin perfectly moisturized, smooth and supple.
Adaptability. We have to remember that our bodies change from day to day, even from hour to hour, depending on their natural cycles. And each person is different with unique needs.
SIMPLICITY. Choose products with minimalist formulas, made from a small number of natural ingredients.
According to the K-Beauty philosophy, we should spend as much time nourishing our skin as we do our bodies. Check the labels for ingredients made from super-foods, like ginseng, berries and beets. And like with food, you'll want the products as fresh as possible. So, in addition to the "best before" date, you'll want to check the date of production.
PROTECTION. Achieving K-Beauty means protecting your skin from the harmful effects of pollution, including the kind we get from the daily assault of blue light from electronic screens.
SPEED. Busy day? Choose concentrated products that are easy to carry and easier to apply. Vials, pre-dosed powders, shower masks, sheets…
K-Beauty is also a total sensory experience. Products are often presented in highly Instagrammable packaging with textures and fragrances that are as unique as they are appealing.
K-BEAUTY ROUTINE
Morning and night…
Cleanse with a gentle, non-drying product (micellar water, makeup removal oil, etc.). Look for products that don't require rinsing so you can reduce the amount of tap water you use.
Apply a refreshing tonic: it will leave your skin slightly moist and better prepared to absorb your other care products.
Use an essence—a light, concentrated fluid that will give your skin a good dose of active moisturizing ingredients.
Apply a generous layer of serum and leave it on until it's been absorbed deeply.
Dab a little cream or fresh gel onto the area around your eyes.
Apply your day or night moisturizer to protect your skin and help it regenerate itself.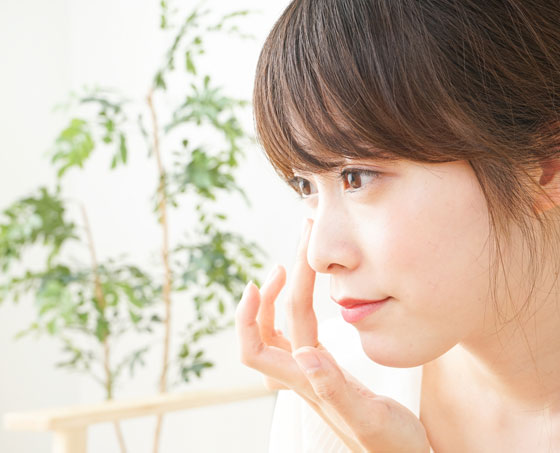 Once or twice a week
Exfoliate your skin with a gentle scrub after cleansing. By removing the dead skin cells and impurities, your skin will be more receptive to your other care products.
Boost the effects of your serum by applying a sheet mask and leaving it on for at least 15 minutes.
What about the makeup?
Complexion is everything! The goal is to enhance your natural glow with a moisturizing base and a nourishing foundation or a liquid illuminator for a slightly moist, translucid finish. Next, boost your radiance by dabbing a little creamy shadow onto your cheekbones. Then, for your mouth, simply blend some gloss or velvety lipstick for slightly tinted effect, like you just bit your lips. Add a touch of mascara and eyeshadow—preferably pink or iridescent, and you're done. A work of radiant art!