Need a little hand to make your beauty routine more effective? You (and your budget) can count on these four practical and economical tools. Choose your favourite… or why not try them all!
THE MASSAGE ROLLER
WHAT IS IT?
This super Instagrammable tool was adopted by beautistas a few years ago and it's here to stay, for good reason: in addition to helping your skin better absorb skincare products, it also stimulates blood circulation, reduces the appearance of dark circles and wrinkles and improves elasticity... in short, it brings back all your natural glow!
Today, there are loads of models to choose from, like the classic version, in jade, or you could try a larger model made of metal. It's all a matter of personal needs and tastes.
HOW DOES IT WORK?
All it takes is 5 to 10 minutes in the morning and the evening to run the roller over your entire face, moving from the bottom upwards, then from the center outwards. Apply light, equal pressure throughout. It's best to perform your facial massage after applying your moisturizer to maximize the effectiveness of the product's active ingredients.
Good to know:
If you're using a jade roller, use the larger of the two heads to massage your face and the smaller one for the contour of your eyes.
To maximize the firming and decongestive benefits, store your roller in the fridge between uses.
WHO'S IT FOR?
Everyone! Its non-invasive action is ideal for any skin type, even the most sensitive, which is one of the reasons it's so popular with so many different people.
THE MAKEUP REMOVAL TOWEL
WHAT IS IT?
Makeup removal towels are an effective and eco-friendly alternative to cotton balls. Their super-soft microfibers are designed to remove makeup, while offering deep cleansing and gentle exfoliation.
Best of all, they're available in several sizes. Use a large one for your face and smaller ones for targeted regions such as your eyes or lips.
HOW DOES IT WORK?
Use the towel daily, morning and evening. Simply moisten it, squirt a few drops of makeup remover or cleanser onto it and massage the product into your skin using small, circular movements.
WHO'S IT FOR?
For anyone who wants to add a touch of green to their beauty routine without compromising on quality or effectiveness.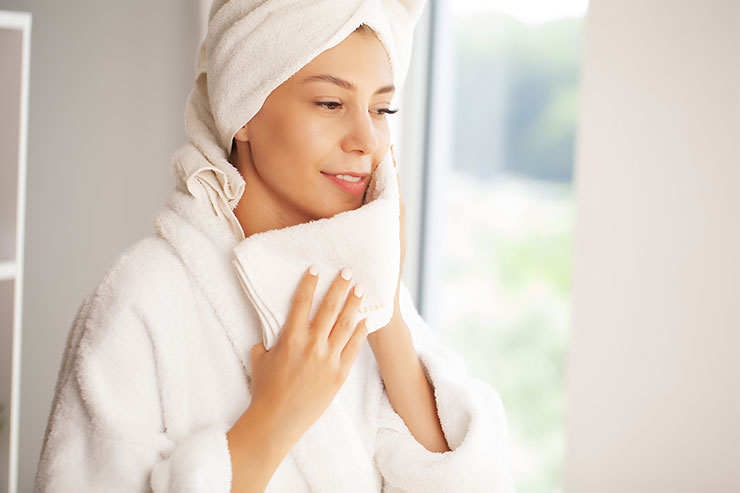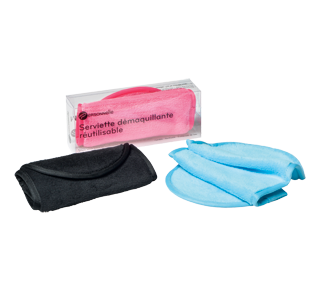 Personnelle Cosmetics
Reusable Make-Up Remover Towel, 1 unit
Machine washable. Reusable. Can be used with water.
THE MAKEUP SPONGE
WHAT IS IT?
This little tool is great for handling liquid foundation and concealer. Its teardrop shape makes it easy to access those hard-to-reach places, and its composition is ideal for achieving an even, streak-free finish. In short, this tool has everything you need for a precise, uniform result.
HOW DOES IT WORK?
Place a small drop of formula onto the back of your hand, dip your sponge into it, and apply by dabbing the sponge onto your skin or by blending the product in using small, circular movements.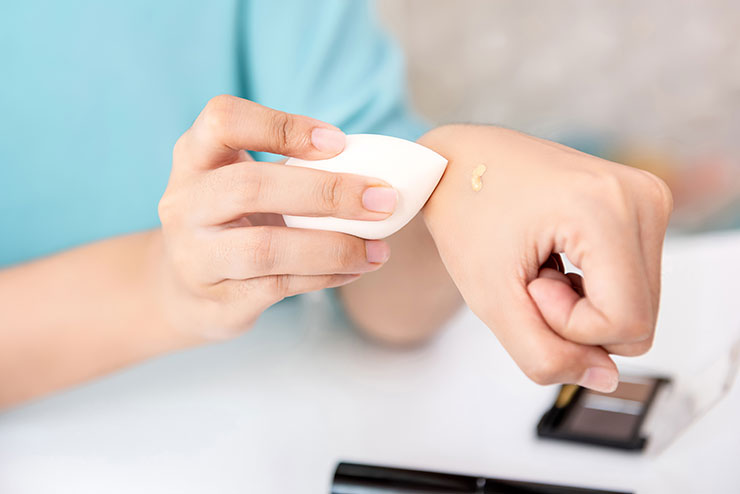 Good to know:
Foam sponge: make sure you wet it and wring it out with a towel before using it to prevent it from absorbing too much of your makeup. Plus, remember to clean it after each use and allow it to air dry to prevent bacterial growth.
Silicone sponge: remember, with the silicone sponge, you'll need less makeup than usual because the sponge is made of non-porous material, so it doesn't absorb as much.
A LITTLE ADDED BONUS?
Versatility! Foundation, blush, concealers… it's good for just about any use!
THE AUTO CURLER
WHAT IS IT?
A tool that curls your hair all by itself, without you lifting a finger… or almost!
HOW DOES IT WORK?
The auto curler "draws" your hair into a ceramic chamber that's wrapped around a heating cylinder. After about 15 seconds, your hair is released. All you have to do is insert one bunch of hair at a time into the chamber, until you have all the curls you desire. Then work specific areas to your liking until you've got the hairstyle you've always dreamed of.
Good to know:
Certain auto curlers can change the direction of the curl to give you a more natural look.
WHO'S IT FOR?
It's ideal for anyone who's unhappy using a traditional curling iron.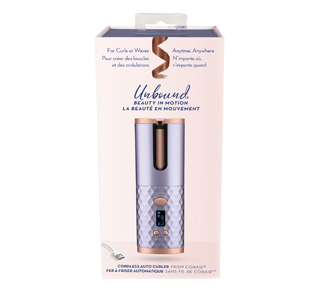 Conair
Unbound Cordless Auto Curler, 1 unit
Cordless Rechargeable Auto Curler. First high performance cordless auto-curler.