OK, so, you want to camouflage your regrowth, but you don't want to make an appointment with the colourist? No problem! Whether you want to redo all your hair colour or just retouch your roots, you have to make a game plan for results that are worthy of the salon.
Plan 1: Go straight to the roots of the problem!
For a day (or an evening)
Have an important meeting or a festive aperitif on your agenda? Temporary touch-up products for regrowth are the way to go. Practical and mess-free, they can even cover gray hair with a fine cloud of coloured powder, and best of all, they wash away like dry shampoos. Whether you choose a spray formula or a sponge applicator, the principle stays the same: apply a little colour to your roots and temples, let it dry for a few minutes, then brush gently to blend the colour into your hair well. If needed, the colourant can be fixed with a veil of natural-hold lacquer spray.
If you've never used a product like this, it's best to check that the shade will match your existing colour properly. Spray a little on the back of your hand to check the colour and estimate the amount you'll need. Better still, test it directly on a litte area of hair to be covered, even if it means shampooing afterwards if you don't like the results.
Make your colour last
If you want to prolong the time between two colourings, choose a permanent formula that offers complete coverage, so it blends into your hair completely. For the application itself, a few steps is all it takes: just mix the dye according to the instructions, spread it out evenly on your dry hair, then let it act for ten minutes before rinsing. The job's done in less than half an hour!
When choosing your product, make sure you check the colour chart on the box to select the right shade. (Keep in mind that your roots are new hair; the resulting colour will probably be lighter and more vibrant than the rest of your hair.)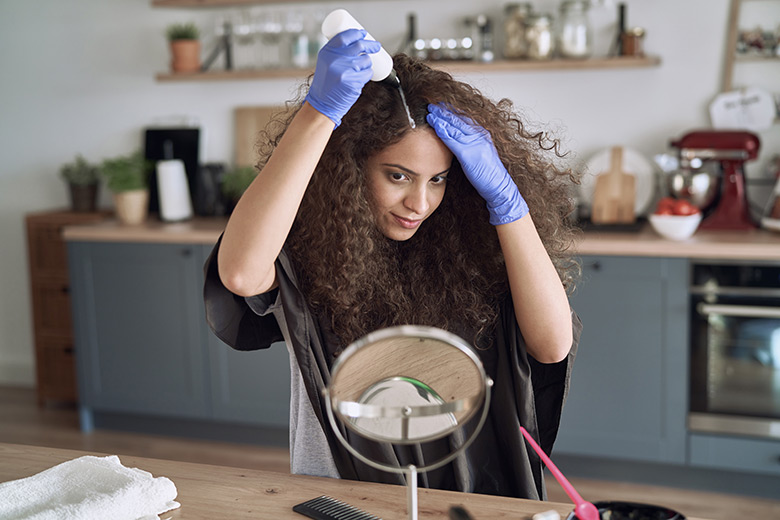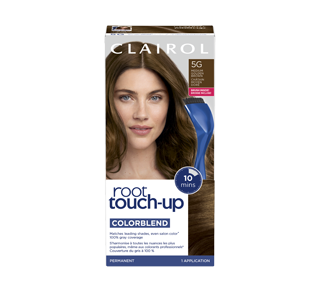 Clairol
Root Touch-Up Permanent Root Colour, 1 unit
The #1 permanent root solution for long-lasting, natural-looking roots. Root Touch-Up is specifically designed to target new roots and grays. Sweat-proof, touch-proof, rain-proof root coverage that lasts.
Plan 2: your whole head
A home hair-colouring session takes a little preparation! Before getting started, make sure you do an allergy test and assemble all the right equipment:
petroleum jelly to protect your ears, forehead and temples;
a fine comb to create well-defined sections;
a towel that you don't mind staining;
the products and the applicator in the product packaging.
Is your hair too long or thick? You might want to have two boxes of hair colour on hand so you don't run out in the middle of your job.
On hair treatment day, remember to follow these three rules:
Apply the colorant starting at the back of your head. This avoids prolonging exposure time at the front of your head, which would result in a much more pronounced or darker colour near your face.
Work strand by strand, taking a ¼" thick bundle at a time, and start by covering the regrowth.
Follow the application instructions. That goes for the mixture of the dye, the exposure time and for the application of the post-colour moisturizer, a step not to be overlooked, even if you can't wait to see the results!