If your hair is looking dull and lifeless, we've got some great ways to help. Just read on!
BRUSH YOUR HAIR THOROUGLY
This may seem obvious, but for stunning, healthy hair it's essential to brush it on a daily basis. Why? Because the repetitive motion allows the hair's natural oils to spread throughout your hair to nourish it fully, maintain vitality and restore radiance. Brush your hair gently morning and night to untangle knots, remove any dirt or grime that's accumulated and boost volume.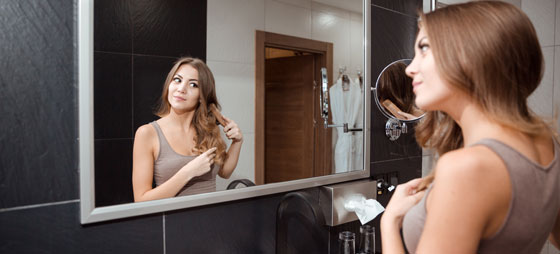 Tip: From time to time, massage your scalp with your fingertips to stimulate blood circulation at the roots.
APPLY A HAIR MASK
Whether they're for your face or your hair, masks do the same job: they offer an intensive treatment that repairs damage and helps boost the effectiveness of our other care products. By penetrating deeply into the roots, capillary masks nourish your hair, making it stronger and giving it back its much-needed vitality.
The golden rules of hair masks:
Choose a mask that's adapted to your hair type and needs: is your hair dry or oily? Natural or coloured? Curly or straight?
Apply the mask after you shampoo, and make sure your hair is well rinsed and dried: you don't want the shampoo's active ingredients mixing with the mask's ingredients.
Apply the right amount: 2 to 4 dollops is plenty. Any more and you risk weighing down your hair.
Apply the mask to the lengths of your hair only, never the roots or your hair will look greasy.
Massage the product into your hair strand by strand to help it penetrate deeply and then rinse to remove all of the excess product.
To finish, rinse with cold water to close the hair cuticles and restore shine.
USE PRODUCTS ADAPTED TO YOUR NEEDS
Often, hair that lacks radiance also lacks moisture, and because of that, it compensates by producing more sebum. Whenever possible, choose gentle products that rebalance your hair and quench its thirst. Good hair-hygiene habits are also important: moisturize often, avoid using heating devices too often, protect your head from UV rays, etc.
If your hair doesn't have enough sebum (takes longer to become oily), formulas rich in nourishing agents can help restore radiance and vitality. For lighter treatments, comb a little styling oil into the lengths of your hair… it'll thank you for it!
If you want to intensify or correct your hair colour, try a tinted shampoo. It's also a great way to work on highlights. Try a henna product to boost the reds in brown hair, a chamomile treatment to lighten blond hair, a bluish formula to brighten gray or white hair…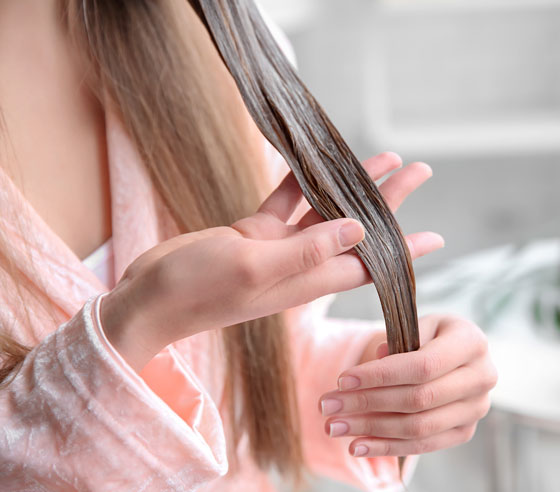 TRY SEMI-PERMANENT OR TEMPORARY DYES
Gentler on your hair than permanent solutions, these types of colours don't contain ammonia and they don't show much regrowth over time. They're designed to revitalize your natural colour and add radiance by better capturing the light.
Semi-permanent or temporary?
Semi-permanent colours, or "tone on tone" colours have a low concentration of peroxide. So they only alter the natural shade of your hair slightly, without lightening it. Your natural hair colour comes back gradually, after about 20 shampoos.
Temporary colours, which have no peroxide, fade gradually with every wash and disappear completely after 6 to 8 shampoos.

Remember: these two types of hair colours only offer partial coverage on gray hair.