When you reach for your makeup, you want to be able to work with a base that's as smooth and flawless as a new canvas. Unfortunately, perfect skin is a rare thing! Whether your skin is mature, prone to redness, oily or dry, it requires specific care. Thankfully, a primer is the perfect way to even out your skin.
A small additional step in your beauty routine, a primer is a great way to enhance makeup and make it last longer. Here are five primers to try out for a flawless foundation and makeup that lasts all day and night.
For oily skin
Makeup that stays in place all day, a matte and silky finish: that's what you can expect when you prepare your skin with this primer designed specifically to minimize shine.
We suggest: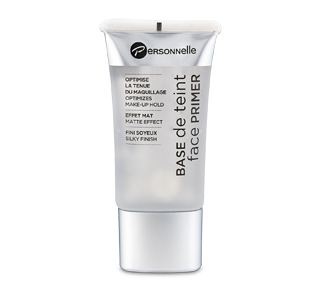 Personnelle Cosmetics
Face Primer, 30 ml
Makeup primer is specially designed to cover up skin imperfections, brighten the complexion and extend the wear of foundation and other powders. Ideal for mattifying and smoothing the skin, the Personnelle Cosmetics Face Primer reflects light and enhances your makeup, rendering it flawless, even and long-lasting. In addition to preparing your skin for makeup, it reduces the appearance of fine lines and wrinkles. It has a silky, beautiful finish. Tip: Skip the foundation and just use primer for a more natural look. An essential step in your beauty regimen!
For dilated pores
A classic product that helps reduce the appearance of dilated pores to obtain perfectly smooth skin before applying your foundation and makeup. You only need a tiny amount to cover your entire face. Goodbye visible pores.
We suggest:
For dry and dull skin
This product is good for any type of skin for a soft and smooth complexion with a healthy and radiant effect. The secret? Its formula enriched with rose essence and nourishing active ingredients that provide optimal hydration for plumped up skin. A first step to a stunning makeup.
We suggest:
For mature skins
Before you apply your makeup, even your skin out and conceal any wrinkles with this light water-based formula. A product that creates the illusion of flawless skin for impeccable makeup.
We suggest: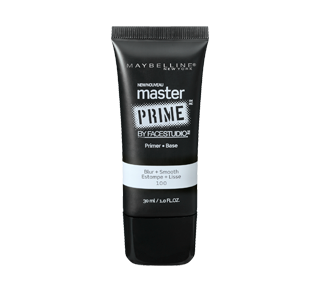 Maybelline New York
Master Prime by FaceStudio Primer, 30 ml
Visually blurs tone imperfections and smoothes fine lines.
For sensitive skin
Vitamin E and pro-vitamin B5 are the not-so-secret ingredients of this formula. Its green pigments transform into a neutral and natural complexion when applied to the skin to reduce the appearance of redness, providing an even skin tone. A secret weapon for anyone whose skin tends to produce red spots!
We suggest:
NYX Cosmetics Color Correcting Cream (Green)