You want to see your friends, but you don't feel like going out? Why not organize a spa night at home? Follow our suggestions for a successful wellness treatment.
A beauty salon…in your living room!
First prepare the room where the event will be held. In your living room, place mirrors, small tables for products, water basins, cosmetic pads and cucumber slices. Do not skimp on comfort!Add cushions to armchairs, warm your towels and soak them with a few drops of relaxing essential oils: lavender, eucalyptus, etc. For the final touch, create a relaxation-friendly atmosphere with some candles and soft music.
Want to spoil your guests when they arrive? Give each one a bag with the products that will complement your beauty break. Also offer them a comforting herbal tea, such as INFUZ Detox infusion: with its aromas of green tea, apple and passion fruit, this beverage can be enjoyed hot or cold, without moderation.
Turn off cell phones and relax—it's spa time!
Face
First of all, clean and remove makeup from your skin. On a cotton cosmetic pad, pour a little bit of the Bioderma Sensibio H2O micellar solution. Its soap-free formula will leave your skin clean, clear and supple.
Avoiding the eye contour, eliminate the dead cells with Personnelle Cosmetics Apricot and Walnut Scrub. In addition to purifying the epidermis, this cleansing product makes the complexion smooth and radiant.
Next, apply a moisturizing mask such as the Personnelle Cosmetics Seaweed Mask, suitable for all skin types. Leave on for 10 minutes, rinse with warm water and pat dry with a towel.
Then apply the Garnier Pure Toner and the Vichy Idéalia Smoothness & Glow Energizing Cream. Your skin will remain luminous and hydrated.
To finish, apply Karine Joncas Dermo-Lift Corrective Eye Patches on the contour of your eyes for 20 minutes. They will sooth dark circles, relieve the bags under your eyes, and leave your features smooth and relaxed.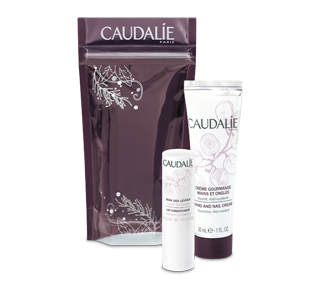 Caudalie
Winter Duo Gift Set, 2 units
The winter environment is especially harsh, your hands and lips require special moisturizing care to protect and soothe them.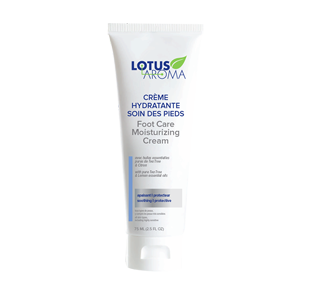 Lotus Aroma
Foot Care Moisturizing Cream, 75 ml
Soothing and protective foot moisturizing cream.
Lips
Finish your beauty treatment by applying Nuxe Rêve de Miel Ultra-Nourishing Lip balm, both moisturizing and exfoliating. Massage with gentle circular motion to remove dead cells. A truly magical remedy for dry or damaged lips!