With all the office parties, evenings with friends and family dinners in December, it's not surprising that you're running low on makeup inspiration. To help, here are three completely distinctive ways to look great no matter what the occasion!
OFFICE PARTY
All year long, you work with your colleagues in a professional, sometimes conventional setting. The office Christmas party is a great chance to show yourself in a different light! Why not try this sure winner: the timeless smokey eye. It's the perfect combination of elegance and intensity.
The secrets to achieving this look
With a fairly thick black liner, draw a line along the upper and lower lashes, then draw a few rough lines on the upper eyelids. Next, blur them with a brush to create a solid base before applying your shadow.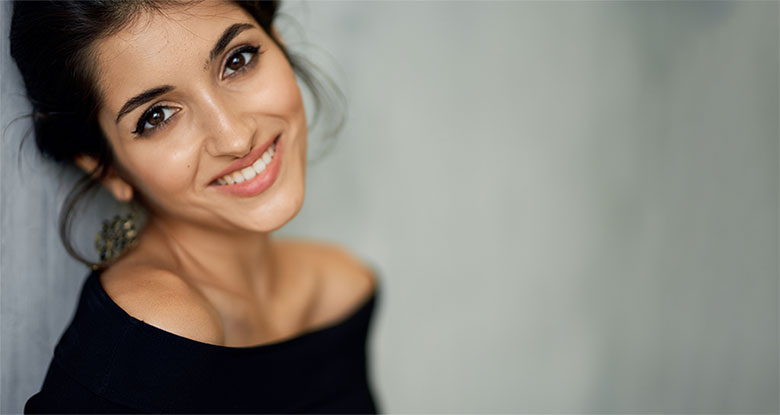 Speaking of eye shadow… this is the most important step! Simplify the task with a palette that's specially designed for smokey eyes. First, apply the darkest shade over the entire upper eyelid. Then add a touch of lightness by applying the brighter shade to the corners of the eyes. Last, add a third colour (gold, blue, dark green… or burgundy — why not?) to give your look more depth, applying it to the outside corners of the eyes.
Draw a line of black kohl or eyeliner along the lash lines, starting at the inside corners of the eyes and moving outward. For a more intense look, you can also apply it to the inner corners of the eyelids.
Finish the look with some thickening mascara.
Apply a concealer to hide imperfections and to direct attention to your eye makeup. It's important to leave this step for the end to remove the deposits of eye shadow accumulated under your eyes, without leaving spots.
Once your smokey look is ready, complete it with a coral, pink or skin-toned lip gloss. Don't use a strong colour; your eyes should be the focal point!
If you want eyes worthy of a fashion show, don't hesitate to apply false eyelashes! If you don't want thick, heavy lashes, use individual false eyelashes instead. Glue them to the roots of your natural eyelashes and let them dry. All that's left to do is add some liner to cover the glue for a seamless look!
AN EVENING WITH FRIENDS
With friends, you can be a little more imaginative. A holiday get-together is the perfect occasion to try out the hottest trends. Nude lipstick is still popular this year but if you want to be more daring, try a vibrant, satiny colour or something with a little more pop.
The secrets to achieving this look
Start with the foundation. You want something light, uniform and velvety. Be sure to use a foundation that closely matches your natural skin tone. Apply it with a sponge or wide brush.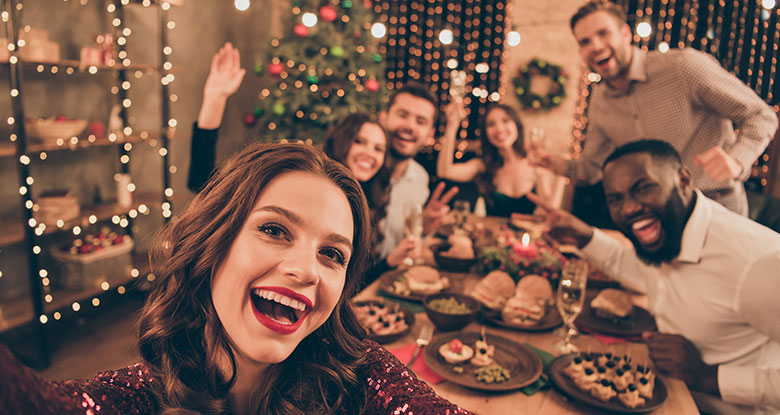 Once the skin is uniform, get to work on your lips. Start with a lip liner to define your mouth precisely and to prevent colour from running. You can even lightly fill in your lips with pencil so that your lip colour lasts the whole night! Next, apply the colour of your choice, using a brush or applicator.
Last but not least, define your eyes. Add some sheen to your upper eyelids and emphasize your lashes with a liner or pencil. You'll have a striking look in no time!
FAMILY CHRISTMAS
A fresh, bright, natural-looking complexion is perfect for family get-togethers. In addition to concealing the effects of all the parties you've been going to, this look will help you play with light—a mega-trend this year.
The secrets to achieving this look
Give yourself a flawless look with a slightly translucent moisturizing foundation, a liquid concealer and some loose powder. Take a moment to define your eyebrows with a pencil that closely matches their colour, using light strokes. The final touch? A bit of illuminator on the apples of your cheeks and upper areas of your face: the bridge of your nose, the center of your lips, your nostrils, your chin, the center of your forehead… wherever you want!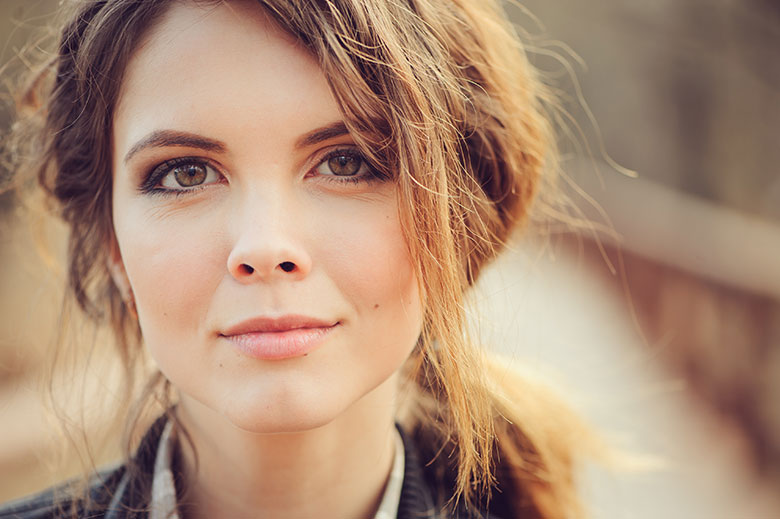 Whether you choose a powder, cream or liquid formula, to control the intensity, always apply the illuminator to the back of your hand using a brush. Apply it sparingly to create a natural-looking glow. Take care when choosing the brightness and colour: pearl pigments, especially lilacs, tend to highlight imperfections. To reflect light and downplay imperfections, use a slightly iridescent or gold shade in strategic areas.
You can add some twinkle to your look with a sparkling eye shadow in the outside corners of your eyes or use a glitter polish on your nails.
To highlight your look naturally, don't apply more than one or two coats of mascara. For an even softer look, choose brown (or burgundy, why not?).
It's a super-easy way to get a healthy look for Christmas with your family!