This year, make a vow to not let your hair turn to straw by the end of summer! Just follow this game plan and you'll be able to keep your promise!
GOALS: PROTECT AND MOISTURIZE
Tanning, dips in the pool, swimming in the ocean… what could be better? Nothing, you might say, but your hair begs to differ! UV rays, chlorine and salt water form a cocktail that dries keratin fibres and increases their porosity, making your hair dull, dry and brittle. To avoid disaster, keep these two goals in mind: prevention and treatment.
An essential question to ask yourself before selecting your team: what's your hair type? Greasy or dry? Straight, wiry or frizzy? Find the right team-playing products and you'll be on track to beautiful, healthy-looking hair.
GEAR UP
As the saying goes, prevention is always better than cure. So if you're going out for a long picnic, a bike ride or a day at the beach, equip yourself accordingly!
Some rinse-free masks nourish your hair and make it more resistant to external aggressors. Don't hesitate to use one the moment you jump out of bed if you know you have fragile hair.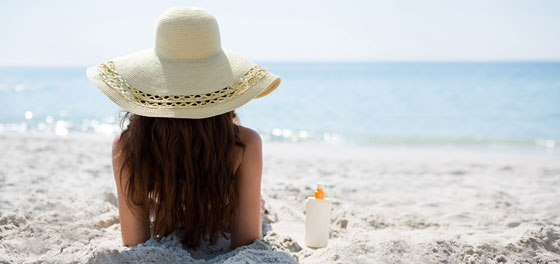 You would never dream of spending hours in the sun without wearing sunscreen! What's true for your skin is true for your hair. Before leaving home, take a moment to spray a protective product with an SPF to you hair. Keep it in your carry bag so you can reapply it after swimming or sweating a lot. Consider using a protective oil or non-greasy spray with a light, non-sticky texture.
If you want even more protection from UV rays, cover your hair with a hat of scarf and be right on-trend at the same time!
Hair that's been coloured (or discoloured!) is more vulnerable to external aggressors than natural hair. To avoid affecting the pigmentation, don't wash your hair before colouring it. It's also good to keep products handy that will prevent the colour from losing its lustre over time.
WASH WITH CARE
Use the right shampoo. Because you wash your hair more often in the summer, it's best to use a mild product. Choose one that's free of aggressive detergents and contains a moisturizing formula suitable for your hair type. If it has an SPF, even better!
Use a conditioner to prolong the thirst-quenching and restorative properties of your conditioning shampoo. Apply a leave-in conditioner or after-sun spray (the hair's equivalent of an aloe gel) that will restore shine and make your hair easier to comb. It's the ultimate solution for dryness and frizz!
Give your hair a nourishing boost from time to time. It's particularly important if you spend a lot of time in the sun every day. Once or twice a week, apply a mask, a hair oil or an anti-heat treatment throughout the length of your hair, including the tips. Allow the treatment to work for at least 10 minutes before rinsing.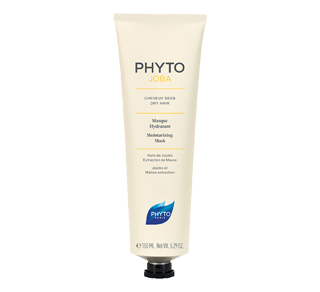 Phyto Paris
Phytojoba Moisturizing Mask, 150 ml
This rich textures mask untangles and intensely hydrates dry hair, without weighing it down. Enriched with Jojoba oil, it restores the hydrolipidic film and strengthens the hair fiber, thus protecting from dehydration.
TAKE ADVANTAGE OF NIGHT
If your hair overdosed on UV rays or chlorine or it's crying out for help despite all your efforts, use an intensive night treatment to strengthen and soften the keratin fibres. Try a mask rich in vegetable oils or a dry oil, and spread it throughout your hair before bedtime. (Remember to wrap your hair in a towel or to cover your pillowcase to avoid stains.) All you have to do in the morning is rinse!
GO FOR THE VACATION LOOK
The sun makes blondes blonder, makes highlights lighter and gives brunettes a touch of copper… and can even make straight hair a bit wavy! And it's all right on-trend—yet another reason to put aside the hair dryer and straightener, which both add stress to your already stressed-out hair during the hot months. To make your waves last, apply a salt spray and give yourself a relaxed beach look. The trick is to spritz a small amount of the spray on your fingers and then wrap separate locks of your hair around them to encourage the curls.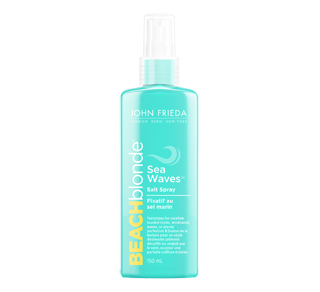 John Frieda
Beach Blonde Sea Waves Salt Spray, 150 ml
Create a carefree, ocean-fresh look with full tousled texture, windswept waves, or piecey perfection and a low-sheen matte finish.