Coloured hair is hotter than ever. The proof: take a stroll down the hair product aisle and you'll find more and more pop and pastel hair colours. And contrary to popular belief, everyone—including the young, and young at heart—can wear blue, pink or green hair. You just need to use the right dose of colour and, more importantly, wear your eccentricity with pride. Read on to learn more.
WHAT YOU NEED TO KNOW
There are no rules.
Do you love coloured hair, but think you're too old for it? Or, conversely, do you feel too young to start dying your hair? Let's make one thing clear: bold colours are not just for Millennials. In 2018, everyone is free to enjoy an original hair colour.
At-home hair dyes are not what they used to be.
Think you're too young to start damaging your hair? Hair dye formulas have evolved, and today they are much gentler than before. Temporary products like one-day sprays and semi-permanent dyes are perfect for teens since they wash out and are relatively harmless for your hair.
Grey hair can be a plus.
Grey hair makes an excellent base for colouring! Why? It allows you to avoid bleaching since the hair has already lost its pigmentation, which is good news!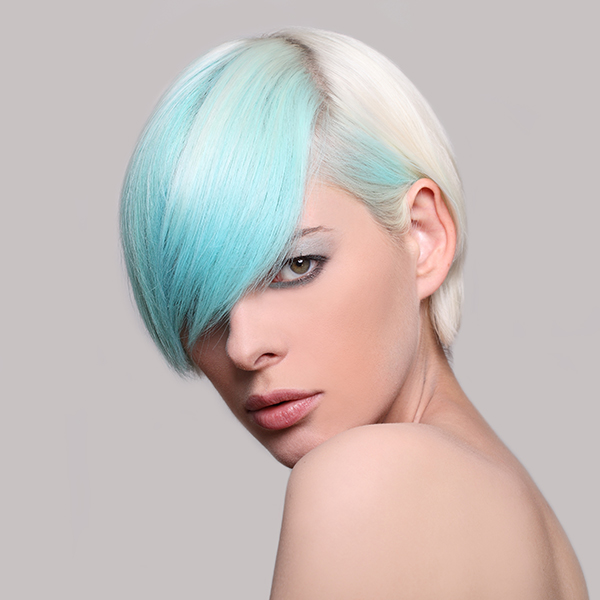 Important
Keep in mind however that grey hair doesn't contain as much keratin as natural hair that still has its original colour. The dye may have a harder time sticking to hair that is really white or silver. For results that go the distance, carefully follow the instructions on the package and create a care routine made up of specially formulated products to help your colour last longer.
Bleaching is not always necessary.
First off, it's important to remember that bleaching is used to remove or lighten the hair's natural pigment in order to prepare it for a lighter shade (two or more tones) than its natural colour. That said, even if bleaching is recommended for permanent or semi-permanent products, it's not always mandatory. It all depends on the colour you want. So if this step makes you anxious, opt instead for a heavily pigmented shade that will easily cover your natural base. Of course, the darker your hair colour, the harder it will be to get lighter shades—pastels, yellow, fuchsia, etc.—without first bleaching.
When in doubt, ask your Jean Coutu cosmetician for advice! She will be happy to suggest products and explain the steps necessary to obtain flawless results without harming your hair.
POSSIBLE VARIATIONS
Depending on your age, level of confidence and desired effect (from subtle to dazzling), there's a wide range of hair colours and styles to choose from. You can opt for highlights, a gradient, a strip at the neck, a complete dye, coloured tips, etc.
For a subtle look: go for highlights, which you can do to your whole head or just under your hair at the neck (very trendy in 2018). This hairstyle is popular among women who want a more understated look rather than a complete dye job, for a style that won't make waves at the office.
For a lightly coloured look: do a gradient of the same colour: red, blue, grey, etc.
For a more sophisticated look: opt for an ombré balayage. Very stylish and elegant!
For a unique and glamorous look: dye the tips silver, gold or bronze.
For a bold look: try "colour melting" (a gradient of different colours) that's all the rage right now with beautistas.
For a different and contrasting look: dye your roots only.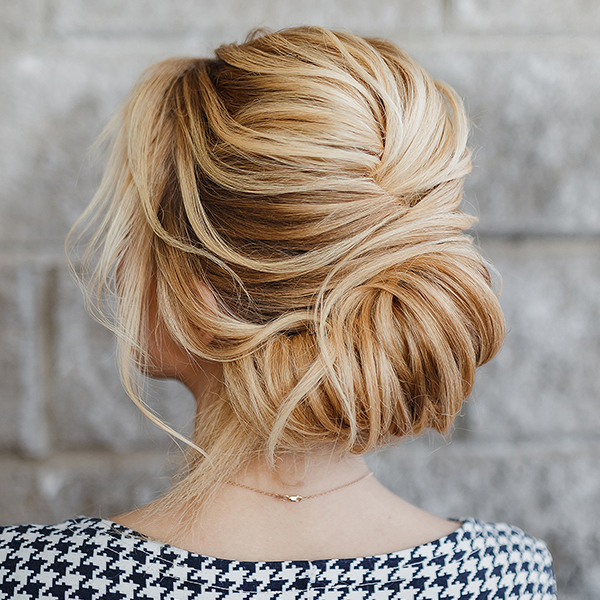 TRENDING COLOURS
While anything goes, certain shades like rose quartz, flamboyant red-orange, violet, navy blue, fluorescent (pink, blue and yellow) and burgundy will be the hottest colours in 2018.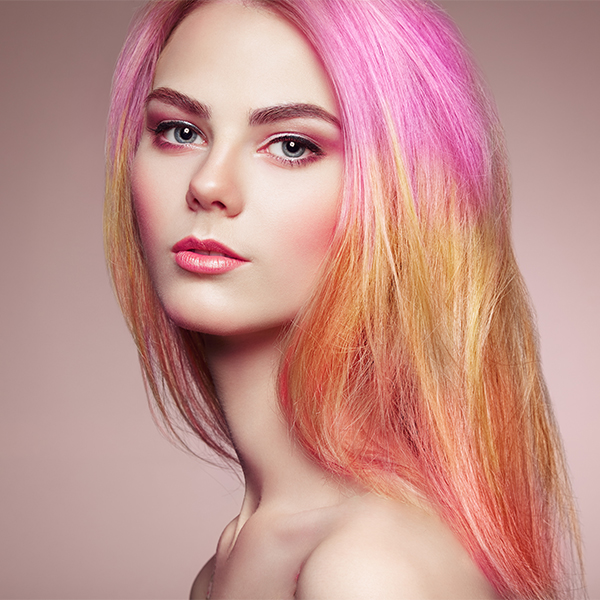 PRODUCTS AVAILABLE AT JEAN COUTU
Whether you're looking for subtle or bold colours, temporary or permanent products, we have a huge selection of choices, with something for every taste and style.
One-day spray: for instant colour that begins to fade from the first shampoo. Perfect for an evening out, an event or to try a colour.
Semi-permanent dye: contains some peroxide, but no ammonia, and progressively washes out with no visible regrowth.
Permanent dye:contains ammonia and peroxide. It's the ideal option if you want to change your hair colour or simply enjoy a beautiful shade for more than two weeks. Its advantage: it completely covers grey hair. Its disadvantage: it requires root touch-ups every four to six weeks.
Important
Avoid applying temporary or one-day colour to bleached hair, since it may stain it. For beautiful results, ask your cosmetician for advice.