Manicures are always in style! This fall, opt for a simple take on nail art that, unlike previous trends, highlights minimalist styles and geometric patterns.
Here are three to try.
HARAJUKU DOLL
Inspired by Japan and its fashion influence, Rita Remark, global nail artist for Essie, created this modern, on-trend tricolour style. We love the clean lines and fun touch of blue on the nail's half-moon.
Step 1: Using Essie's Go Go Geisha shade, create a classic French manicure following the nail's white tip.
Step 2:With a manicure guide or with your hand raised, create another arch at the very end of the nail, in Essie's Kimono Over shade.
Step 3: Using a nail art guide, or again with your hand raised, paint a powder blue circle at the root of the nail, right in the centre of the half-moon. Rita's favourite colour for this? Udon Know Me, from Essie's fall collection.
Step 4: Complete this flashy style with a top coat.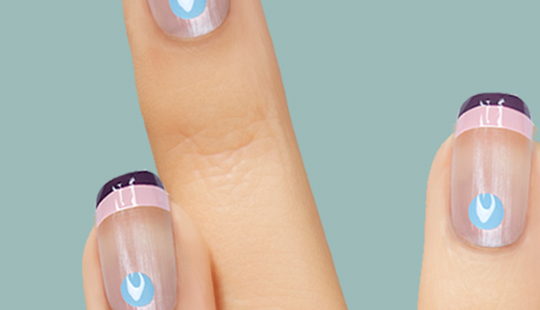 Asymmetrical grey
Designed by Madeline Poole, Sally Hansen's global colour ambassador, this manicure is perfect for the office with its subtle tones, but is also great to wear out with friends.
Step 1: Apply two coats of Miracle Gel Greyfitti from Sally Hansen to the entire nail.
Step 2: Using a nail guide, create stencils on the nails in random geometric shapes.
Step 3: Fill in the shapes with a darker shade. For this style, Madeline loves Miracle Gel Slate-r Girl from Sally Hansen.
Step 4: For a beautiful glossy finish and to activate the previously applied gels, apply a coat of Miracle Gel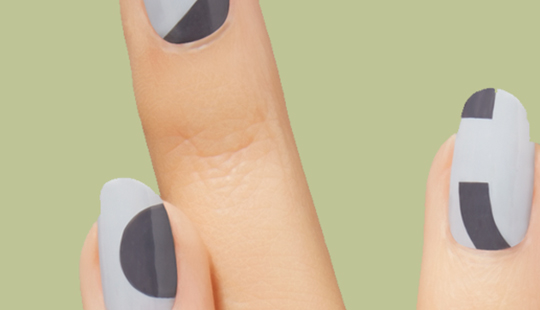 Tricolour cubism
Feeling bold? This daring manicure could easily be inspired by a Mondrian painting. Pink, khaki and golden, it allows you to dip a toe into the new season without having to dive right in. We love its metallic accent, which you can achieve with nail jewellery or golden polish.
Step 1: On bare nails, use nail guides and begin by applying the lightest colour, in this case Blanc de Lune from L'Oréal Paris.
Step 2: Apply two coats of this colour, allowing it to properly dry between each coat. Next, remove the guides.
Step 3: Repeat the first two steps for the next two colours. We're using Vert Absinthe and Café de Nuit, both from L'Oréal Paris. Feel free to apply coloured squares on top.
Step 4: Finish your manicure with a golden nail jewellery or with a sticker that you will randomly place on each of your 10 nails.