Go all out for the Holidays! Give yourself an attention-grabbing manicure. Here are 4 home solutions for flawless nails.
Traditional nail polish
Ultra-pigmented and chip-resistant, the latest formulas are made to last. Many have added strengthening and moisturizing ingredients so they not only colour your nails, they condition them, too!
For colour and hold that lasts as long as your evenings, be sure to apply a base coat before the colour, then finish with a shiny or matte top coat.
Gel nail polish
It's THE solution for smooth, hard, ultra-vibrant nails without going to the salon! In terms of technique, you've got two choices:
Use a polish that doesn't require a UV lamp: two or three coats of colour, a finishing coat and you're done! For a uniform finish and lasting hold, make sure you use thin coats and let each one dry before applying the next.
Use an LED lamp designed for home use. Between each coat (base, polish and finish), leave your nails to dry under the light for 2 minutes: the polish will harden and become resistant enough to last two or three weeks!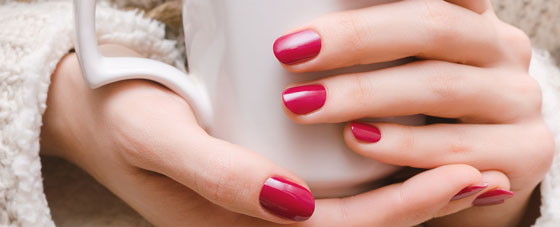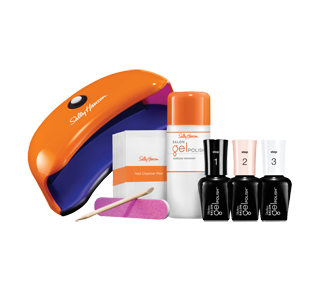 Sally Hansen
Salon Pro Gel Starter Kit Shell We Dance?
Easy 2 step gel manicure in a strip with no dry time that removes easily with acetone polish remover.
Artificial nails
If you want the elegant look of a French manicure or the punch of delicately applied decorative effects but you're all thumbs, artificial nails are your best friends! Apply them with glue, or even easier, use adhesive tabs. Best of all, they last up to two weeks, exactly the amount of time you'll need for all the parties you'll be attending!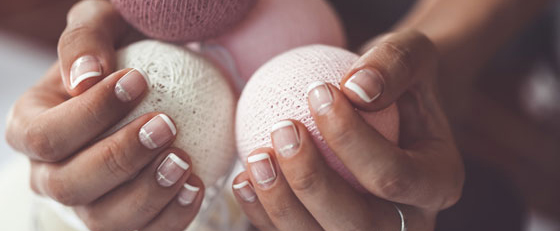 Before applying the nails, clean your fingertips thoroughly and push back your cuticles. Next, roughen up the surface of your nails with a file designed for this purpose. You'll have better adhesion with rougher, sebum-free nails.

If you're using glue, apply it sparingly. Place a small drop on your natural nail and one on the inside of the artificial nail. Press firmly, being sure not to leave any air bubbles or to let glue spill out the sides!