Want to go all out for a night out? Or maybe you just want to add a little glam to your look? Whatever you're looking for, false nails and lashes are a quick, easy solution. Read on and learn how to choose and apply them in a snap... or a wink!
Easy false eyelashes
How to choose your lashes...
There are three main points to consider:
The type of false lashes. Typically, they come either fringed or in individual bunches that you can break up any way you like.
Their length and shape. Do you want to lengthen all your lashes, or just certain areas, or do you want a more natural look?
How they're applied. Some types of false lashes are applied with glue and others are self-adhesive. It's up to you to choose the type that suits you best.
How to apply false lashes with glue...
1) Preparation
First, apply mascara to your natural lashes to strengthen them and create a more solid base for your false lashes.
If you're using the fringed type of lashes, separate them from their support using tweezers. Position them on your eyelid according to taste, then carefully cut the fringes if they're too long. Make sure to use the right scissors for a clean, precise cut.
Pro tip
The fringe should extend beyond the outer corners of your eyes by about three lashes. And remember to leave a small space at the inner corners.
2) Gluing on false lashes
For fringed lashes, apply a thin line of glue along the application band. Let the glue dry for 30 to 45 seconds, then use tweezers to place the false lashes along the roots of your natural lashes. To make the job easier, position the false lashes on the centre of your eyelid, then lay down the inner and outer ends of the false lashes.
For false lashes in bunches, apply a drop of glue to each bunch. Then apply two or three short lashes to the centre of your eyelid, and three or four longer ones towards the exteriors. The more bunches you apply and the closer they are together, the more intense the final look.
Keep your eye closed during application for greater precision, then press lightly down on the lashes using a cotton ball to ensure that your false lashes stick properly. Remember to hold the false lashes firmly in place until the glue has dried completely.
3) Touch-ups
Can you see a demarcation line between the fringe and your real lashes? Or maybe the glue dots are still visible under the clumps? There's an easy fix. Just use an eye pencil or dark liner to draw a line along the lash line to conceal any problem areas.


False lashes without glue
Bunched false eyelashes are self-adhesive, so you don't need glue. Simply peel off the backing, position them wherever you want and press them down lightly. Hold them in place for a few quick minutes and you're done! Because false lashes are positioned under your real lashes, there's no demarcation lines so they blend in naturally with your look, whatever it may be.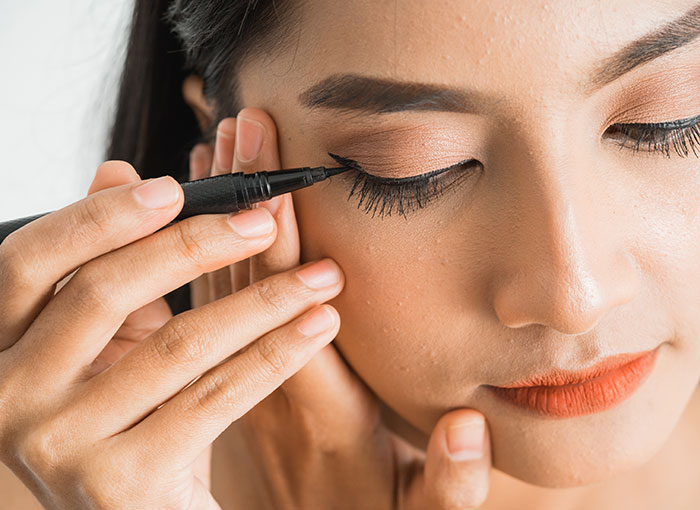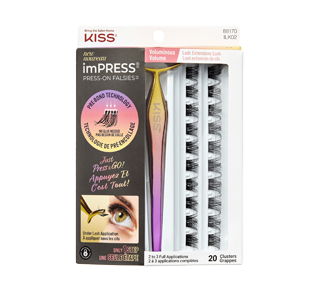 Kiss
imPRESS Press-On Falsies Eyelashes, 20 units
Lash in a flash with no glue needed - Just Press On & Go! New imPRESS Press-on Falsies, with Pre-Bonded Breakthrough Technology, are a game changer. The first-ever press-on under lash application lets you lash in 1 simple step. Pressure-sensitive adhesive adheres instantly and lasts up to 24 hours. Easy removal with no residue and no damage to your natural lashes. Kit has enough clusters for 2-3 applications. With no mistakes and no mess, these lashes are for everyone! Kit includes 20 pre-bonded clusters and a new, innovative, nonstick applicator.
The truth about false nails
Want to try a French manicure, colourful patterns or maybe some glitter, but you don't have time to leave your hands under a UV lamp? False nails, with or without glue, are your best option. They're available in a variety of shades, finishes, patterns and designs. Plus, they offer the shine and hold of a salon-quality gel manicure, without the cost, the time, the polish or the risk of smudging.
How to apply false nails with glue...
Place a small drop of glue on your natural nail, and another drop on the inside of the artificial nail.
Position the artificial nail on your natural nail, line it up with your cuticle, then press down firmly. Make sure the glue doesn't leak out, and make sure there are no air bubbles between the two nails, or the false nail could come unglued.
Let the glue dry completely. Drying time can vary from just a few seconds to a few minutes, depending on the glue.
False nails without glue...
Glue-free false nails are thin and comfortable. Plus, they're designed to match the shape of your own nails, and they stay in place without damaging them.
For a quick manicure:
Peel the false nail from its backing.
Place the adhesive side of the false nail onto your natural nail, then press down on both the sides and the centre at the same time.
Hold firmly in place for 30 seconds to ensure the glue sticks properly.
And voilà: simplicity in a snap!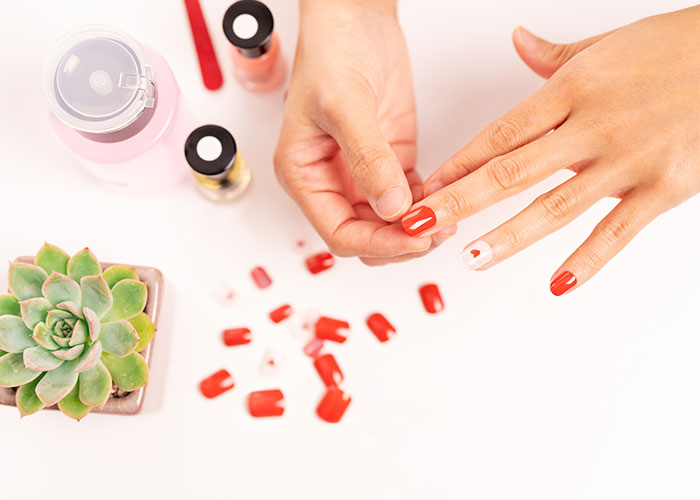 Pro tip
Before applying your false nails, take a moment to clean your natural nails. Free as much surface area as possible by gently pushing back your cuticles. Buff your nails lightly with a block or a file to make them slightly rough and remove any excess sebum. This will ensure your false nails stick perfectly.
Whether you're using glue or not, avoid all contact with water for one hour after applying your nails.