Hand washing, sanitizing gels — these days, life is hard on everyone's hands. It's no surprise that they dry out! Here are some tips for the whole family to finally say goodbye to tight, chapped skin!
ANTI-DRYNESS PLAN
1. Opt for mild soaps
Regular soap can irritate the skin and make your problem worse, so wash your hands with liquid cleanser or a mild soap. Liquid products are often recommended for sensitive skin, since they are less abrasive and easier to rinse off.
2. Apply moisturizer several times a day, especially after every wash
After washing your hands, be sure to properly dry them, including between the fingers, before applying your cream. Massage it in until the product is completely absorbed by the skin. The cream's oily film acts as a shield to protect the skin from dehydration and also helps to soothe feelings of tightness and discomfort.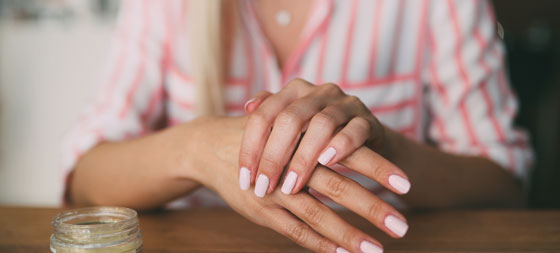 Get the most out of your cream by applying a healthy coat on your hands before going to bed, allowing the skin to absorb a larger quantity of the product overnight.
3. Use a scrub once or twice a month
The next time you exfoliate your body, give yourself the full experience by scrubbing right to your fingertips. What, exfoliate my hands? That's right! While it may seem surprising, scrubbing your hands is ultra-beneficial since it promotes blood circulation, removes dead skin cells and helps the moisturizing ingredients in your hand cream to better penetrate the skin.
4. Put on latex gloves to use household products
Bleach, dishwasher detergents, sanitary disinfectants—several household products are formulated with ingredients that can irritate the skin. We therefore strongly recommend wearing gloves when doing chores like washing dishes and housekeeping.
HOW DO I CHOOSE THE RIGHT CREAM?
To relieve dry skin, opt for a combination of ultra-protective active ingredients that repair the skin.
Here are some natural ingredients to favour:
Glycerin: repairs, lubricates and softens.
Shea butter or Monoi oil: regenerative and protects against the cold.
Cranberry seed oil: antioxidant and anti-aging.
Baobab oil: softens, repairs and heals.
Aloe vera: hydrates, soothes, nourishes and firms.
Honey and Beeswax: protects and nourishes.
Sweet almond oil: softens and tones.
Argan oil: hydrates and nourishes, with anti-aging properties.
Lemon juice: revitalizes and regulates pH.
Cupuacu: hydrates, soothes and protects, with antioxidant and anti-aging properties.
Another option : Dermo cosmetics

Do you know these skincare products that combine health and beauty? Their ultra-gentle formulas are suitable for every skin type – even the most sensitive. Some of them are especially made to fight extreme dryness and soothe the discomfort caused by rashes: it's worth a look!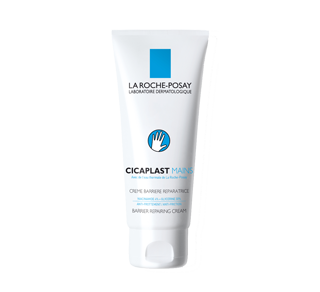 La Roche-Posay
Cicaplast Mains Barrier Repairing Cream, 100 ml
Our best hand cream for dry to very dry hands. This intense moisturizing repairing hand cream immediately soothes hands, leaving them feeling soft, smooth, and hydrated. It provides up to 48 hours of hydration and is resistant to frequent hand washing. It replenishes skin's moisture barrier, leaving an invisible protective glove-like effect on your hands. Thanks to its quick-absorbing texture and invisible, non-oily and non-sticky finish, all activities can be immediately resumed after application.