Dry skin and dehydrated skin… we often use these terms interchangeably. But we shouldn't, because they are two distinct conditions that require different types of care. Read on and you'll find out how to tell the difference so you can choose the right products and the right steps in your beauty routine to deal with your specific issue.
One essential difference
Like the words "oily" or "normal," the word "dry" is an adjective that qualifies a type of skin. Dry skin produces an insufficient quantity of sebum, the natural oil produced by our bodies to help protect against bacteria and external aggression.
Dehydrated skin, on the other hand, lacks water, not sebum. This type of condition is caused by temporary factors, like exposure to pollution or UV rays, heating, hormonal changes, inappropriate skin-care routines, poor hygiene, diet, etc. Anyone can have dehydrated skin, even someone with oily skin!
How can you tell if your skin is dry or dehydrated?
While the appearance of dry and dehydrated skin can be quite similar (one more reason the two conditions are often confused) there are a few ways to distinguish the two.
Dry skin is characterized by a lack of elasticity; it has a dull appearance and wrinkles easily. It's thin, with tightly grouped pores, rough, it peels, has fine cracks and often itches. In short, it's not very comfortable!
Dehydrated skin is also thin and wrinkles easily, especially after a shower or washing with tap water. Unlike dry skin, though, it can often be oily on the edges of the nose, forehead or chin (the famous T zone). It also produces more sebum to compensate for water loss, which can make it prone to imperfections, like pimples, comedones, etc.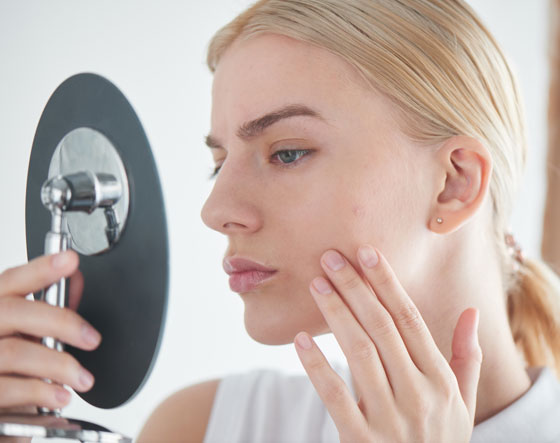 Which skincare products should you use?
For dry skin, you want comfort and suppleness, so you should turn to emollient creams, rich in reparative ingredients and fatty acids. You also want a gentle formula so you can cleanse with it morning and night. Make sure you have a mask on hand and exfoliate at least once a week. By getting rid of the dead skin cells, you'll make your skin more receptive to care products and you'll regain lost radiance.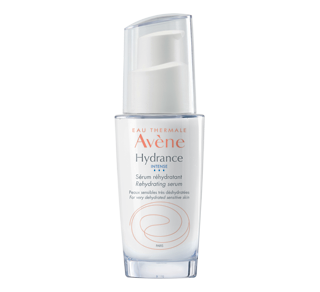 Avène
Hydrance Intense Rehydrating Serum, 30 ml
A refill of thermal water for an intensely and durably hydrated skin. Its aqua-film texture leaves on the skin an imperceptible sensation of water.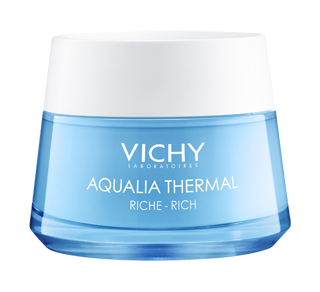 Vichy
Aqualia Thermal Rich Rehydrating Cream, 50 ml
An intense and long-lasting moisturiser for dry and very dry skin that provides up to 48 hours of hydration. Fine lines appear replumped with moisture.
For dehydrated skin, the goal is to soothe your skin and quench its thirst. To do that, choose cleansers and masks that are non-abrasive with a neutral pH and moisture-replenishing properties (Hello, hyaluronic acid!). In terms of creams, look for products with long-lasting moisturizing to build up a protective layer that helps seal the moisture in. Remember: avoid greasy or fatty formulas; the last thing your skin needs is more oil!
Another great way to help dehydrated skin: drink more water… and less coffee!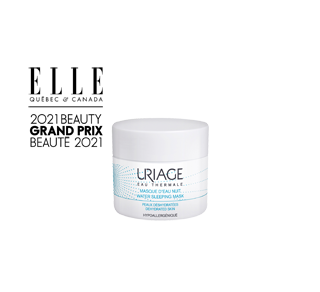 Uriage
Eau Thermale Water Sleeping Mask, 50 ml
Dive your skin in a real « Thermal Bath ». Uriage Thermal Water's hydrating power in a ultra-light jellified textured night mask. Skin is rested, as "8 hours of sleep" : skin texture is smoothed, fully moisturized, supple and soft for a ultra-fresh glow.