The air is getting colder. It's starting to bite. Humidity levels are decreasing and we're turning on the heat… There's nothing like cold air to dry out our skin and make it lose its radiance. The solution? A total moisturizing cure. Here's a quick look at how you can get spa-quality treatments in your own home to keep your glow alive when the temperature begins to fall.
EXFOLIATE!
When? Once or twice a week.
Why? Exfoliation doesn't just clean your skin deeply by dislodging the impurities that clog your pores, it also makes your skin more receptive to skincare treatments, which makes them all the more effective. Think of it as five minutes well spent!
Technique: After cleansing your skin with a gentle product, apply a scrub in small, circular movements then rinse well.
Products: Choose gentle cleansers that remove dirt and dead skin cells without assaulting your skin or irritating delicate areas (contours of the eyes, lips, etc.). In terms of formulas, opt for natural moisturizers like argan oil or thermal water, which quench your skin while softening it.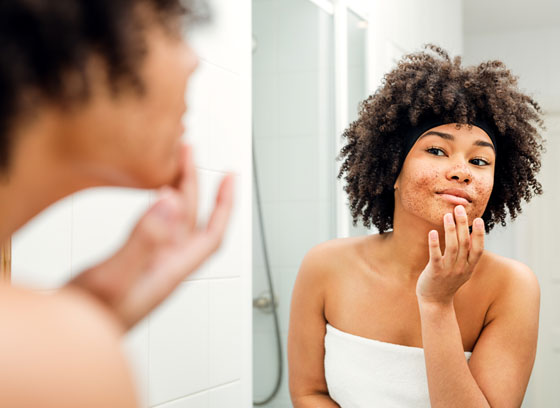 Did you know? It's best to exfoliate your skin at night because the regeneration of new skin cells is at its in the wee hours. There's a reason they call it beauty sleep!
APPLY A QUENCHING MASK
When? Once or twice a week.
Why? Masks are intensive-care products that boost the effectiveness of our regular beauty routine. Bursting with active ingredients, they replenish the skin's supply of water, improve its appearance, give back its softness and suppleness, and increase its resistance to aggression from external causes.
Technique : Apply the mask to the entire face, leave it on for 5 to 10 minutes and then rinse (or massage the excess product so it's absorbed into the skin). If possible, apply your mask while you're in the bath: the heat and humidity will open your pores and stimulate the active ingredients… it's also a nice way to relax. After all, you deserve it!
Psst! If you apply your mask before going to bed, you can leave it on all night for maximum results.
Products : Regardless of whether you prefer your mask in a jar, tube or sheet, make sure it contains re-pulping ingredients, like minerals, vegetable extracts, etc. Want an extra-refreshing sensation? Try gel formulas that are easy to apply and are absorbed quickly.
Remember: even though you want to get the most out of the product, there's no point in spreading it on too thickly. Your skin can only absorb so much, so the excess will be wasted!
MOISTURIZE
When? Every day, morning and night.
Why? Proper moisturizing is the backbone of your beauty routine. In the mornings, it protects your skin against cold and wind so it doesn't dry out too much during the day. In the evenings, it helps your skin regenerate itself and create sufficient moisture supplies while you sleep. This is one step you don't want to forget!
Technique : Spread a thin layer over your entire face after cleansing and use a little extra for the neck and décolleté areas, which are low in natural oils and particularly subject to drying.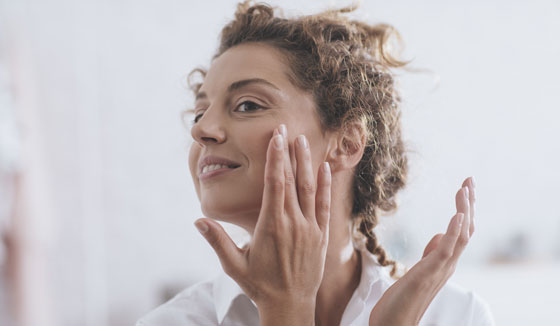 Products: A good moisturizer has three main properties: it acts gently (remember: cold is an irritant); it's long-lasting, and it's appropriate for your particular skin type.
Dry skin prefers moisturizers that are rich in nourishing and emollient agents and have long-lasting effects.
For normal to mixed skin, which produces more oil on its own, choose balms, gels or light creams.
Oily skin needs specially formulated products that eliminate excess sebum, reduce the appearance of pores and minimize imperfections.
Is your skin going through a particularly rough period? Serum to the rescue! Applied before your moisturizing cream, it will boost effects of your moisturizer's active ingredients and increase its overall hydration.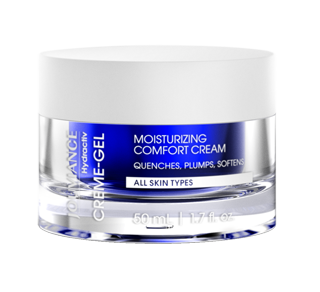 Jouviance
Hydractiv Creme-Gel Moisturizing Comfort Cream, 50 ml
Soothe dry skin with this moisture-rich comfort cream. Its non-greasy, gel-in-cream texture instantly penetrates to infuse lasting hydration that calms dehydrated skin.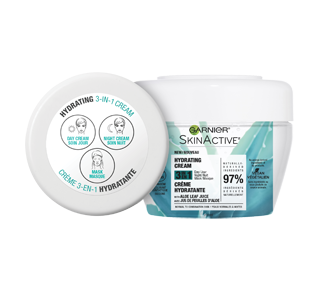 Garnier
SkinActive Hydrating 3-in-1 Cream, 200 ml, Normal to Combination Skin
Our new skin care routine is made from 97% naturally-derived ingredients and is free of parabens, silicone or synthetic colourants.