What are these little brown spots on my face? Where do they come from, and how do I get rid of them? Learn everything you need to know.
Why do age spots appear?
Let's make one thing clear: apart for aesthetic considerations, there is no reason to worry when you notice age spots on your skin.
Age spots (or hyperpigmentation) often appear on areas most exposed to the sun (face, neckline and hands) in your 40s, and sometimes earlier. Also called "brown spots" or "liver spots", age spots are most often a sign that the skin can no longer effectively protect itself from the effects of the sun, and more specifically, harmful UV rays. Age spots are caused by an excessive accumulation of melanin in the skin that has been most damaged by the sun. Clusters of pigments then make their way to the skin surface and create a spot.
The good news is that you can prevent age spots and make them less visible without having to see a dermatologist.
Note: Some brown spots can also be caused by pregnancy or by an incorrect dosage of birth control pills. In these cases, the spots will generally disappear once hormone levels stabilize.
How to prevent them
An ounce of prevention is worth a pound of cure! While the best way to stop age spots from appearing is to avoid sun exposure, in reality it's pretty difficult to do, regardless of the season. So be sure to protect your skin from UVA and UVB rays by using a sunscreen with an SPF of at least 30.
Don't forget that each time you are exposed to the sun, you run the risk of multiplying the blemishes on your skin, and of worsening those that are already there. That's why it is very important to apply sunscreen before going outdoors, as well as before and after swimming.
We recommend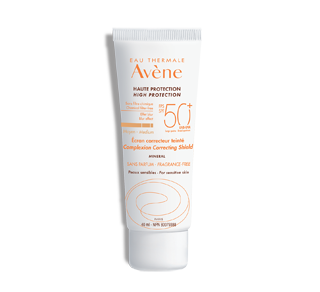 Avène
High Protection Complexion Correcting Shield SPF 50+, 40 ml, Medium
The high protection complexion correcting shield SPF 50+, formulated without chemical filter, oil, parabens and without fragrance, helps prevent sunburn. It moisturizes, brings antioxidant protection and helps to absorb free radicals from environmental aggressors in a full coverage. Formulated to minimize risks of allergic reactions - Non-comedogenic.
How to conceal them
With the right products and a bit of skill, you can make your age spots nearly invisible. For fuller coverage, opt for highly concentrated, colour correcting concealers.
Which shade should you pick? If your blemish is light, choose a concealer that's one tone lighter than your foundation. For darker spots, select a colour correcting concealer in a shade that is complementary to the blemish. Why? Because two contrasting colours placed one on top of the other will cancel each other out. When in doubt, refer to the chromatic circle or simply consult your cosmetician. For example:
Green eliminates red.
Yellow conceals brown or purple.
Orange hides blue.
Pink masks brown.
Here's how to conceal your spots in three easy steps:
On a clean, moisturized face, apply a concealer directly to the brown spots to cover them, using a small brush for better precision. Once the concealer is applied, lightly dab the spot with a sponge or brush to blend in the product.
Next, apply a liquid or compact foundation to the entire face, which will even out the complexion. For better results (and to avoid removing the concealer) lightly dab the product onto the face with a sponge.
Finish with a translucent powder to set the makeup.
We recommend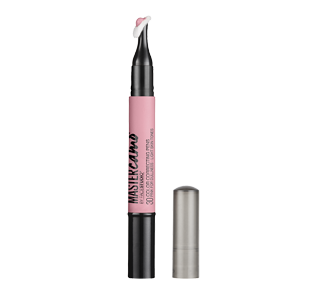 Maybelline New York
Master Camo Colour Correcting Pen, 6 ml
Correct to perfect with a twist and swipe! Go for a flawless face with this powerful, pure-pigment colour-correcting pen.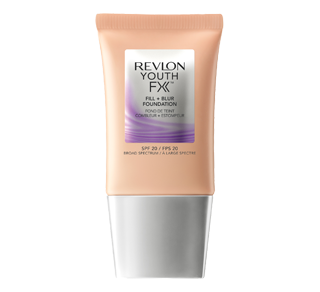 Revlon
Youth FX Fill + Blur Foundation SPF 20, 30 ml
Revlon Youth FX Fill + Blur Concealer dramatically transforms the appearance of crows feet.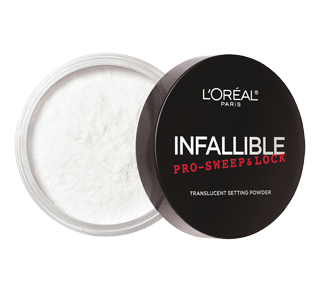 L'Oréal Paris
Infallible Pro-Sweep & Lock Powder, 8 g, Translucent
L'Oreal Paris introduces pro-inspired translucent loose setting powder that locks in makeup and controls shine all day. The micro-fine loose powder formula blurs lines and pores for a smooth finish. Translucent powder makeup creates a soft focus, matte effect as it sets makeup.
How to reduce their appearance
To get rid of spots once and for all without having to visit a clinic, there are some over-the-counter products that have long-term effects. How do they work? Composed of active depigmenting and lightening ingredients, they act on the melanin, promote the exfoliation of dead skin cells and make the spots paler.
And since there is a wide range of age spot products available on the market (creams, cleansers, serums, lotions and eye care), you can create a skincare ritual that specifically or partially targets hyperpigmentation.
Note: You will need to be patient! You may have to wait several weeks before seeing the initial results.