What are these little brown spots on my face? Where do they come from, and how do I get rid of them? Learn everything you need to know.
Why do age spots appear?
Let's make one thing clear: apart for aesthetic considerations, there is no reason to worry when you notice age spots on your skin.
Age spots (or hyperpigmentation) often appear on areas most exposed to the sun (face, neckline and hands) in your 40s, and sometimes earlier. Also erroneously called "age spots," they are most often a sign that the skin can no longer effectively protect itself from the harmful effects of the sun's UV rays, or, as we've recently become aware, from the blue light given off by digital screens. The damage caused by the rays creates an excessive accumulation of melanin in the skin. These clusters of pigments then make their way to the surface of the skin, creating spots.
The good news is that you can prevent age spots and make them less visible without having to see a dermatologist.
Note: Some brown spots can also be caused by pregnancy or by an incorrect dosage of birth control pills. In these cases, the spots will generally disappear once hormone levels stabilize.
How to prevent them
An ounce of prevention is worth a pound of cure! While the best way to stop age spots from appearing is to avoid exposure to the sun or blue light, in reality it's pretty difficult to do, regardless of the season. So you have to protect your skin. One effective way is to use a sunscreen with a high SPF of at least 30, capable of shielding you from UVA and UVB rays, coupled with an anti-blue-light product. There are more and more of them available on the market.
Don't forget that each time you are exposed to these rays, you run the risk of multiplying the blemishes on your skin, and of worsening those that are already there. That's why it's very important to apply protection daily, no matter what the time of year.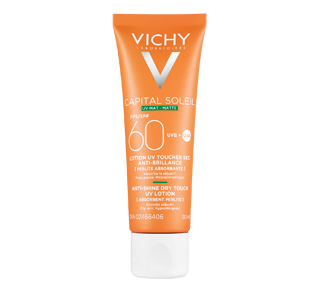 Vichy
Capital Soleil Anti-Shine Dry Touch UV Lotion
High protection SPF 60 broad spectrum UVA/UVB. Formulated for an active lifestyle and outdoor activities. Anti-shine efficacy. Dry touch texture for face. Non-greasy, non-shiny, non-sticky for a light feeling. For normal to conbination skin or oily sensitive skins.
HOW TO REDUCE THEIR APPEARANCE
To get rid of spots once and for all without having to visit a clinic, there are some over-the-counter products that have long-term effects. How do they work? Composed of active depigmenting and lightening ingredients, they act on the melanin, promote the exfoliation of dead skin cells and make the spots paler.
And since there is a wide range of age spot products available on the market (creams, cleansers, serums, lotions and eye care), you can create a skincare ritual that specifically or partially targets hyperpigmentation.
Note: You will need to be patient! You may have to wait several weeks before seeing the initial results.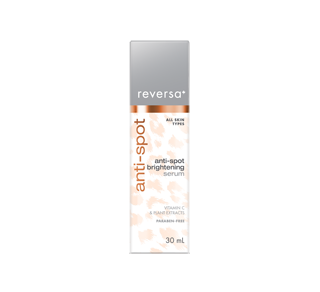 Reversa
Anti-Spot Brightening Serum, 30 ml
Stubborn brown spots? Brighter days are ahead! Reversa's anti-spot brightening serum visibly reduces the appearance of brown spots and pigmentary imperfections (acne marks, pregnancy mask, etc.). Concentrated in vitamin C and plant extracts, this intensive treatment for stubborn brown spots and pigmentary imperfections produces visible results within only a few weeks of use. Its hydroquinone-free formulation brightens complexion and makes it more uniform while enhancing its radiance.
HOW TO CONCEAL THEM
With the right products and a bit of skill, you can make your age spots nearly invisible. For fuller coverage, opt for highly concentrated, colour correcting concealers.
Which shade should you pick? If your blemish is light, choose a concealer that's one tone lighter than your foundation. For darker spots, select a colour correcting concealer in a shade that is complementary to the blemish. Why? Because two contrasting colours placed one on top of the other will cancel each other out. When in doubt, refer to the chromatic circle or simply consult your cosmetician. For example:
Green eliminates red.
Yellow conceals brown or purple.
Orange hides blue.
Pink masks brown.
Here's how to conceal your spots in three easy steps:
On a clean, moisturized face, apply a concealer directly to the brown spots to cover them, using a small brush for better precision. Once the concealer is applied, lightly dab the spot with a sponge or brush to blend in the product.
Next, apply a liquid or compact foundation to the entire face, which will even out the complexion. For better results (and to avoid removing the concealer) lightly dab the product onto the face with a sponge.
Finish with a translucent powder to set the makeup.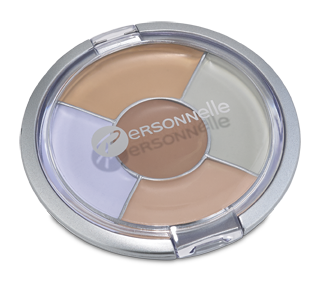 Personnelle Cosmetics
Corrector Palette, 10 g
Get a flawless complexion with the Personnelle Cosmetics Corrector Palette. Ultra-practical, it's perfect for covering up small imperfections. A must-have for your beauty kit!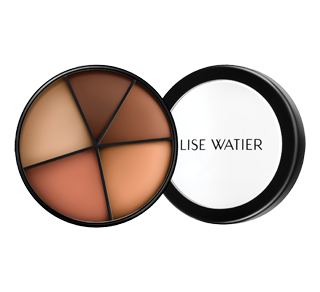 Watier
Portfolio Professional Correctors 4-in-1, 20 g
A five-way concealer spectrum designed to correct and conceal imperfections and under-eye circles. Enriched with soothing Magnolia bark extract to reduce the appearance of redness and imperfections.