The secret to flawless makeup for dark skin? Light and coverage. The key is choosing the right colours and textures and using the correct technique. Patrick Lorentz, an international makeup artist for Estée Lauder France, explains everything you need to know to enhance your dark skin.
FOUNDATION: COVERAGE AND HYDRATION
Whether you have black, white or multi-ethnic skin, choosing the right foundation is essential for makeup worthy of the pros. Finding your perfect shade is crucial. Many makeup professionals agree: the most common mistake women make is wearing foundation that's either too light or too dark. Take your time to choose the right one. Yes, finding the perfect shade requires patience and trial and error. You want to find THE product that perfectly matches your complexion, gives you a second skin and corrects your imperfections. When in doubt, ask your Jean Coutu cosmetician.
Patrick's tips
As dark skin tends to be combination or oily, choose a foundation that covers and mattifies to tighten dilated pores and slow sebum production. And remember, oily skin doesn't mean hydrated skin! Despite what you may think, oily skin still needs to be moisturized. Make sure to nourish your skin with a specially formulated cream before applying your foundation. This step to prepare the skin is essential if you want a smooth, radiant complexion.
POWDER AND BLUSH: MATTE AND LIGHT
For a flawless look, use a mattifying powder (just like the foundation), and apply it to the whole face. It will absorb sebum, set your foundation and give your skin a smooth, velvety texture. For a finishing touch, apply a dab of illuminator to your T-zone, which will allow the skin to catch the light.
Patrick's tips
Always keep an orange blush in your beauty kit. It is extremely versatile and goes great with all dark skin tones, from deep black to caramel. You can't go wrong!
For beautifully sculpted cheeks, rub your brush in the blush thoroughly and apply it with light upward circular motions, then blend in for a natural looking effect.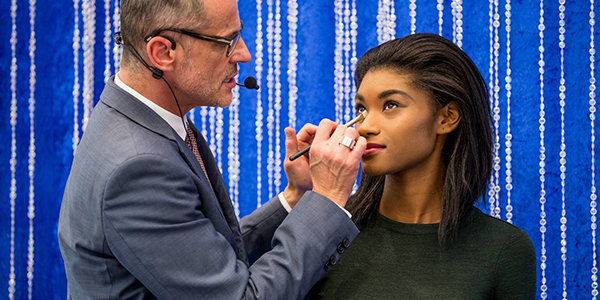 EYE SHADOW: COLOURFUL AND VIBRANT
People with darker complexions can wear a wide variety of colours, and the possibilities are endless! So have fun with bold eye shadows in bright, lively and iridescent colours that will make your eyes pop and add depth, even to dark eyes. For example, golden, copper, khaki and yellow tones go wonderfully with black and multi-ethnic skin.
Patrick's tips
If you love smoky eye, listen up! Contrary to those with white skin, you'll need to apply pale, muted colours to brighten up your look. Also, the lines should be less defined with more gradient to avoid making your eyes look smaller.
The secret of makeup artists? Finish with a brighter touch below the brow line and at the inside corner of the eye to attract light and make your eyes look bigger.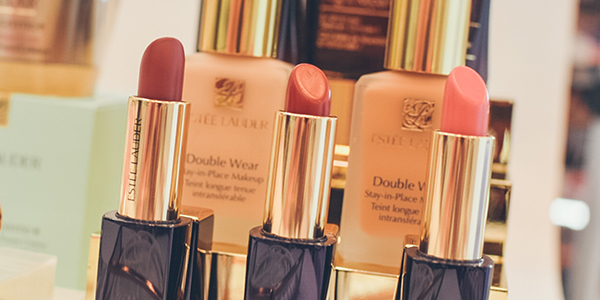 LIPS: RICH AND TEXTURED
Ultra-pigmented colours go perfectly with beautiful, dark, lush lips! Opt for rich and lively shades like purple and fuchsia, and of course, the hottest fashion accessory right now: red lipstick. Garnet and burgundy also look fantastic with darker skin.
Patrick's tips
Do you find that your lips are too plump? Then trade in your lip gloss, which adds volume, for mattifying shades. And why not try ombre lips? They look great with fuller mouths. Create a gradient by defining the contour of your lips with a darker colour, then apply a slightly paler shade inside it. It's a look that's both original and elegant!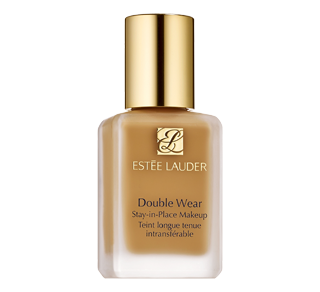 Estée Lauder
Double Wear Stay-In-Place Make Up, 30 ml
Medium to full coverage. Matte finish. Long-wear: proven 24-hour wear. Oil-free. Oil-controlling. Dermatologist-tested. Non-acnegenic; won't clog pores. Fragrance-free.