Take heart: achieving natural-looking contouring that suits your everyday makeup IS possible! And we can prove it with two easy methods, adapted to any type of face.
What is contouring?
Well, for starters, it's something that Marilyn Monroe and Kim Kardashian both practised!
Used for decades in movies and fashion shoots, this popular technique works to shape the features of your face by focusing on the contrast between light and shadowy areas. Some types of contouring sculpt your features in a highly pronounced way, with results reminiscent of stage makeup. Other more subtle, realistic techniques are totally compatible with everyday life. Our makeup artist Virginie Vandelac has two techniques to show you.
Pro Tip : Regardless of the method you choose, make sure you blend the makeup as much as possible at every step to create a light, airy effect. Remember: the important concept here is light, light, light!
1. Lift Contouring
This is the perfect method for refining and slimming your face while ensuring a natural look.
You'll need a self-tanning powder, a discreet blush, a concealer and a cream or powder illuminator.
Start by applying the self-tanner to your cheekbones (don't go lower than your nose!), then work your way up to your temples in a C shape. Feel free to add a touch on your brow bones and eyelids for a more unified effect.
Apply some blush a little higher up on your cheekbones, following the same curve.
Enhance the radiant effect by adding a little concealer above and below the areas covered by your blush and self-tanner. In both cases, apply the concealer to the centres of your cheekbone and blend upwards.
Use the illuminator to create diagonal lines near your lower eyelids and a small vertical line on your forehead, starting from the middle of your eyebrows. Just like you did earlier, be sure to blend your makeup well at every step!

Pro Tip : Choose an illuminator with a texture that's not too glittery or metallic. After all, you don't want to overwhelm your face or emphasize the fine lines around your eyes.
2. Blush Contouring
This is the perfect method for defining your cheekbones and accentuating their roundness, which is great if you have a long face or less prominent features.
You'll need two blushes: one medium-strength matte and one that's glossier and lighter.
With the matte blush, create a half-moon shape (or rounded V shape) under your cheekbones, then blend upwards to create the effect of fullness.
Use the lighter blush to cover the upper part of your cheekbones with small circular movements, then blend downwards to blend the two textures seamlessly.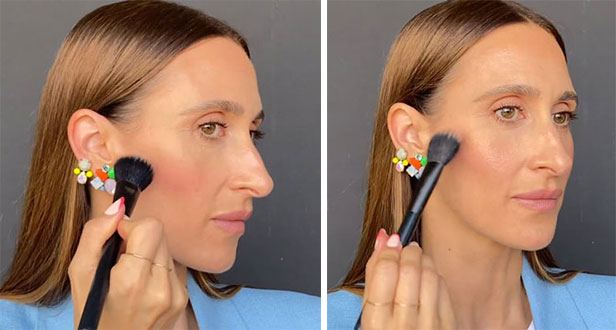 Pro Tip : Concentrate the application on your cheekbones by creating two imaginary lines starting from the outer ends of your eyebrows and the centres of your irises. It's a good way to help avoid "thinning" the appearance of your face or making your features look too heavy.