One of the most popular makeup techniques on Instagram and YouTube, colour correcting is the latest makeup trend for flawless skin. While it may look daunting at first glance, this technique is actually quite easy to master. Here's everything you need to know.
The concept of #colourcorrecting is simple. The technique involves using complementary colours to eliminate and correct the flaws that bother you. You'll need a multicolour palette that corresponds to your needs, a concealer brush for precise application, and a damp sponge to shade the colours before you apply your foundation.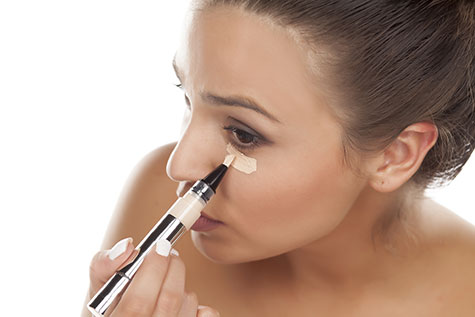 GREEN
Green is without a doubt the most widely used and well-known colour corrector. It's primarily used to eliminate redness due to rosacea, a pesky pimple or for anything else that reddens the skin. Apply green corrector to the affected areas—usually the cheeks and area around the nose.
LILAC
A cool yet gentle shade, lilac is very effective for brightening up a dull, tired or naturally greenish complexion. Women with olive complexions will love using it to offset their skin's undertones. For paler complexions, lilac acts as an illuminator. Apply it to the upper cheekbones, brow line, tip of the nose and Cupid's bow.
RED/ORANGE/PEACH
Red is hands down the most surprising shade of the bunch, and it's a fantastic discovery for people with dark, brownish or bluish markings such as acne scars, dark circles or visible veins. The red or orange shades counteract the bluish or purplish tones typical of these skin issues.
YELLOW
Like lilac, yellow plays an important role in achieving a radiant complexion. Use it to awaken the skin and restore light to a complexion strained by fatigue or by an accumulation of dead skin. On a smaller scale, yellow corrector can diminish subtle redness or pink spots.
Multipurpose palettes
Economical and designed to suit everyone, from beginners to experts, a wide array of corrector palettes are finally available to the general public. You can usually find a wide range of corrective tones designed to make your life easier.
We suggest: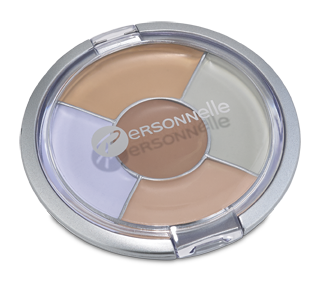 Personnelle Cosmetics
Corrector Palette, 10 g
Get a flawless complexion with the Personnelle Cosmetics Corrector Palette. Ultra-practical, it's perfect for covering up small imperfections. A must-have for your beauty kit!