Passed down to us from Asian cosmetics, cleansing oils have now become an important part of our beauty routines. Want to know why and how you should use them? Are they for you? We've got all the answers.
MORE THAN JUST A MAKEUP REMOVER
There are lots of great reasons to use cleansing oils! The most important one? They work super well! Their emollient properties make them highly effective at removing dead skin cells and dirt, eliminating oxidized sebum that has accumulated and dissolving the oily materials found in makeup (even in waterproof makeup!). What's more, they're gentle, so they can be used on delicate skin, like the area around your eyes.
Another advantage? They don't just help purify your skin, they actually nourish it, balancing out the natural oils you need to keep your skin soft and luminous. As a result, once you've finished removing your makeup, your skin still has enough sebum to protect it, so it doesn't start producing excess amounts. Good riddance, oily skin and imperfections!
GOOD HABITS
How should you use cleansing oils? Easy: just pour a little into the cup of your (clean) hand, then warm the oil by rubbing your hands together. Apply the oil to your entire face by massaging it gently using circular motions, then create an emulsion using water. Rinse thoroughly and dab your face dry with a clean towel. That's it!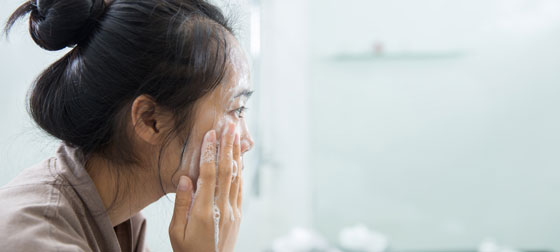 Does your product have a funny texture? Don't worry. Many cleansing oils become milky when they're combined with water. It's part of what makes them so comforting to use and it also keeps them from clogging up your pores or leaving a greasy film on your skin.
AN OIL FOR EVERY TYPE OF SKIN
Cleansing oils are compatible with all types of skin. You simply have to find the one that's right for you.
Dry skin has fewer natural emollients, so it requires cleansing oils that are rich and nourishing, filled with the lipids it needs to protect itself against daily wear and tear.
Oily or mixed-type skins, which already have fairly high lipid production, need cleansing oils that are easily rinsed off without leaving any residue. Choose water-soluble oils rich in amino acids that help control the production of sebum.
Sensitive skin requires soothing, non-irritating ingredients, so avoid perfumed cleansing oils or those with high concentrations of essential oils. You might also want to consider non-foaming products rich in omega acids.