Platinum, ash, beige, gold, honey, caramel… Which shade of blonde goes best with your complexion? Answers and explanations.
As a general rule, you should choose a shade of blonde that's similar to your complexion. For instance, if you have alabaster skin, (pale and milky, nearly translucent), you might want to pick a cooler, pale shade of platinum blonde. However, if your complexion is olive, tanned or dark, you should instead opt for a warmer shade, somewhere between gold and caramel. Need more information? Here's a practical guide to help you make an enlightened decision when picking a new dye kit at your pharmacy.
If you have a pale complexion
Your complexion is clear, pale, even and slightly rosy? Then "peroxide" blondes such as platinum, white or ash grey were designed for you. More ethereal than sexy, these trendy blonde shades add a dose of sophistication to your locks.
Unsure about being bold enough to pull off these trendy colours? Opt for a very pale shade, but one that's gentle such as natural blonde, vanilla, pearl or a subtle gold. It will boost your complexion and is perfect for both the office and a night out.
Our suggestion:
L'Oréal Paris Feria #100
If you have a medium complexion
Good news! If your complexion is slightly amber, not quite pale nor very dark, you can wear almost any shade of blonde available on the market. Good to know: medium complexions are beautifully boosted by two specific shades: gold and honey, which will make your face more radiant and will soften your features.
When it comes to colour effects, many professional hairstylists recommend the balayage technique the first time you go blonde. The reason is simple: it's the easiest style to adopt because a balayage blends with the base colour and does not create visible roots. That way you'll be able to get used to your new colour before dyeing your entire locks.
Our suggestion:
Clairol Nice & Easy, #8G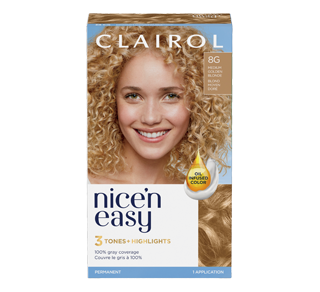 Clairol
Nice'n Easy Permanent Hair Colour, 1 unit
Our breakthrough colour care permanent crème has conditioners built into every step. It gives you 100% gray coverage with real natural looking tones & highlights while being kind to your hair. What's better? It's Nice'n Easy.
If you have olive complexion
Are you lucky enough to have thick, matte skin that looks naturally tanned all year long? Then "bronde" shades (halfway between blonde and brown) are for you! A unique soft brown or deep blonde that results in a natural-looking effect and creates wonderful highlights. It will also make you look like you've just returned from a few days at the beach.
Bronde is also great if you want highlights, as a balayage look. Simply randomly choose a few thin locks on the top of your head and around your face to dye. Note: "bronde" hair doesn't produce a visible root regrowth, and that's a good thing!
Our suggestion:
Garnier Nutrisse Cream, #700
If you have a dark complexion
Warm blonde shades with golden highlights such as beige, honey and caramel goes extremely well with brown, amber, dark or black skin. Why? Because the darker the skin, the matter it is and in need of some brightness and radiance. That's why it's preferable to choose a warm, golden blonde that brings out the skin's pinkness and brightens the complexion.
A good idea: don't dye your roots. Whether you're looking to create a few highlights or want to colour your entire head, apply the product on the length and tip of the hair only. The final results will be natural and flattering and you'll avoid creating a striking contrast between the roots and your complexion. In any case, avoid blondes with red, yellow or orange undertones. Those are rarely seductive.
Our suggestion:
Schwarzkopf Keratin Color, #8