Blue veins, dark circles, zits, redness, blemishes: for every imperfection, there's a concealer with the right shade to cover it up. Find out how to make colours work for you.
Concealing your imperfections 101: For results almost as impressive as Photoshop, the trick is to use a shade that cancels out the imperfection, based on the colour wheel (for example, yellow is the opposite of blue, while green is the opposite of red).
Using complementary colours in this way will "neutralize" and hide your imperfections more effectively than a non-tinted concealer.
Based on this principle, you should use:
a green-tinted concealer to hide red spots (zits, dilated blood vessels, blemishes, etc.)
an orange-tinted concealer to cover blue veins
a yellow-tinted concealer for purple or brown dark circles.
You can also take advantage of this artist's palette of colours to give your skin extra radiance. Using a pink concealer, for instance, will restore vitality to a pale, tired complexion, while orange concealers will impart a healthy glow to dark, matte skin.
This is an easy and quick way to mask any facial imperfections and will help you achieve a great complexion and flawless skin texture!
Pro tip: Did you overdo it with the tanning lotion and end up with skin that's practically orange? Then opt for a blue-tinted concealer to cover up your faux-pas with hardly any fuss.
The steps
Before you start, clean your face and apply a serum and your daily care moisturizer.
Apply a thin base layer of makeup on your face to soften up the skin texture and reduce shine.
Remove dark circles by using a beige concealer with a hint of yellow and then hide red spots with a green corrector. Finally, reduce the appearance of dilated veins with a little bit of orange corrector.
Use a flat brush to spread a few drops of light apricot luminous liquid foundation (for lighter complexions) or one that is slightly gold (for medium to dark complexions) on the skin to create a healthy glow.
We love: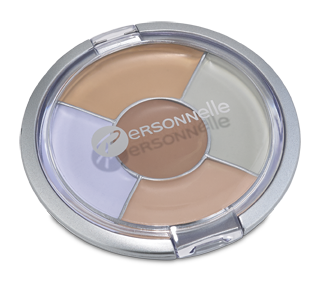 Personnelle Cosmetics
Corrector Palette, 10 g
Get a flawless complexion with the Personnelle Cosmetics Corrector Palette. Ultra-practical, it's perfect for covering up small imperfections. A must-have for your beauty kit!