Makeup artist Bruno Rhéaume suggests a punchy combo for the Holidays: a fiery mouth and an iridescent look!
Proper preparation, please!
Perfect makeup starts with an impeccable complexion. So, before you jump right into the fun stuff, start by applying concealer under your eyes and to your eyelids. Then apply a natural foundation on your entire face. Use it sparingly and make sure you blend it in everywhere to avoid clumping. Use a little loose powder to set everything. After all, you want a solid base to build on!
Next, define your eyebrows, one small stroke at a time, from the exterior inwards, then use a mascara comb to diffuse the colour. And last but not least, use a moisturizing balm on your lips. It will work its magic while your makeup sets and prepare your lips for colour. Just remember to sponge off the excess balm before you apply your lipstick.
Shine and texture for the eyes
Who said a pronounced mouth can't be minimalist! On the contrary, a deep, shimmering, slightly smokey eye will balance the lips. To get the look, cover your eyelids with a tawny almost peach shadow using a rounded brush. Next, work the colour by applying a touch of violet, blending it to the edge of your lower lashes. To give them even more depth, add a touch of burgundy and a little black to the inner edges of your eyes. Use smaller, lighter brushes in whichever shape you prefer. The key is to achieve a shimmering and harmonious blend of colours.
You've got lots of choices for mascara! For an intense look, use jet black. For a less dramatic look, why not try brown or burgundy?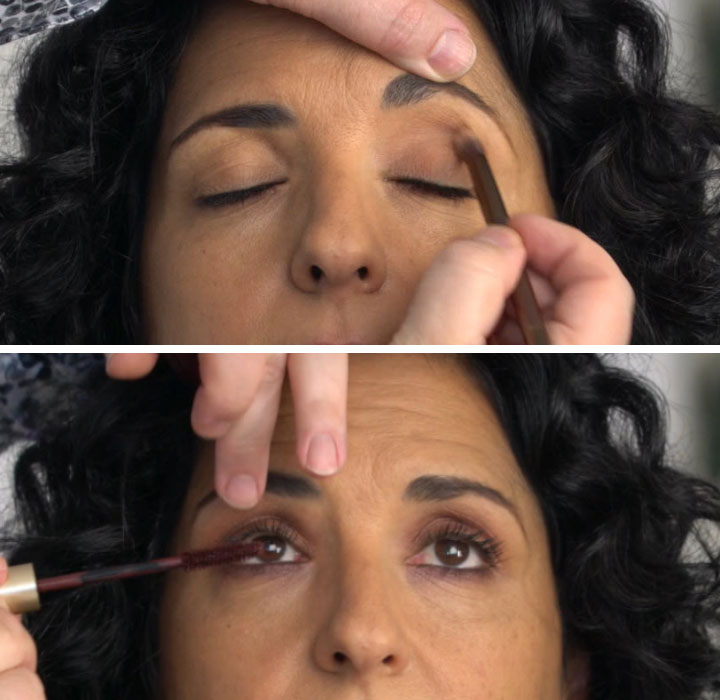 And the liner?
Go ahead and draw a thin, dark line on your upper eyelids before applying mascara. Be sure to maintain a maximum of brightness. If you have small eyelids, the liner could hide too much of the shimmering shadow.
Healthy, glowing cheeks
Extend your cheekbones up to the temples using a subtle and luminous combination of earth tones. The ideal base: a contouring palette with some added peach shadow and a bit of illuminator.
If red patches are a concern, dab a touch of concealer to hide them, followed by a sweep of powder.
Bright, precise lips
You want a perfect mouth! That's why you should start with a matte contour pencil at the centre of your lips and then follow the outline, carefully filling them in to unify the colour and add hold.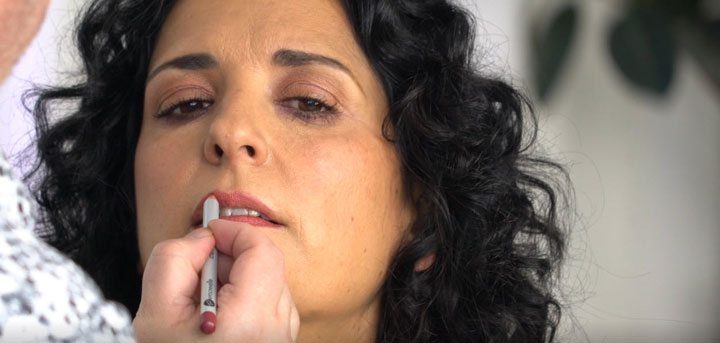 Pro Tip:
To give your lips a fuller look (dark colours tend to make them look thinner), draw your contour line on the slight bulge around the lips, being sure to not draw past it! Use a well-sharpened pencil to make this step easier.
Then apply your lipstick with a brush, staying within the contours you drew with your pencil. Whether you want a purplish Bordeaux, a dark raspberry or a fiery red, don't hesitate to mix several shades to get the exact colour you want!
To maintain your flawless look all evening, slip a survival kit into your purse: lipstick, some gloss and a few cotton swabs for touch-ups.