Let she who has never erased a pimple on a photo cast the first stone. Let's face it, we like to give a little love to our selfies before publishing them on social networks. We play with filters and touch-up applications… or cheat a little with our makeup! Our secret weapon? Blurring!
A favourite of beautistas for several years, blurring, also known as soft focus, recalls the primary purpose of fashion makeup: play with lighting to thwart the eye. Composed of reflective micropigment compounds, blurring products bounce light in all directions, reducing pore accuracy. The result? The skin appears blurred or "clouded", as if slightly out of focus. Imperfections are hazy and fine lines, pigment spots and pimples seem to disappear.
An even complexion
Blurring means primer: the goal is to perfect the complexion before applying makeup. The technique? Apply the blending product small amounts, either over the entire face, or on the reliefs that attract light - wings of the nose, forehead, cheekbones and chin. Smooth with light movements, then tap, from the centre to the sides and from top to bottom. Nothing could be easier! The important thing is to choose the right formula.
Day Cream
THE best choice for a natural look. We integrate it into our morning beauty routine, after cleansing, to moisturize the skin and erase wrinkles, pores and localized blemishes. The light texture blends with the skin and subtly diffuses the light. A healthy (and youthful) glow guaranteed!
Primer
It is used, if necessary, after the cream. In addition to smoothing the skin, it can serve as an illuminator or corrector, and target problems such as redness or signs of fatigue. As a bonus, it slips easily into the purse for touch-ups during the day. All that remains is to cover it with a light foundation, close to the colour of the skin, for a perfect artistic blur!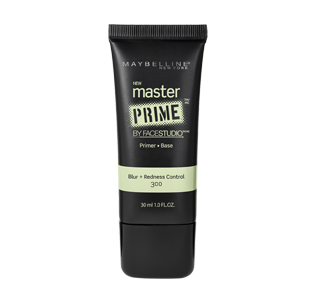 Maybelline New York
Facestudio Master Prime Primer, 30 ml, Blur + Redness Control
This primer preps for even makeup application by visually blurring skin tone imperfections and smoothing fine lines.
A blurred pout
There is a variant of blurring for the lips: blurred lipstick! How to do it? After applying our favourite matte colour, gently smooth the contours of the mouth with a cotton swab. You can also choose a sponge applicator formula, ideal for ultra-precise dosing and a "bitten lips" effect.