The multiple powers of retinol
An active form of vitamin A, retinol (or retinaldehyde) is mostly known for its anti-aging properties. Made popular by RoC, the ingredient is one of the most effective for the skin—it's been proven!
Retinol's anti-wrinkle action stems from its ability to restart collagen production by stimulating your fibroblasts. Fibroblasts, which provide support to the epidermis, secrete collagen, which in turn gives the skin its shape, and keeps it supple and resistant. Among other things, collagen ensures that your skin is dense and plump. It's important to note that collagen production starts to decrease when you hit age 25.
Vitamin A is an undisputed antioxidant. Retinol protects the skin from external aggressors, oxidative stress, aging effects due to the sun, pollution, and other factors that could affect the health of the cells that keep you looking youthful.
On top of giving collagen a hand, retinol also stimulates the elastin in your skin, which increases its elasticity. The best example of its power? When you pinch your skin, elastin helps it regain its initial shape. Because it is lacking in elastin, mature skin has a tendency to wrinkle, crease, and mark more easily and for longer.
The current enemy: dark spots, hands down. A true log of your days spent in the sun, the appearance of brown spots can nevertheless be reduced by using retinol. As a matter of fact, vitamin A can help promote the degradation and regulation of melanin, which causes the spots.
In the very beginning, the medical aesthetics industry used retinol as a treatment for acne. The molecule has the property of improving cellular regeneration. At the same time, it clears and reduces the appearance of large pores, as well as smooths the skin.
How to use it
To get your skin used to retinol's strength and effectiveness, start by using it every other day until your skin becomes completely tolerant to it.
It's preferable to combine retinol and sunscreen, or to apply it before going to bed.
Because vitamin A is very sensitive to air and light, look for products with very opaque packaging.
Our suggestions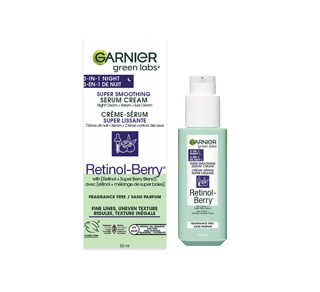 Garnier
Green Labs Retinol-Berry Super Smoothing Night Serum Cream 3-in-1, 50 ml
Introducing retinol into your skincare routine? This product is formulated to provide the benefits of retinol without over-drying the skin. Great for first-time retinol users, and those with sensitive skin!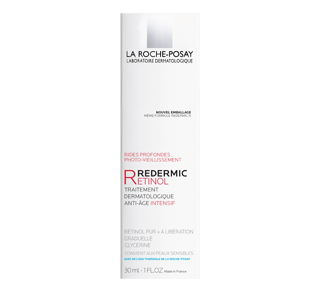 La Roche-Posay
Redermic R Professional-Grade Retinol, 30 ml
Photo-ageing: accentuated wrinkles, irregular complexion, premature age spots. Suitable for sensitive skin.