The hormonal changes that come with menopause affect women's bodies in a number of ways. But what effects does menopause have on the skin? And what can be done to limit them?
Loss of elasticity and sagging
What's happening? During menopause, the amount of DHEA (also known as the youth hormone) can decrease by up to 90%. Our bodies also produce less and less collagen, a protein essential for keeping skin tissues toned. As a result, our skin gradually loses its suppleness and radiance, and the contours of our face become less defined.
How to make a difference? The first thing you can do is adjust your beauty routine by integrating formulas rich in peptides and active moisturizing ingredients, like hyaluronic acid, vitamin E, etc. This will help stimulate the production of collagen and mimic the rejuvenating effects of DHEA.
You can also adapt your skincare routine by applying an anti-aging serum in the mornings and evenings—which will help boost the effectiveness of other products—and by treating yourself to a plumping mask once a week. You might also want to invest in creams that target delicate areas around your eyes, mouth, neck and décolleté, which are more vulnerable to signs of aging.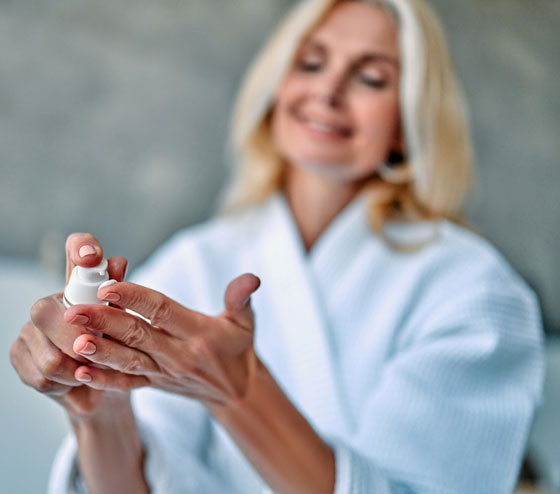 Complement your treatments with a facial massage! Every day, take a moment to apply small upward pressure on your skin, moving from the inside of your face to the outside. This will help stimulate the production of collagen and strengthen your skin tissue, which helps blood flow more freely, nourishing your skin cells more completely.
Dryness and thinning of the skin
What's happening? The decrease in estrogen production, combined with a slowing metabolism, reduces your skin's ability to retain moisture so your skin gradually dries out, becoming more fragile, causing wrinkles to deepen more easily.
How to make a difference? Focus on treatments that preserve your skin's oil balance and nourish it completely, without blocking your pores. For cleansing, remember to use soap-free products, preferably milks, that contain the right amount of fat. If you use creams, choose re-densifying formulas, that strengthen your skin and help it retain water.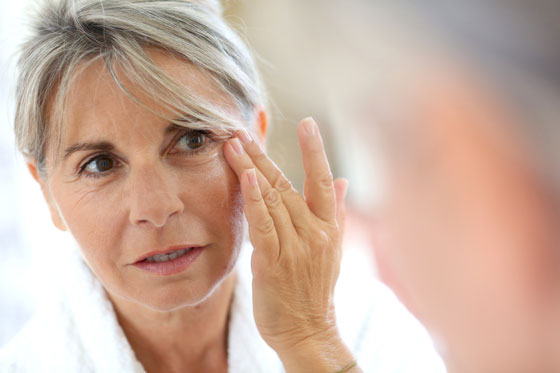 On adopte un mode de vie sain
Pigment spots
What's happening? With prolonged exposure to UV rays, some areas of your skin can produce excess brown pigment, or melanin. Together, these clusters of pigments migrate to the surface of your skin, forming dark spots.
How to make a difference? Two words: solar protection! No matter what season it is or how hot it is, it's crucial to apply a sunscreen with an SPF of at least 30 every day. No worries, it can be used over your day cream. If you're in a rush, use a moisturizer that features a sunscreen.
Certain treatments—creams, cleansers, serums, lotions, etc.—can also reduce the appearance of dark spots. How? Their decolouring and brightening ingredients promote the exfoliation of dead skin cells, which helps lighten the spots.
A little physical activity goes a long way! Getting active every day stimulates blood circulation, which promotes the distribution of oxygen throughout the body. But don't sweat it: you only need about 30 minutes of walking a day to reap the benefits of exercise.