Is your beauty kit overflowing, even though you only use half of its contents? It may be time to clean it out! All you need are seven good essentials to create beautiful, hassle-free looks.
SERUM
As the first step in a skincare routine, serum is applied before moisturizer because it penetrates deeper. It also boosts the benefits of moisturizer, making it twice as effective. Due to its high concentration of active ingredients, a few drops are enough to cover the face and neck. Keep in mind, however, that serum is not a replacement for moisturizer and should not be used alone.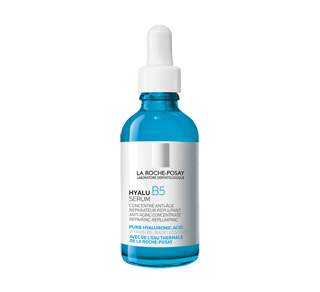 La Roche-Posay
Hyalu B5 Serum, 50 ml
The first La Roche-Posay dermatological correction to help repair the skin barrier, replump skin and reduce wrinkles and fine lines. Skin immediately recovers bounce, suppleness and a healthy-fresh complexion. Wrinkles and fine lines look reduced. Skin looks replumped as if renewed. Hyaluronic acid is the go-to anti-aging molecule used by dermatologists in aesthetic procedures to address wrinkles and reduced skin plumpness. It absorbs up to 1,000 times its weight in water for an immediate plumping effect and long-lasting hydration.
MOISTURIZER
Choose your moisturizer based on your skin's needs: A thick cream for dry and sensitive skin, a lightweight one for normal skin, a milky lotion for combination and oily skin and an anti-aging formula for mature skin. Your day moisturizer should always have an SPF of 15 or 30 to protect your skin against UV rays.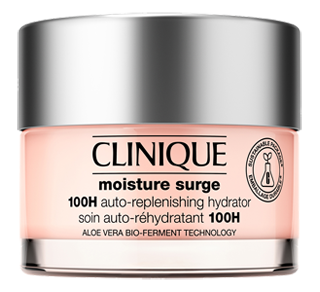 Clinique
Moisture Surge 100H Auto-Replenishing Hydrator, 50 ml
Who it's for: very dry to dry, dry combination, combination oily, oily. what it is: an upgrade on our refreshing fan-favorite, this oil-free gel-cream moisturizer with exclusive aloe bio-ferment and hyaluronic acid penetrates deep into skin's surface - for hydration that goes over 10 layers deep* and lasts for 100 hours, even after washing your face. What it does: lightweight oil-free formula provides hydration that goes over 10 layers deep.* delivers a 174% immediate moisture boost and keeps skin hydrated for 100 hours. This advanced dual-action hydrator with auto-replenishing technology helps skin create its own internal water source to continually rehydrate itself, then locks in moisture for an endlessly plump, healthy-looking glow.
FOUNDATION
Whether it's for evening out skin tone or hiding imperfections, foundation is a great multi-purpose product when used correctly. Using a makeup sponge or brush, apply a few drops on the forehead, chin and cheeks to even out the complexion, then on the under-eye circles and inner corners of the eyes to add brightness and finally the sides of the nose to reduce redness.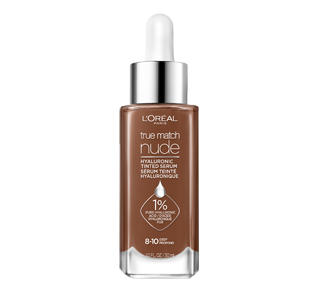 L'Oréal Paris
True Match Nude Hyaluronic Tinted Serum, 30 ml
True Match hyaluronic acid tinted serum - our 1st tinted serum with 1% hyaluronic acidInstantly brightens, evens and hydrates skin all in one. 1% hyaluronic aacid instantly hydrates. Skin looks plumper in 3 weeks. Plumps up like a serum, covers like a foundation with luminous mineral pigments. 9 radiant shades blend to match a variety of skintones.
MASCARA
Nothing transforms a look like mascara. Opt for a brown mascara if you want a more natural look, or black for a more dramatic and intense result. Apply two coats of mascara on each eye to add even more volume and thickness to your lashes.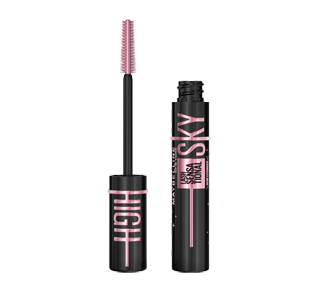 Maybelline New York
Lash Sensational Sky High Mascara Full Volume, 7.2 ml
Sky high lash impact from every angle! Maybelline's Lash Sensational Sky High mascara delivers full volume and limitless length. Exclusive flex tower mascara brush bends to volumize and extend every single lash from root to tip. Washable mascara formula infused with bamboo extract and fibers for long, full and lightweight lashes, that don't flake or smudge. Available in very black and blackest black. Now available in cosmic black, with intense black impact. Allergy tested. Ophthalmologist tested. Suitable for sensitive eyes and contact lens wearers. Removes easily.
LIPSTICK
A makeup look would not be complete without a touch of colour on the lips. We love lipstick's creamy texture and intense pigments. Pink shades are typically safe options for any skin tone.
A MASK
A mask can be applied once or twice a week to work on the deeper layers of the skin. It can hydrate, soothe and even cleanse your skin. To remove any excess sebum and impurities that accumulate on the skin each day, clay masks are second to none. It is one of the most effective minerals for brightening skin tone and leaving skin radiantly clean.
MAKEUP REMOVER
You've probably heard a thousand times that you should never go to bed with makeup on. Makeup remover is crucial for allowing your skin to breathe during the night and keeping it healthy. Invest in an oil- or cream-based makeup remover for the face and a gentler formula designed especially for the eye area.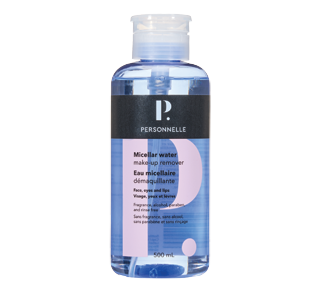 Personnelle Cosmetics
Make-up Remover Lotion 3 in 1, 500 ml, Fragrance Free
Gentle micellar lotion for face, eyes and lips