With a new season at your doorstep, now it the time to try out all the new products. Check out these must-haves.
FOUNDATION PRIMERS
A healthy, smooth and radiant complexion is in. Primers applied before makeup are great allies to brighten your complexion: not only do they camouflage imperfections and reduce signs of fatigue, they also leave a finish that reflects the light. Everything you need for Instagram-ready skin texture!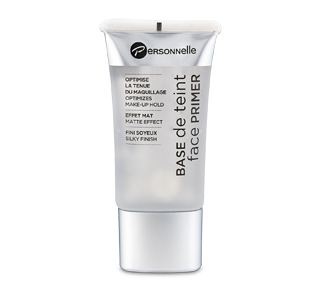 Personnelle Cosmetics
Face Primer, 30 ml
Makeup primer is specially designed to cover up skin imperfections, brighten the complexion and extend the wear of foundation and other powders. Ideal for mattifying and smoothing the skin, the Personnelle Cosmetics Face Primer reflects light and enhances your makeup, rendering it flawless, even and long-lasting. In addition to preparing your skin for makeup, it reduces the appearance of fine lines and wrinkles. It has a silky, beautiful finish. Tip: Skip the foundation and just use primer for a more natural look. An essential step in your beauty regimen!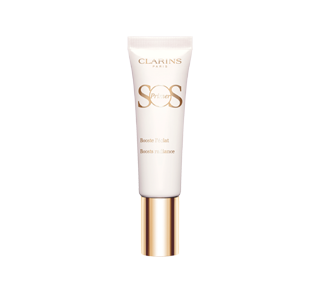 Clarins
SOS Primer, 30 ml
SOS Primer's fluid texture guarantees easy application with no "mask" effect for a natural effect and comfortable skin all day long.
LIQUID ILLUMINATORS
Brightness enhancers already have a special place in our beauty kits. You already use the powder and cream versions, now it's time to discover the liquid formula! Light and easy to mix, these silky illuminators work wonders under the foundation and are perfect for adding a pearly or golden sheen to certain areas of the face. Their extra touch? The dropper applicator, which allows a perfect dosage and a precise distribution.
CLOTH SHEET MASKS
They were a hit in Asia, and now they're here: cloth masks drenched in skin care products, which moisturize, purify and firm the skin, have taken their place in your beauty kit! Apply to a clean face, leave on for 10 to 20 minutes, then rinse or massage the excess. Their advantage? As the epidermis absorbs them quickly, they can easily be used before makeup. Their accurate dosing and easy positioning allows you to target certain areas, such as the lips or eyes.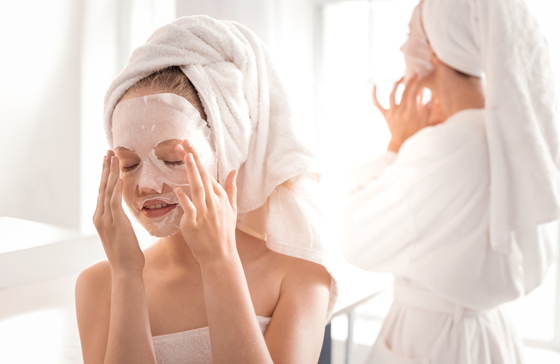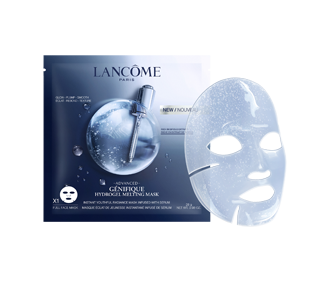 Lancôme
Advanced Génifique Hydrogel Melting Mask, 28 ml
A new type of sheet mask. The hydrogel melting mask delivers results which are instantly visible on the skin. A perfect response to the needs of a generation that is always pressed for time. Youthful radiance. Plump. Smooth.
MAGNETIC FALSE LASHES
Crazy for glue-on lashes? Meet their little brothers! The principle? We place a layer over our eyelashes and a layer underneath: a magnet makes them adhere to each other. For ease of application and hold, begin by applying a good layer of mascara to your real lashes.
Want to try out magnetic false eyelashes at the office? Choose a partial fringe, from the wide variety of styles, which blends perfectly with daytime makeup.
REUSABLE CLEANSING CLOTHS
Farewell cotton pads! Choose an economical and environmentally-friendly solution to cleanse your face: soft microfiber wipes, like Face It, made in Quebec. Designed for optimal control of movement and pressure, this heart-shaped washcloth removes makeup and exfoliates without harming the skin. It promotes cell renewal and prevents the signs of aging, while leaving the skin fresh and smooth. Not bad, eh?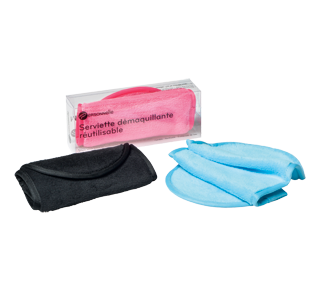 Personnelle Cosmetics
Reusable Make-Up Remover Towel, 1 unit
Machine washable. Reusable. Can be used with water.
A NEW TAKE ON THE CURLING IRON
The curly hair trend continues! We love them natural, relaxed, or with a rippled effect. To get the look you want, you can use your good old curling iron... or try out new tools.These devices do the work for you: they wrap the locks in a heating chamber, then release them after a determined time. The heat is distributed evenly and the hairstyle becomes more uniform. Perfection (and long hold) guaranteed!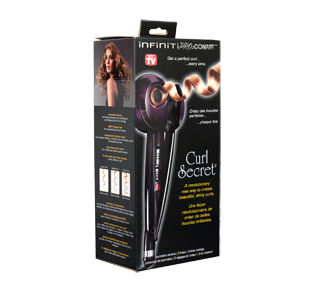 Infiniti Pro by Conair
Curl Secret, 1 unit
Tourmaline ceramic 2 heats settings 3 timer settings
ILLUMINATING STICK
This year, revisit the strobing trend with radiance and a holographic effect. Your best friend? A multipurpose stick, which is used as a complexion and eyelid illuminator and a lip beautifier.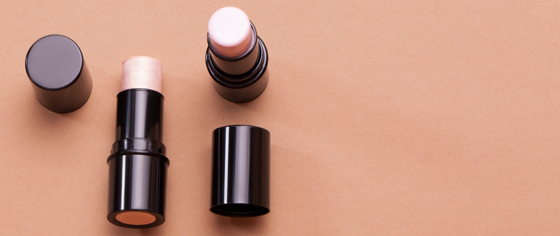 ULTRAPOWERFUL SERUMS
More and more, anti-aging serums are becoming a natural way of filling wrinkles and plumping skin. And for good reason: their ultra-intense formulas, sometimes resulting from several years of research, firm, illuminate and even out the complexion with unparallelled efficiency.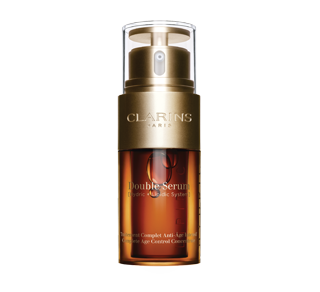 Clarins
Double Serum Complete Age Control Concentrate, 30 ml
Our most powerful age control concentrate ever!
ESSENTIAL OILS
Their beneficial effects are becoming more and more apparent. Long used in aromatherapy, essential oils are as effective for skin care as they are for muscular relaxation or the relief of minor afflictions. Apply them by massaging, add a few drops to your bath ... or place a combination in a diffuser! Along with a pleasant smell, they will spread their benefits throughout your home.
GREEN PRODUCTS
Ethics is now a decisive factor in our beauty purchases: formulas must be gentle for us and for the planet. On labels, we look for natural ingredients and we choose brands with ecological concerns.