The future of your skin depends on how you treat it when you're 20. At that age, the skin is bright, smooth and firm. It's time to focus on prevention. Here are four steps to keep your skin radiant and healthy.
No matter your age, equip yourself with the right tools! Even if your skin is youthful and radiant, this is the time to develop good habits. Because your skin has lots of collagen and your cells are efficient at regenerating, the key is to keep your skin moisturized.
Cleanse and remove your makeup EVERY night before going to bed.
In addition to regulating sebum, using a gentle cleansing gel every night will clean your skin. It will get rid of impurities (pollution, sebum) that cling to the surface of your skin during the day. Removing your makeup is also essential if you want to avoid clogged pores that produce pimples.
We love:
Exfoliate your skin once or twice a week
To prevent irritating your skin, get rid of your small imperfections by using a very gentle scrub no more than twice a week. To prevent excess production of sebum, avoid using harsh products or anything that contains alcohol.
We love: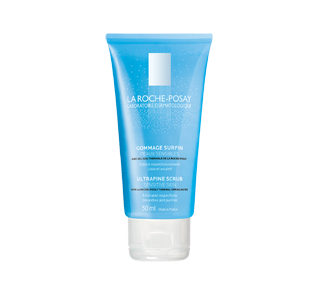 La Roche-Posay
Physiological Ultra-Fine Scrub, 50 ml
Gentle cleansing scrub. Sensitive skin.
Use a moisturizing cream adapted to your skin type
At 20, moisturizing your skin is a good habit. Doing it with the right product is even better! And no need for anti-aging ingredients. To efficiently postpone the signs of aging, your cream only needs to be adapted to your specific needs. This is why you need to know your skin type. And you also have to be disciplined enough to apply the cream morning and night on a clean skin.
What's your skin type?
Dry: Fine skin that's fragile and sometimes coarse. It can feel tight. Pores are not very visible.
Combination: Skin that isn't too oily or too dry. The T-zone (forehead, nose, chin) is often oily while the cheeks are dry.
Oily: Shiny skin that tends to get blackheads or pimples. The skin texture is thicker and the pores are dilated.
Normal: Soft skin that isn't affected by any particular problem.
Sensitive: Skin that's extremely fragile and tends to produce red spots and feel tight.
We love:
Use sunscreen
The skin starts to age when you're 20. And this process is often related to how much sun you are exposed to. Whatever the season, UV rays are the skin's worst enemy. When you are exposed to the sun outside or on a tanning bed, the UV rays result in the production of free radicals, which are responsible for the skin's premature aging. Protect yourself every day with sunscreen or a moisturizing cream containing broad-spectrum filters against UVA and UVB rays.
We suggest: