The craze for Clean Beauty, Skinimalism and natural trends means there are more and more products inspired by aromatherapy. What particular qualities do they have? What can they add to your beauty ritual? Find out here.
AROMA… WHAT?
The term "aromatherapy" was coined at the beginning of the 20th century by chemist René-Maurice Gattefossé. This French researcher devoted part of his career to examining the curative properties of essential oils, which are distilled aromatic plant extracts.
So… how do these oils work? Well, their aromas are believed to stimulate receptors in the nose, which send signals to the brain to decrease stress, for example. Plus, they also appear to be beneficial for our skin and hair. No wonder they're the ingredients of choice for cosmetics. Plus, the sensory experience they provide makes them the perfect choice for cocooning!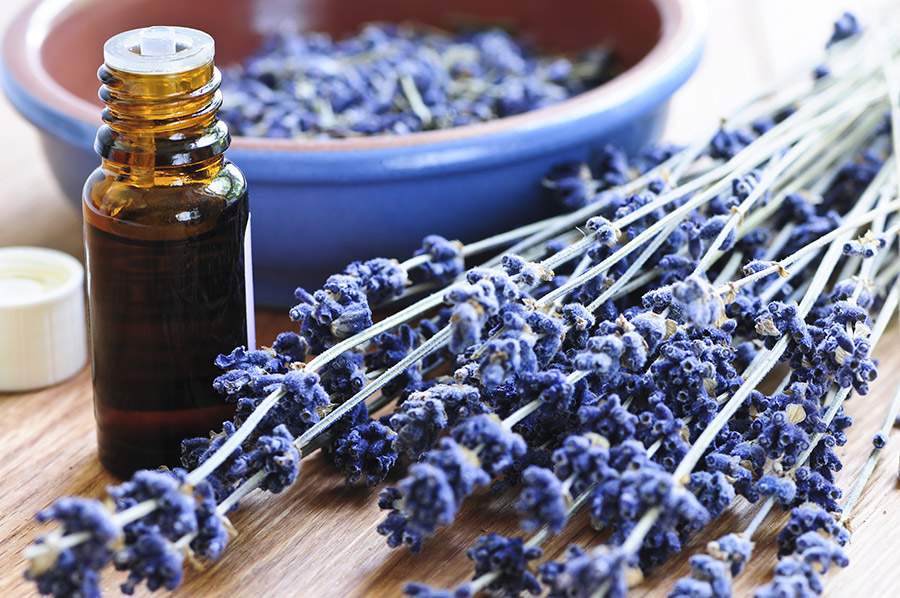 BENEFICIAL FORMULAS
Essential oils are combined with ingredients like honey, beeswax, mineral salts or vegetable oils (argan, jojoba, almond, macadamia, etc.) in natural formulas for the face and body.

Essential oils have special properties that are used to combat signs of aging, reduce blemishes, prevent dehydration or soothe irritation. And because they work well in synergy (in unison with other active ingredients), they make a great addition to other skin-care products. Simply add a few drops to a cream or serum to create your own personalized formula.
Some hair-care products also include aromatic essences that are nourishing, enhance shine or prevent aging. For more targeted action, choose oils that have specific properties for fighting dandruff, soothing irritation of the scalp, regulating sebum production… Best of all, they're easily added to your shampoo, hair mask or rinse-free spray.
A comforting care routine
Cleanse your face with a product that removes excess sebum and accumulated impurities without causing drying or affecting the production of oil. Choose plant-based ingredients that calm your skin while fighting free radicals responsible for cell oxidation.
Tone your skin by giving it a few spritzes of beauty mist. Choose products that are adapted to the specific needs of your skin: a boost of radiance, long-lasting hydration, exfoliating wrinkles, spots and imperfections, etc.
Moisturize with an energizing cream that strengthens your skin's resistance to external harm (pollution, sun, etc.) and nourishes it in over time, while combatting signs of aging.
Protect your skin by applying a broad-spectrum mineral sunscreen. Choose one enriched with soothing and antioxidizing ingredients (aloe vera, soybean oil, etc.). Make sure you use one that blocks both UVA and UVB rays and provides deep moisturizing.
THE ESSENCE OF COMFORT
Setting aside some me-time? Think aromatic oils! Relax in a bubble bath, treat yourself to a massage with a soothing oil and scent the air with the vapour from a diffuser.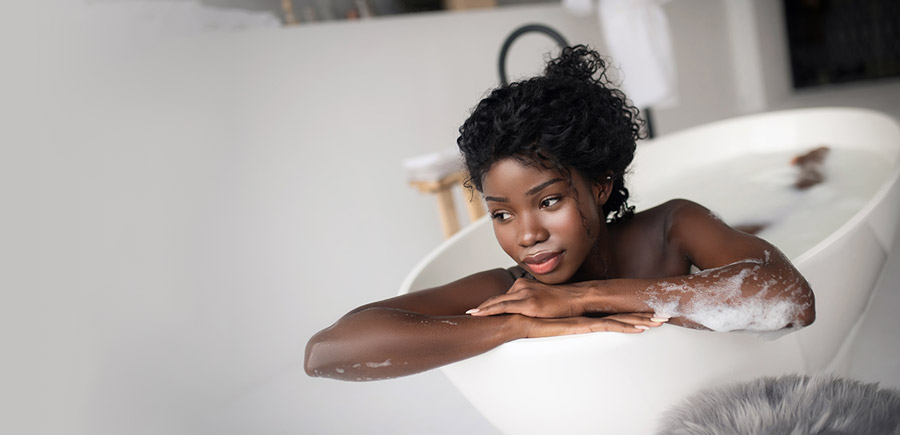 Good to know:
For a thoroughly relaxing experience, you can create your own bubble-bath formula or massage oil by mixing your favourite essential oils with neutral bases.
Be careful not to over-scent the air by using strong oils (like cinnamon or clove) in your diffuser. It's best to use softer ones like lavender or camomile. Also, be sure not to leave the diffuser on too long (30 minutes is enough), especially if you have young children or pets.
Warning! Essential oils should never be applied directly to your skin. In fact, very few should ever used on their own, without being diluted or mixed with another fatty substance. So, before you use a pure oil for the first time, read the warnings and contraindications carefully.
EACH OIL HAS ITS PROPERTIES
Don't know which oil to use? Here are some that are frequently found in beauty products:
Sacred Lotus Root fights free radicals, soothes your skin and helps regenerate skin cells— all properties that make it a good anti-aging ally. Plus, because it stimulates circulation, it also helps reduce congestion and water retention.
Lavender is known for its relaxing effect (great for the bath!). Sea lavender, in particular, is good for moisturizing and softening the skin.
Cypress, juniper and lemon have a decongesting action, which stimulates lymphatic drainage, blood circulation and the release of stored fat: all great allies in the fight against cellulite!
Rosemary and rose help the skin maintain a youthful appearance and brighten the complexion. Combined with soothing, moisturizing and antiseptic properties, these virtues explain why rose is so frequently used in tonics and beautifying waters.
Ylang-ylang also has a radiant effect: it gives shine to hair and awakens dull complexions.
Chamomile is sensitive skin's best friend: it's appreciated for its soothing and softening characteristics.
Tea tree oil can be used to clean oily skin (and oily hair!), reduce imperfections and fight pimples.