There's nothing more elegant than a hairstyle that shows off the back of your neck. Try this creative bun with a few flyaway strands for a look that's relaxed yet sophisticated.
1. After you shampoo, rub a small amount of styling foam between the palms of your hands, then work it into your damp hair to nourish it and add volume. You might also want to apply a balm to protect your hair from heat while adding body and volume.
2. Completely dry your hair making sure to use your fingertips to hold the roots while lifting your hair upwards.
3. Add volume with a curling iron, then sculpt your curls backwards to create a fuller effect at the base of the roots. Muss your hair up a bit and shape it backwards. You want to avoid having hair that looks too neatly placed.

4. Styling time! Start by pulling all your hair back towards the left side of your head. Using tongs, create a vertical part line so your hair can be folded inward by twisting it all the way up. Then fix it all securely with bun clips.
5. Sculpt flyaway hair with your fingertips, adding a bit of drying balm as needed. Spritz on some anti-frizz hairspray and you're set!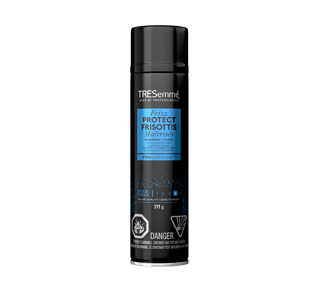 TRESemmé
Finishing Spray, 311 g, Climate Control
Create volume, continuous shape and hold while keeping hair glossy and smooth, even in high humidity.