We all know that sunscreens are vital for protecting our skin from UV damage. But what about after-sun care products? What are they made of and how do they work? We've shed some light on these products to brighten your summer routine.
FIVE GOOD REASONS TO USE AFTER-SUN CARE PRODUCTS
1. They refresh
Whether in milk or gel forms, their non-greasy formulas contain ingredients that soothe your skin and generate an almost instant feeling of freshness, thanks to the aloe vera and menthol, among other ingredients—perfect after a long, hot day in the sun.
Psst! Try storing your after-sun products in the fridge to accentuate their refreshing effects... your skin will thank you!
2. They soften
Rich in nourishing and moisturizing agents—like vegetable oils, ceramides, hyaluronic acid, glycerin and others—after-sun products help your skin replenish lost oil and water. The result: your skin becomes smoother, fuller and more supple.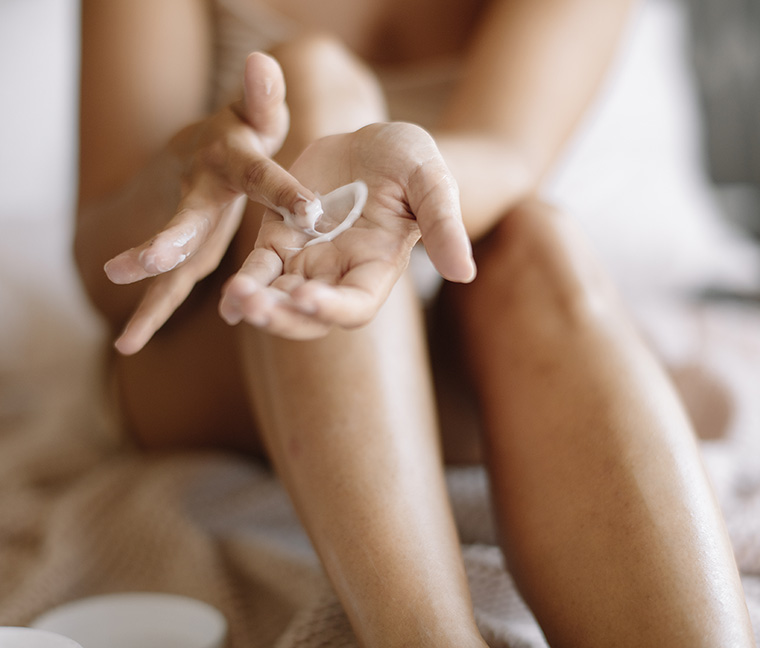 3. They strengthen
After-sun products also contain antioxidants, like flavonoids and Vitamins C and E, to counter the damage done to your skin cells and increase your skin's resistance to free radicals. The result: your skin is better at defending itself against the sun's rays.
4. They help heal sunburns
Forgot a spot when applying your sunscreen? No worries, after-sun products can help give your skin a quick boost. Their anti-inflammatory ingredients, like aloe vera, fight redness and pain, while vitamin B5 and Centella asiatica (tiger grass), help speed healing.
5. They're pleasant to use
After-sun products often feature a delicate fragrance, a pearlescent finish and some even have self-tanning ingredients... So, they're as enjoyable as they are effective!
HOW TO USE AFTER-SUN PRODUCTS...
You don't have to wait till sundown to take out your after-sun products... their versatile formulas can be integrated into virtually any step in your beauty routine, whether morning or night. You can use them...
To complete or replace your body moisturizer (while maintaining your tan);
To enhance the moisturizing, protective and regenerating effects of your face cream.
A quick UV-protection reminder...
Avoid the outdoors when the sun is at its strongest: between noon and 4 p.m., if possible.
Choose a broad-spectrum, waterproof sunscreen with a solar protection factor (SPF) of 30 or more. If your skin is fair and tends to burn easily, choose a higher SPF (45 or 50).
Before going outside, cover all the exposed areas of your skin. If you use a mineral sunscreen, you can go out in the sun right after application. If you use a chemical sunscreen, however, you should wait about 20 minutes for the ingredients to take effect.
If you're outside for a long time, reapply your sunscreen regularly, following the product instructions (usually every two hours; more often if you're swimming or sweating heavily).
Remember: UV rays go straight through clouds and reflect off the water, so keep yourself protected in any type of weather, and take extra precautions if you're boating or paddle-boarding.