Acne is often thought of as a teenage affliction; but in fact, it affects about 25% of the adult population in Canada, mostly women. How does it manifest itself? And what types of treatments should you use in your beauty routine? Let's take a look…
What is adult acne?
Adult acne can appear from the age of 25 to the end of one's 40s. In terms of development, the "mechanics" are the same as in adolescence: inflammation, pimples and sometimes other lesions (blackheads, whiteheads, cysts, etc.) appear when oil and dead cells clog your skin pores, creating an environment that's just right for the proliferation of certain bacteria.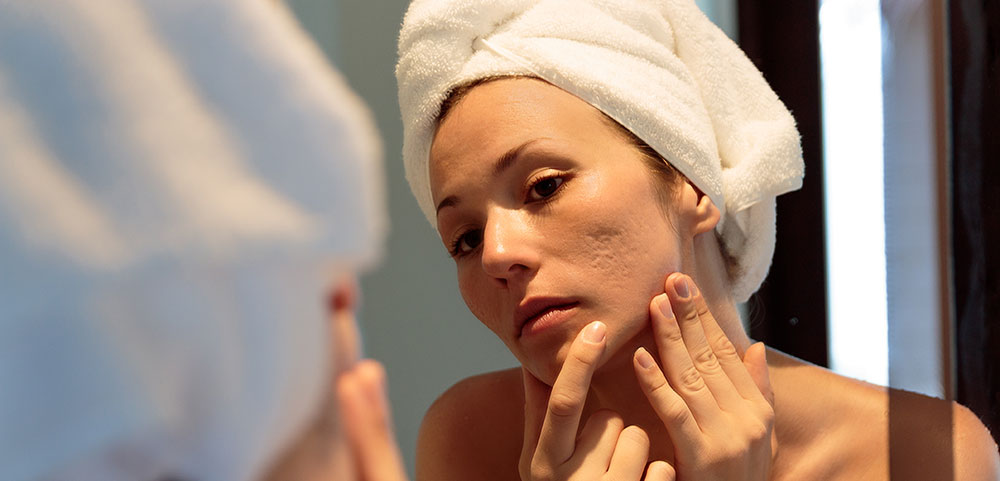 But make no mistake: acne at age 15 and acne at 30 differ in a number of ways, including ...
The type of skin that's affected. In adolescence, acne occurs mainly on oily skin, whereas in adulthood, all skin types can suffer.
The areas that are affected. During puberty, lesions caused by acne mainly affect the T-zone: the chin, nose and forehead. Later in life, it affects the U-zone: the chin, jaw, cheeks and temples.
The appearance and impact of the lesions. Blackheads and whiteheads, which are caused by excess sebum and impurities that clog pores, are common in teens. These surface imperfections usually disappear without a trace. But in adults, however, it's not uncommon for deeper and more painful lesions to be caused. These are linked to inflammation of the epidermis, and they're more likely to leave scars, mainly because the skin regenerates more slowly as we age.
What causes acne in adults?
To date, no single, exact cause has been clearly identified, but there are a number of factors that can all play a role in acne. Heredity and hormonal variations—including those caused by cortisol (the so-called stress hormone)—are the most common culprits, but sometimes smoking, pollution, sunlight, comedogenic cosmetics and lack of sleep can play a role as well.
A recent addition to the list: the daily use of face coverings, as shown by the new word "maskne" – a blend of "mask" and "acne". And for good reason: the heat and humidity under the mask, the friction of the cloth against the skin and the excess of sebum create ideal conditions for the proliferation of bacterias, obstruction of the pores and irritation.
What beauty routine should you adopt to avoid acne?
Wash your face well, morning and night using an oil-free formula that preserves the protective film naturally produced by your skin. This step is vital in removing accumulated impurities and preventing your pores from becoming clogged. Also, to protect your epidermis as much as possible, make sure you minimize friction. Consider using a leave-in cleanser or sponge your skin gently by patting with a clean towel.
Moisturize your skin after every wash using a non-oily, non-comedogenic treatment. When your skin is well nourished, your epidermis doesn't secrete as much excess oil. That has the added benefit of boosting firmness and radiance.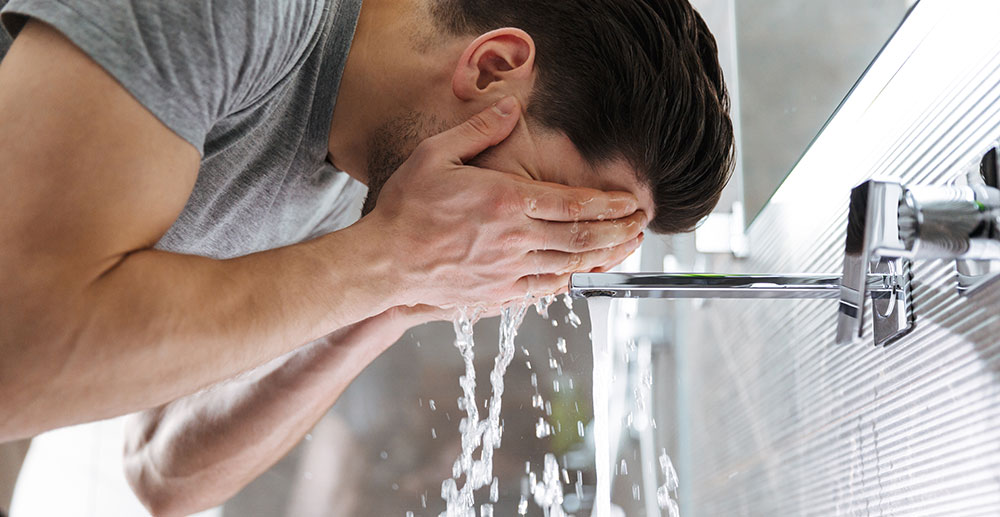 Exfoliate once or twice a week… carefully! Don't use scrubs with grainy textures. They cause too much friction. Instead, use a gentle, non-abrasive peel, which will help your skin breathe without causing inflammation.
As needed, apply a purifying mask once a week to augment the effects of your other skincare products.
What ingredients should you look for in your care products?
When checking product labels, one key word should be kept in mind: gentle. You don't want to irritate or dry out your skin, which will likely cause it to produce more sebum! Also, make sure that the formulas you choose are adapted to the needs of more mature skin.
To reduce impurities and lessen the long-term effects of lesions, look for active ingredients like salicylic acid, alpha and lipo-hydroxy acids (AHA and LHA) and benzoyl peroxide. By "dissolving" the residues that accumulate on the surface your skin, these ingredients help unclog your pores, which slows down the growth of bacteria and helps even out your complexion.
To soothe inflammation, choose natural ingredients like green tea, chamomile, rose and thermal water—they're all good choices.
To counter the signs of aging and cell degradation, look for formulas that are enriched with plumping and antioxidant ingredients, like vitamins B and C, collagen, hyaluronic acid, etc.
Other good habits to adopt
Always use a sun-care product. Over time, with prolonged exposure to the sun's rays, our skin gets thicker, so it's easier for our pores to become clogged. And that means acne breakouts are more likely to occur. In addition, several anti-acne treatments actually increase sensitivity to the sun and aggravate its effects. So, to prevent new pimples and age spots from appearing, take the time to apply a non-comedogenic sun screen every day, and reduce the time you spend in the sun as much as possible.
Keep your hands away from your face. Playing with or worse, pinching your pimples should be avoided at all times, and that's particularly true in adulthood because the epidermis repairs itself more slowly, which means those seemingly harmless "manipulations" can leave lasting and unwanted reminders.
Manage your mask. If it's a cloth mask, wash it after every use. If it's a surgical mask, replace it every time it gets wet or dirty. Also make sure not to wear it too tight: you want to avoid friction as much as possible.