The holidays are a time for festive evenings and good times. Whether you're preparing for Christmas Eve, an office party or a get-together with friends, here are some essentials to ensure your makeup is as unforgettable as the festivities.
False lashes
The holiday season is the ideal time for the doe-eyed look! But before you're ready to bat your eyes, you should know that false lashes come in three lengths: short, medium and long.
Tips: For a natural effect, choose short or medium. As thick eyelashes are all the rage, don't hesitate to frame your eyes with a long fringe! You can even go so far as to put false eyelashes on the lower eyelid. Guaranteed impact!
How to apply false lashes
On a lash band:
Before applying the false lashes, put on all your eye makeup, including mascara.
Measure the length of the band by first placing it against your eyelid, from the outer corner of the eye to the inner corner. Make sure to leave a little free space in that corner. If the band is too long, trim it from the outer corner of the eye.
Apply the glue by tracing a very thin line at the base of your false lashes.
Use tweezers to grip the lash band and place it just above the base of your natural lashes.
In bundles:
If you've chosen false lashes in bundles (assemblies of a few lashes), do not apply mascara before the false lashes.
Grasp the bundles with tweezers, one at a time, and dip them delicately in a little glue.
Put them in your hand and, looking straight ahead, place them one at a time on the edge of the upper eyelid, between the centre and the outer corner of the eye.
Position them at a slight angle so they're oriented towards the outer corner of the eye.
Finish by drawing the lash line with a pencil.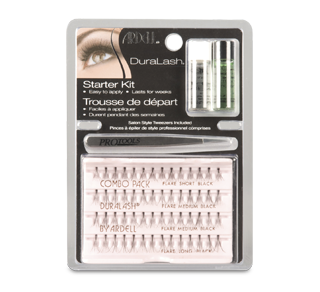 Ardell
DuraLash Starter Kit, 1 unit
Customize your lash look with Ardell's DuraLash Starter Kit.
The classic smokey eyes
Smokey eyes are a classic look that never goes out of style, adding a chic touch to any outfit. Add depth to your eyes by combining grey and black. During this festive season, dare this timeless look!
How to create perfect smokey eyes:
Draw a pencil line at the base of the upper eyelid, then blend it in with your fingertip.
Apply eyeshadow in a colour that is similar to your pencil on your upper eyelid.
Repeat these steps for the lower eyelid
Finally, apply a generous coat of mascara.
Red lipstick
Red lipstick has long been a sign of elegance. Matte, pearl or glossy, it will undoubtedly enhance your makeup. There are several shades of red; from scarlet to raspberry, not to mention bordeaux. To each her own
Tips: To get the glam effect you want, it is important to choose a shade that suits you're the colour of your teeth and your complexion. To find the perfect shade, ask one of our cosmeticians who will be happy to help you. Now you're ready for a kiss under the mistletoe!
Glitter, sparkling oils and powders
Celebrate the holidays by adding a little shimmer to your look. A few tricks:
Sparkling powder is applied to the neck, shoulders and cleavage to illuminate each expanse of skin!
Sparkling oil, like NUXE Huile Prodigieuse Or, is a dry oil that can be applied all over, leaving a subtle shimmer on your skin and in your hair. As a bonus, sparkling oil generally releases a seductive perfume.
Glitter can enhance your eye makeup. Use the same shade as your pencil and eyeshadow. You can also add a little glitter to your gloss to create a fuller mouth, and mix some into your favourite nail polish.
Our suggestions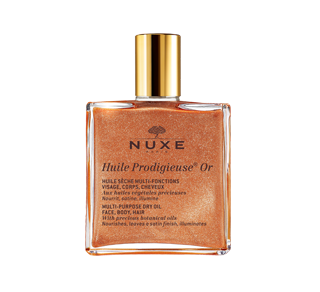 Nuxe
Huile Prodigieuse Or Multi-Purpose Dry Oil, 50 ml
Made with precious botanical oil, this product can be used on face, body or hair. It nourishes, leaves a satin finish and illuminates.