The countdown has started. We're only one month away from the big day. Your beauty mission for the next thirty days: take care of yourself! Follow the guide to have a perfect skin, a radiant complexion and shiny hair when you you go down the aisle.
ONE MONTH BEFORE THE WEDDING
Re-establish the natural glow of your face
Carefully cleanse your face every day, morning and night.
Exfoliate your skin with a gentle facial scrub, once to twice a week, until the wedding day. You have a dry or sensitive skin? Use the scrub once every 15 days. To prevent irritations, avoid exfoliating the day before the wedding.
After each exfoliation, nourish your epidermis with a facial mask specific to your skin type.
Brighten up your eyes and make dark circles disappear using a powerful serum, that works deep down. Correct application requires that you pat it in with a finger. Always remember to work your way from the inside towards the outside of the eye.
Deep moisturize your skin
Every morning and evening, when you get out of the shower or the tub, be sure to apply a rich and nourishing moisturizer while paying special attention to those rougher spots like the elbows and the knees.
For strategic spots such as the hips, belly and thighs, use a toning and firming product every day.
Drink a lot of water.
Enhance your hair's natural shine
For the regular shampooing, carefully choose a shampoo and conditioner for your type of hair (short, long, colored, dry, oily, straight, curly, etc.).
Give dull, damaged, oily or hard to manage hair comprehensive treatment with a special hair care products such as a cream rinse,or mask. Repeat this treatment as needed until D-day.
Finish off with a serum or a dry oil for a high gloss finish.
2 WEEKS BEFORE THE WEDDING
Take on more colour
Choose a home tanning product best suited to your needs: For a full and natural-looking tan that lasts between 5 to 7 days, choose a classic self-tanner in cream, gel, mist, spray or liquid form;

For a subtle or temporary tan that can be washed away with water, choose selected makeup products that give the face, chest and legs a tanned appearance.
Two weeks before the big day, test a few areas of your skin to have an idea of how your tan will look on the day of the wedding.
A few days prior to the wedding, proceed with self-tanner application or test your suncare makeup.
Suggestions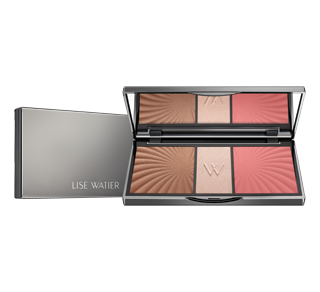 Watier
Havana Trio Glow Illuminating Kit, 17.5 g
The perfect trio to warm up complexion, highlight, and create a natural and illuminating sun-kissed glow.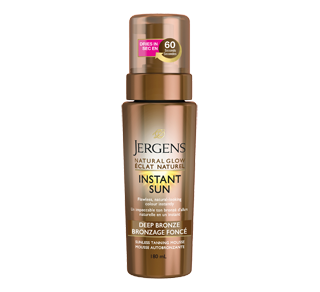 Jergens
Natural Glow Instant Sun Sunless Tanning Mousse Deep Bronze, 180 ml
Foolproof, natural-looking colour instantly! Jergens Natural Glow Instant Sun Sunless Tanning Mousse uniquely works with your skin tone to mimic results from the natural sun.
1 WEEK BEFORE THE WEDDING
Define your eyes
Pluck your eyebrows to give them definition. Beauty tip: do this a few days in advance to avoid redness on the day of the wedding
Eat well, get enough sleep and drink plenty of water.
Test your makeup
Book an appointment with your Jean Coutu cosmetician. She will help you select the colour pallet and makeup products that best suit you: foundation, eye shadow, mascara, lipstick, lip gloss, etc.
Try them out and create your makeup look at home or book an appointment with a Jean Coutu cosmetician for a makeup appointment on the day of the wedding.
Refresh your hair style
1. 7 days or so before the big day, see your hairdresser to get your hair trimmed. Note: now is not the right time to experiment with a new look.Take the occasion to freshen your hair colour and highlights, or add some nuance that complements your natural colour.Try out the hairstyle and hair styling products that you will be wearing and using on the day of the wedding.
2 DAYS BEFORE THE WEDDING
Hair removal: legs and arm pits
Does quick and thick hair regrowth after shaving turn you off? Consider hair removal at home. Make sure to be well informed about these products. Some are created especially for beginners.
Two days before D-Day remove hair from your armpits and legs. For optimal results, exfoliate your skin before the hair removal process… and don't forget to moisturize it after!
Suggestions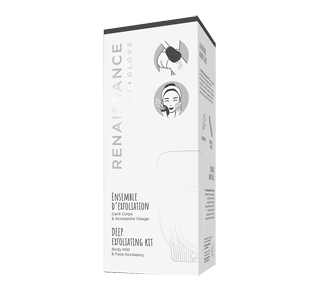 Renaissance
Renaissance Exfoliating Glove, 1 unit, Urban Grey
This original product is made of vegetal cellulose material (derived from eucalyptus and spruce) whose microscopic woven fibres helps tone and regenerate your skin. Their effectiveness has long been recognized, helping to build the reputation of a product that has often been imitated but never equaled.
THE DAY BEFORE THE WEDDING
Do your nails
Why not spoil yourself with a home manicure and pedicure? Use quality instruments that cleanse and polish, just like in a salon.
Harden and moisturize your nails using products that provide nutrients.
Beautify your fingers and nails with coloured polish and original motifs.
Allow sufficient time for the products to dry out. The results will be all the more astounding.
Brighten up your complexion
Use a face scrub to get rid of dead skin cells. This will enhance your skin's softness and give you a smoother complexion.
Get a good night's sleep.
Relax!
The day before the wedding, take time to unwind with a relaxing bath. Do not hesitate to add one or two handfuls of Epsom salts, or a few drops of essential oils.
THE DAY OF THE WEDDING
Remember to bring a small beauty kit with you including: tissue paper, a small mirror, pressed powder, lipstick, mini-deodorant, nail glue and file, bandages for possible blisters and chewing gum.
Suggestions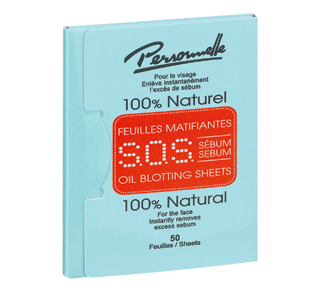 Personnelle Cosmetics
S.O.S. Sebum Oil Blotting Sheets, 50 units
Say goodbye to shiny skin! Personnelle Cosmetics 100% natural S.O.S. Sebum Oil Blotting Sheets instantly absorb excess oil on your face. They eliminate shine without ruining your makeup or leaving powdery residue. Keep them in your purse to have them when you need them!