There's only a few weeks left until the Holidays, the perfect time to follow a beauty regime so you can show off your best side during your celebrations. Follow these steps and you'll spend a beautiful Holiday season!
ONE MONTH BEFORE CHRISTMAS
Face and body care
To brighten your face, clean it morning and night and gently exfoliate it once or twice a week. You'll get rid of dead skin and help your face absorb your skincare products. We suggest: Garnier Clean+ Invigorating Gel Scrub.
Follow up your exfoliation with a face mask. Keep it on for 7 to 10 minutes. To firm and invigorate the skin, use Clarins Multi-Regenerating Mask: its relaxing formula not only reduces the appearance of wrinkles; it erases the marks left by stress and fatigue, and gives smooth and refreshed features. A true rest cure!
To hydrate our face day and night, we use Aquasource Everplump and Aquasource Everplump Night, by Biotherm.


Don't forget the area around your eyes, especially if you have wrinkles or bags. Morning and night, use a targeted treatment and delicately pat the area from the inner to the outer corner. For an enhanced effect, use dual-use products, such as Idealia eye contour idealizer, by Vichy. While preventing wrinkles and puffiness, it illuminates the complexion and reduces the appearance of dark circles.


Indulge yourself with an exfoliant once or twice a week. You'll also want to think about moisturizing from head to toe everyday to prevent your skin from drying, especially in winter. A great product to use after your shower or bath to soften your epidermis is La Roche-Posay Lipikar Body Milk. It's gentle, will quickly moisturize your skin and doesn't feel sticky!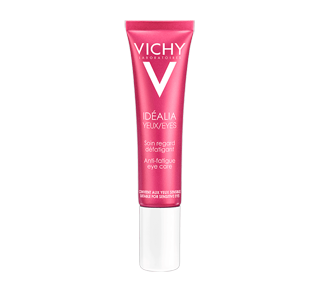 Vichy
Idéalia Eyes, 15 ml
For all women, regardless of their age, skin type or complexion. The first eye contour idealizer, for an ideal eye expression, even without makeup.
Haircare
During the winter months, hair can quickly dry out. You can blame heaters, the cold, the wind, your tuque and your beloved ombré. Use products that are specifically made for your hair type. Those with dry hair will appreciate the shampoo and conditioner in the L'Oréal Paris Extraordinary Oil range of products. They will provide your hair with the moisture it needs while leaving it soft and shiny. And if you have damaged tips, use Ducray Nutricerat Emulsion everyday to repair and protect your hair.
TWO WEEKS BEFORE CHRISTMAS
Enhance your colour
If you couldn't get an appointment with your colourist, organize a dye night with your roommate or best friend. Boost your colour or play with some colour effects. Don't forget to ask your Jean Coutu cosmetician any questions you may have.
ONE WEEK BEFORE CHRISTMAS
Final preparations
Update your makeup kit with trendy new products . To get the outstanding results you want, test your products out a few days ahead of time.
Two days before Christmas, wax your eyebrows, legs and armpits, and moisturize the areas after waxing.
On Christmas Eve, get a manicure and pedicure. We suggest: Miracle Gel, de Sally Hansen and Revlon Colorstay Gel Envy, two different gel nail polishes that last up to 14 days. Perfect for the Holidays!
Finally, get your skin ready the night before with a light exfoliant followed by a moisturizing cream.