Protect • Correct • Glow
Everything your skin needs for urban protection and wrinkle reduction! Skin care formulated to smoothe, moisturize and soften while protecting your skin from harmful UV rays and regenerating your natural beauty.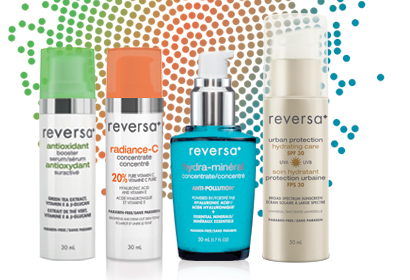 Shield your skin against environmental damage
Air pollution and UV rays cause devastating effects on the skin: loss of radiance, dehydration, deeper wrinkles, pigmentation disorders, edema, redness and oxidative stress. To reduce the risk of premature aging and weakening of skin tissues, it is of the utmost importance to protect the skin from all causes possibly affecting its integrity. Reversa reinforces your skin's defense against environmental stress.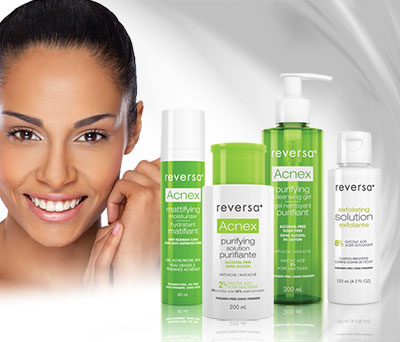 A daily system for clearer, healthier skin
Our skin care for oily and acne-prone skin is designed to purify the epidermis, regulate sebum, treat mild to moderate acne and prevent the appearance of breakouts and imperfections.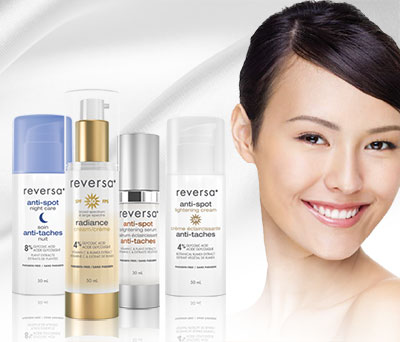 Stubborn spots?
Brighter days are ahead!
Reversa's anti-spot corrective care reduces the appearance of pigmentary imperfections such as brown spots, pregnancy mask and acne scars to even out the skin tone and revive the skin's radiance. They also smoothe and provide long-lasting moisturize to the skin at once.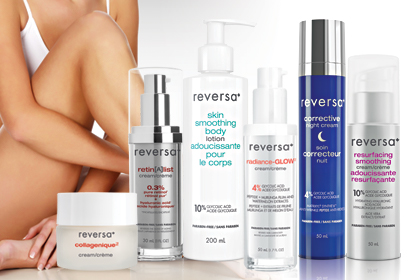 A newer, smoother you
Our smoothing, exfoliating and regenerating products help restore your skin's smoothness and softness, and make it more youthful-looking. Formulated with glycolic acid or retinol, peptide and plant extracts, they are ideal to hydrate, smoothe, restructure the epidermis and help correct the visible signs of natural collagen loss. All skin types can benefit from the numerous properties of these ingredients, at any age. The skin becomes smoother, softer, firmer and looks more radiant after a few days' use.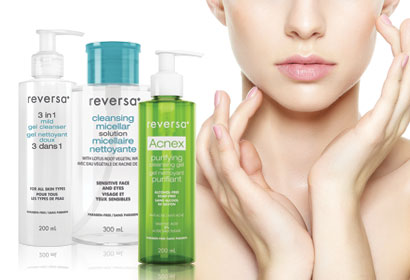 Essentially basic
Gently remove make-up and wash impurities away with our high-tolerance cleansers. Formulated to suit even the most sensitive skin and eyes and to help improve problem skin.
---
Their pH is adjusted to better prepare the skin and maximize glycolic acid's effectiveness.
Specific care to the rescue!
Reversa targets particular needs and treats specific areas like the eye contour, neck and décolleté.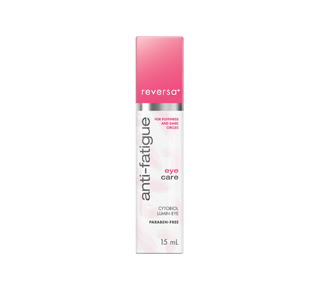 Reversa
Eye Care for Puffiness and Dark Circles, 15 ml
Reduces the appearance of under-eye dark shadows and puffiness.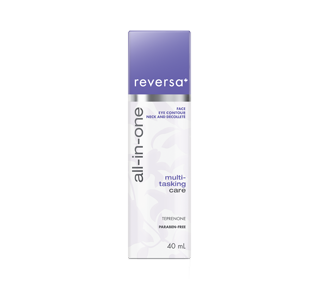 Reversa
Multi-Tasking Care, 40 ml
The Reversa multi-tasking care is suitable for the eye contour, face, neck and décolleté. This global anti-aging care allows the skin to restore itself thanks to its protective and corrective active substance which simultaneously fights multiple signs of aging and restores the skin to a more youthful appearance and better functionality.
Shop on our online store!
Did you know that we offer a great selection of Reversa products in our online store? Check it out and let yourself be tempted!