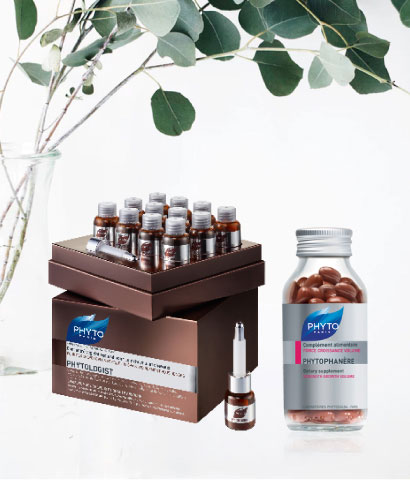 TREATING CARE
The TREATING CARE bring technical and innovative answers to scalp disorders such as hair loss, canities, dandruff, scalp irritations… Performance oriented, their efficacy is based on the most advanced researches in scalp mechanism comprehension. The formulas benefit from PHYTOSOLBA Laboratories exclusive patents. Those care are clinically tested demonstrating their efficacy. They are to be used continuously or in punctual cures twice or 3 times per year.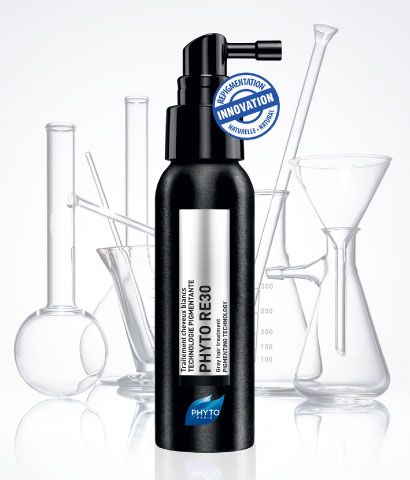 PHYTO RE30 : DELAY AND REVERSE GREY HAIR
Who doesn't remember the appearance of their first grey hair, this first visible sign of aging which is irreversibly triggered… What if you could fix this without colouring your hair? PHYTO achieves the impossible. For the first time, a laboratory repigments grey hair at the roots, coloring pigment free.
No fewer than 98% of natural ingredients are contained in Phyto RE30's formula. An anti-grey hair action is ensured by the RE30 peptide, which helps boost the hair's natural pigmentation process and protect it against depigmentation. It's complemented by a beautifying action, thanks to the purple tulip extract which strengthens the hair by acting on proteins located at the heart of the hair fiber, essential to its structure, to ensure better connections between keratins.
A DAILY ROUTINE, EASY AND SENSORY
ONCE A DAY - 8 SPRAYING - 30 SECONDS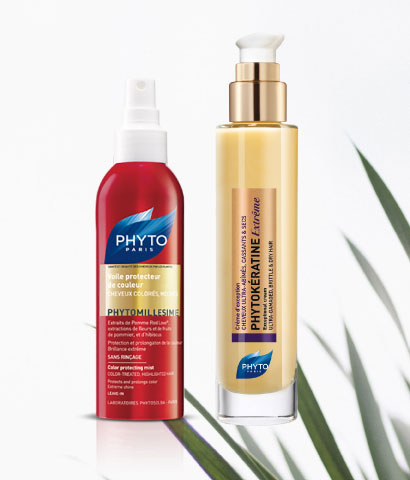 BEAUTY CARE
Prendre quelques minutes ou s'offrir une longue parenthèse de détente pour faire du bien à ses cheveux, c'est ce que PHYTO propose à travers une ligne complète de SOINS DE BEAUTÉ capillaires. Destinés à embellir la chevelure, ils se composent d'huiles soyeuses, de masques profonds, de crèmes ou de sérums de beauté, de shampooings onctueux, de soins coiffants... à choisir au gré de ses besoins ou de ses envies.
Renfermant de fortes concentrations d'actifs végétaux, ces soins nous plongent dans un univers ultra sensoriel où le cheveu est sublimé. Le rituel de soin capillaire devient un pur moment de plaisir.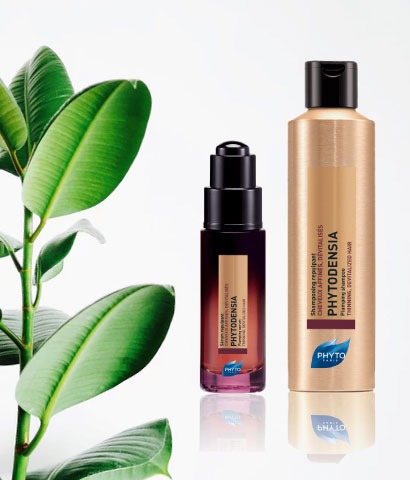 STRENGTH & DENSITY
RENEWED YOUTHFULNESS FOR HAIR : PHYTO has formulated a hair care ritual intented for hair losing its beauty over time. The PHYTODENSIA range brings back the voluptuous hair of your youth which is getting stronger each and every day.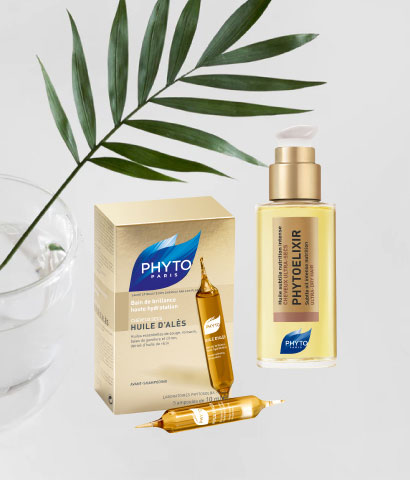 REVIVE DRY AND UTRA-DRY HAIR INSTANTLY !
PHYTO designed a panel of innovative products to replenish intensely hair with lipids from roots to ends. Hair is never weighed down, its softness, shine and elasticity are ideally restored. PHYTO's targeted solutions provide the most powerfull active complex to revitalize dry and utra-dry hair.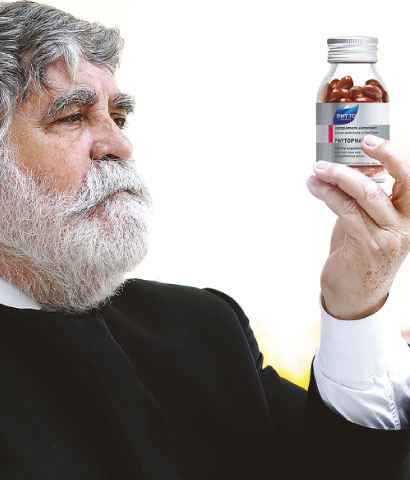 PHYTO IS BORN FROM ONE MAN'S VISION
A PASSIONATE MAN, A PIONEER… PATRICK ALÈS :
CREATOR AND FOUNDER OF THE BRAND
1964
Invention of the blow-dry by Patrick Alès.
1967
Invention of PHYTOTHERATHRIE, hair care by plants, from the Greek phyto (plants), thera (treatments) and trix/tricos (hair).
1969
Creation of PHYTOSOLBA Laboratories.
Patrick Alès never ceased working with scientists. His products are efficient. But he relies on science to prove it and lets « the plants speak » to develop new products.
1998
Creation of PHYTO SPECIFIC, a range of hair products for curly, coiled or relaxed hair; the number one high-end ethnic hair care range, distributed on the selective market.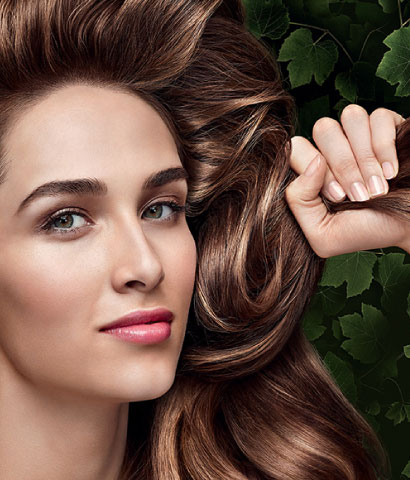 PHYTO DOES NOT FOLLOW TRENDS
BUT CREATES THEM
At the time of change, when lines are fading and references become rare, PHYTO appears as a safe attractive brand that proves every day that there can still be meaning in innovation and beauty.
As the first brand to reveal the power of plants to enhance the beauty of hair, PHYTO relies on two exceptional skills :
A SCIENTIFIC APPROACH OF PLANTS & THE HAIRDRESSER'S ART TO ENHANCE HAIR.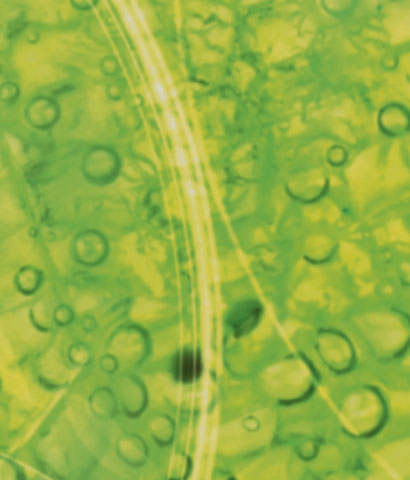 A SCIENTIFIC APPROACH
TO PLANTS
PHYTO Laboratories, with its hi-tech innovative scientific lab complete with doctors, pharmacologists, botanists and biochemists, is able to identify the most active plant extracts in order to reveal the prime beauty of hair. Their work, validated by rigorous scientific experiments, has opened the way towards innovation, and has allowed PHYTO to become a renowned pioneer in hair care. Made up of more than 500 plant ingredients, the PHYTO herbarium attests to the immense richness and infinite benefits of the plant world.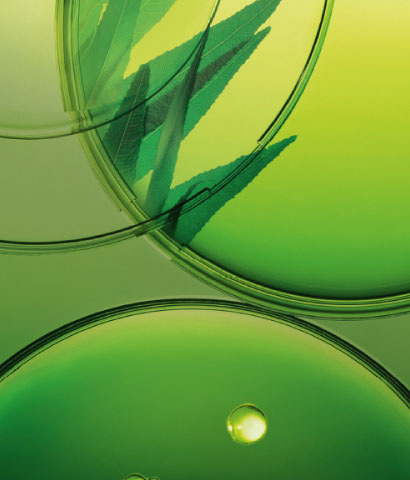 PHYTO'S SIGNATURE
EXCEPTIONALLY ACTIVE FORMULAS FOR OPTIMAL PERFORMANCE
COMBINING PLANT EXTRACTS
PHYTO develops its formulas with expertly selected plants. Because one plant can boost the properties of another, PHYTO biochemists are constantly looking to create the highest performing combination of botanical ingredients.
A UNIQUE EXTRACTION METHOD
This unique know-how allows them to extract the most active part of the plant (leaf, flower, stem or root) based on strict performance criteria (including safety) and to use in the most effective concentration.
Shop on our online store!
Did you know that we offer a great selection of Phyto Paris products in our online store? Check it out and let yourself be tempted!