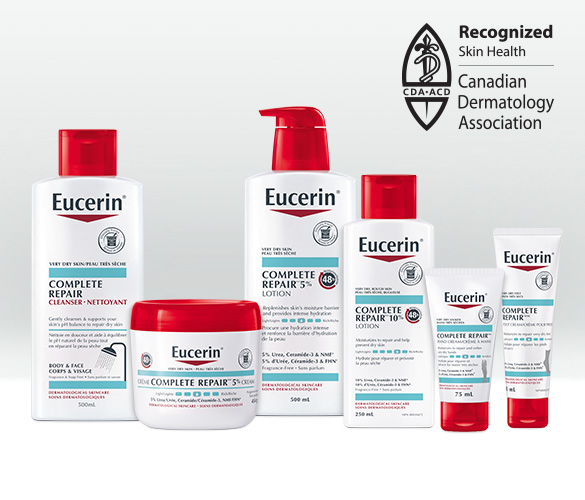 COMPLETE REPAIR: the complete solution for dry skin
Eucerin Complete Repair provides immediate dry skin relief that lasts for 48h. Our clinically proven formulas contain Urea and Ceramides to lock in moisture and strengthen the skin's natural barrier for smoother and softer skin.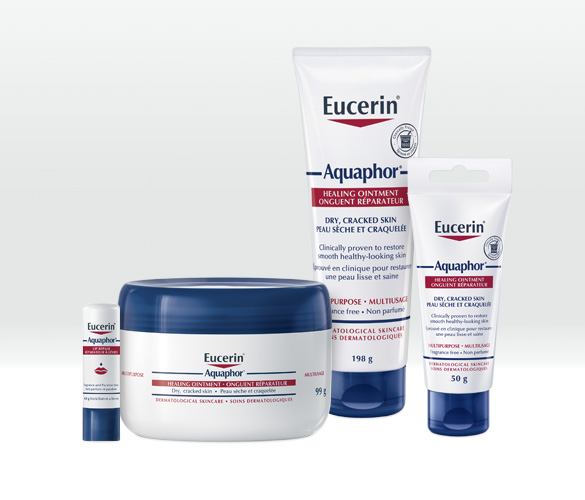 AQUAPHOR HEALING OINTMENT: for dry, cracked skin
Aquaphor Healing Ointments is a multi-purpose ointment clinically proven to restore smooth healthy-looking skin. Made with healing and moisturizing ingredients that form a protective barrier on the surface of the skin while allowing the skin to breathe.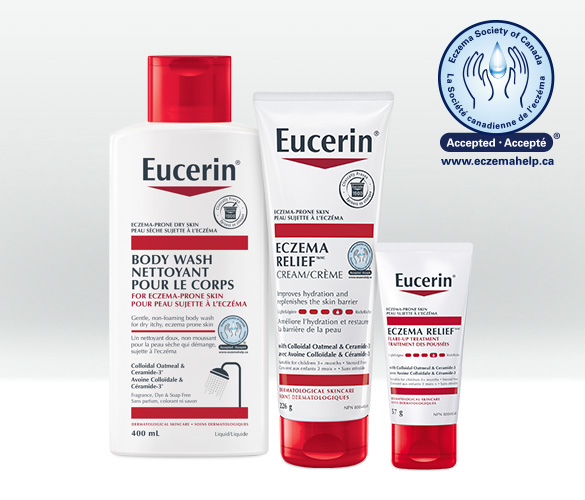 ECZEMA RELIEF: treat and relieve eczema-prone skin
Eucerin Eczema Relief range is uniquely formulated to relieve and help manage Eczema-Prone skin, relieves itching, dryness, and minor irritations due to eczema so you can live comfortably and confidently.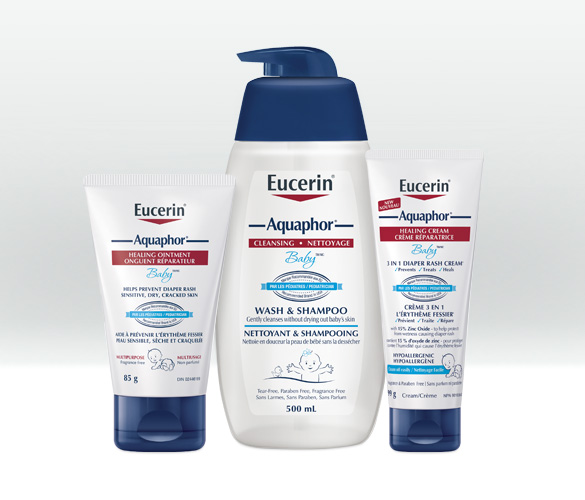 AQUAPHOR BABY™ : care and protect baby's sensitive skin
Eucerin Aquaphor baby is safe for your baby's sensitive skin that requires extra gentle care. Fragrance-free, Parabens-free, Dye-free and Preservative-free.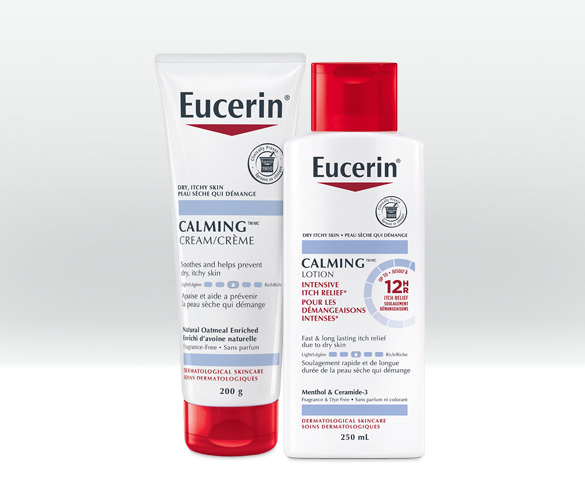 CALMING: fast and effective relief for itchy skin
Eucerin Calming formulas are made with moisturizing ingredients that calm and relieve dry skin, maintaining it moisturized for 24 hours.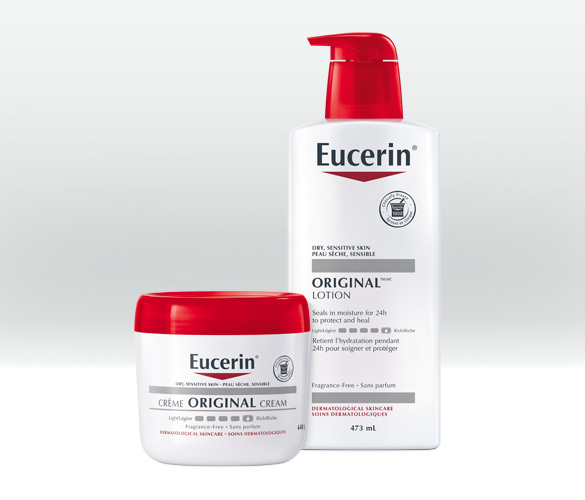 ORIGINAL: care for extremely dry, compromised skin
Eucerin Original formulas offer intense moisture to care for extremely dry, compromised skin due to skin dryness.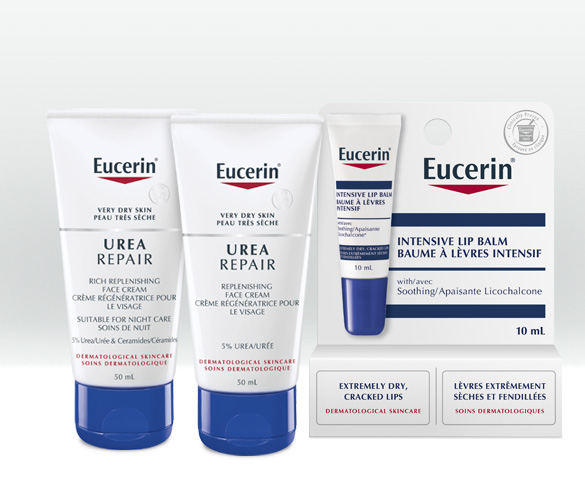 FACE CARE: moisturizing care for your face's delicate skin
Eucerin Urea Repair Face moisturizers instantly moisturises and soothes tightness to give the skin a smooth and supple feel.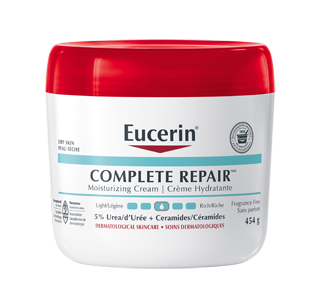 Eucerin
Complete Repair Cream
Eucerin's Complete Repair, clinically proven formula, locks in moisture for long-lasting hydration, providing immediate relief of your very dry skin symptoms!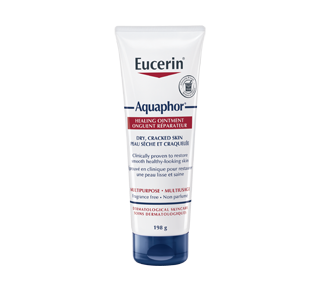 Eucerin Aquaphor
Aquaphor Healing Ointment, 198 g
This water-free, paraffin-based formulation forms a semi-permeable, protective barrier over the skin which reduces the rate of water loss. The ingredients Panthenol and Bisabolol soothe dry skin and help reduce redness due to dryness. It also contains Glycerin to moisturize and replenish the skin's moisture barrier. This ointment also conditions and protects the skin, and it is recommended to help prevent dryness associated with occupational skin irritants that will otherwise cause the skin to lose moisture and dry out (ex: excessive hand washing). Gentle enough for use on babies. Eucerin Aquaphor Healing Ointment is well tolerated, gentle, non-comedogenic, and contains no added fragrances, colourants, alcohol and preservatives that could, in some people, cause skin irritation or contact dermatitis. Now in an ideal size for the whole family.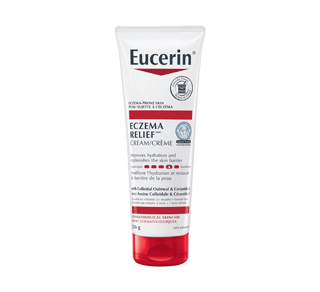 Eucerin
Eczema Relief Body Creme
Clinically proven to improve hydration of eczema-prone skin. Eucerin Eczema Relief body creme provides long-lasting hydration to help relieve minor skin irritation and itching due to eczema. Unique formula with oatmeal, ceramide 3 and licochalcone A help replenish eczema-prone skin's protective barrier. The oatmeal helps relieve the itching due to eczema.
Shop on our online store!
Did you know that we offer a great selection of Eucerin products in our online store? Check it out and let yourself be tempted!