DIAL CLEAN & GENTLE
Dial introduces the NEW Dial Clean and Gentle collection. Made with gentle and hypoallergenic formulas, Dial Clean and Gentle Body Washes and Foaming Hand Washes are made without unwanted ingredients such as dyes, parabens, phthalates, and silicones. They are dermatologist-tested and come in 100% recyclable bottles.
DIAL BODY WASH
Hydrate, enrich, nourish and moisturize your skin with our clean rinsing body wash formulas. Free from parabens, phthalates and silicones.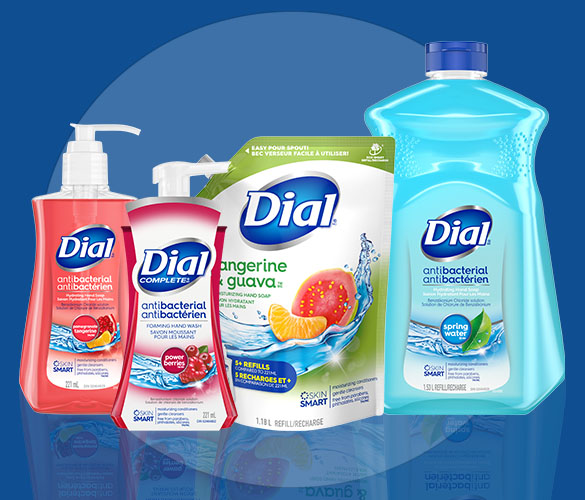 DIAL HAND SOAP
When life gets messy, get even. Your family can take it on with hands that are soft and perfectly clean. Find the perfect soap for every pair of hands in your family.
Handwashing: Why, When, and How to Do It
When & how to wash your hands + the importance of using soap & water
Why wash your hands
When you wash your hands, you dramatically reduce the amount of germs on your hands, and, therefore, your risk of getting sick. Beyond this, when you wash your hands regularly, you'll also reduce the chance that you'll infect someone else.
When to wash your hands
Wash your hands regularly. This means doing so:

- After using the bathroom
- After blowing your nose/sneezing/coughing
- After touching garbage
- After petting/playing with animals
- Before/during/after preparing a meal
- Before/after you take care of someone who is sick
How to wash your hands
1. WET your hands using clean, running water.
2. Apply soap to your hands and LATHER them up!
3. SCRUB your hands for about 30 seconds.
4. Thoroughly RINSE your hands under clean, running water.
5. Shake off the excess water and DRY your hands using a clean, dry towel/air dry.
Shop on our online store!
Did you know that we offer a great selection of Dial products in our online store? Check it out and let yourself be tempted!